Passing the Test of English as a Foreign Language (TOEFL) is an important step toward studying and working in the United States and other English-speaking countries. This test measures your ability to read, listen, speak and write in English, and your scores determine whether you're admitted to your chosen school. Effective preparation is the key to doing well. You can study on your own, but for many students, a TOEFL prep course is the best option. We put together this guide to the best TOEFL prep courses to help you find the program that's right for you.
Our team of testing experts evaluated 14 of the most popular TOEFL prep courses to determine which prepared students the best. We measured each course on dozens of features, including accessibility, study materials, instructor support and overall comprehensiveness. We also spoke to students who had taken each of the courses to learn how they felt about each program.
We ended up with four finalists after analyzing all of our data. Kaplan Test Prep was our favorite because of its comprehensive instruction and excellent student support. You may prefer one of our other recommendations, however, so we suggest reading all our reviews before you make a decision to ensure you find the one that best fits your needs.
A Full List of Every TOEFL Prep Course Worth Considering
Our top four TOEFL prep courses are listed below along with the other courses we didn't choose. Click on the links below to see what we had to say about our finalists and to view the available programs on the company websites.
The 4 Best TOEFL Prep Courses in November 2022
Full Reviews of the Best TOEFL Prep Courses
1. Kaplan Test Prep TOEFL Review

Best for interactivity and student support.
Kaplan TOEFL's three tiers of TOEFL prep balance engaging, self-guided materials with the support of its expert instructors, so you can learn in the way that's most convenient for you. It is the only one of our finalists that teaches in-person TOEFL classes, though you must have a group of eight or more students to sign up. Otherwise, there's a self-paced course that covers the same materials through a series of online videos. All courses come with access to Kaplan's online study materials and 24/7 email support to help if you run into any questions.
What to Expect
Kaplan's self-paced TOEFL course is its most popular. It comes with a three-month subscription and features 194 on-demand video lessons, four full-length practice tests and hundreds of practice problems. There are also videos on key test-taking strategies to teach you how to approach certain question types. Once you've completed the writing practice questions, you can submit them to Kaplan instructors who will grade them and provide feedback on how you can improve. The course's Smart Reports keeps track of your progress and makes suggestions on where you should focus your attention. As you continue answering practice questions, these recommendations will update so you're always studying the most relevant material.
The live course is the way to go if you live near a Kaplan office and you have some friends who are also interested in taking the TOEFL. The standard in-person course includes 24 hours of live instruction spread out over eight sessions. The TOEFL Prep + Speaking and Writing Mastery course doubles the number of speaking and writing lessons you receive, so it's a good fit if you struggle in these areas. Both courses include eight full-length practice tests, access to the online course materials and instructor evaluation of writing and speaking samples.
Live classes leave plenty of time for asking questions and getting personalized help, but self-paced students aren't left out. All students can reach out to trained instructors 24/7 via email. Often, you'll receive a response within a day of asking the question. Kaplan also demonstrates its support with its Higher Score Guarantee. If your score doesn't improve after completing all required study materials and taking the TOEFL within one month, you will receive a full refund or a free course retake.
Kaplan Test Prep TOEFL Details
| Course | Price |
| --- | --- |
| Self-Paced TOEFL Course | $349.00 |
| In-Person TOEFL Course | $1,299.00 |
---
2. BestMyTest Review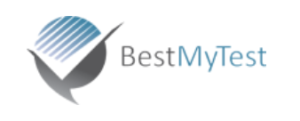 Best for comprehensive study materials.
BestMyTest was miles ahead of its competitors in terms of the sheer volume of study materials. The course includes over 40 lessons, thousands of practice questions and 19 full-length practice tests. Depending on the subscription you choose, you'll also get up to 18 speaking reviews and six writing reviews. BestMyTest is so confident that its study materials will help you succeed that it offers a money-back guarantee if your TOEFL score doesn't improve by at least seven points.
What to Expect
Choose from a weekly, monthly or six-month subscription. You can upgrade your subscription or cancel it at any time through your online account. The online study materials are available immediately so you can dive into the lessons right away or start with a practice test. The one-month and six-month subscriptions include a free study guide to keep you on track. You can follow this or pinpoint your weaknesses with the TOEFL Instructor tool and start there.
It's best to begin by following along with the video lessons and then reinforcing what you've learned with the interactive exercises and practice questions. The TOEFL Instructor will keep track of your answers and provide you with estimated section scores to show you what topics you need to review further. When you feel you've got a good grasp on the material, you can submit your speaking and writing samples for review or complete a full-length practice test. Four of these contain brand-new questions that don't appear in any of the practice material. That way, you can get an accurate estimate of your score without worrying about familiar questions throwing it off.
This is a self-paced course, so there's no opportunity for live interaction with instructors or other students; however, if you run into questions, you can still reach out via email. Each subscription includes a designated number of Ask-an-Instructor questions, ranging from two to 15 per week. You submit your question through your online dashboard and an instructor will respond promptly with a detailed answer. Previous answers are stored in your online account so you can review them as often as you need to.
BestMyTest Details
| Course | Price |
| --- | --- |
| Week-to-Week Subscription | $29.00/week |
| One-Month Subscription | $74.99 |
| Six-Month Subscription | $124.99 |
---
3. English Success Academy Review

Best for flexibility and personalized learning.
English Success Academy takes a unique approach to TOEFL prep, offering several courses that focus exclusively on one or two of the exam sections. It's a great resource if you only need help in a single area and you don't want to pay for study materials you don't need. You can mix and match these courses and take them in any order you choose. There are also free classes that rotate periodically. If you're really struggling, you may want to consider enrolling in private tutoring. Rates are competitive and you can start off with as little as a one-hour session.
What to Expect
The Right Notes course focuses on note-taking skills with an emphasis on the listening and speaking portions of the exam. The Advanced Speaking Guide and 24+ Writing courses focus on speaking and writing, respectively, and the Delta's Key program is best for practicing your reading and listening skills. A study of vocabulary is integrated into all courses as are key test-taking strategies to help you answer the most common question types. You can purchase these courses individually, all together or in any combination. Unfortunately, there is no discount for bundling courses, but the rates are not unreasonable compared to some of the other companies on this list.
Each course consists of a series of video lessons, workbooks and practice questions. When you log in to your online account, you are taken to a dashboard where you can view your progress in each course and easily switch between them. There are a set of activities assigned for each day, but this is merely a guide to keep you on track. You can do more or less than the day's activities if you prefer. There are no full-length practice tests or analytics to help you pinpoint the areas where you need improvement, but you can get a sense of this yourself by tracking how you do on the practice questions. Once you've purchased a course, you receive lifetime access to it so you can repeat it as often as you need.
English Success Academy offers private tutoring to students who need personalized assistance and those looking to improve their scores significantly. You get to choose your tutor and the length of the session and you can start with as little as one hour. If you decide you'd like more tutoring, you can contact the company about arranging a long-term solution. The Score Analysis program is a unique option for students who prefer learning independently, but want a little guidance on how to get started. You complete a practice test and then one of English Success Academy's qualified instructors will use your results to build a personalized study plan that you can follow on your own.
English Success Academy Details
| Course | Price |
| --- | --- |
| 24+ Writing Course | $47.00 |
| Delta's Key to the TOEFL iBT Complete Digital Course | $49.00 |
| Right Notes Courses | $67.00 |
| Advanced Speaking Guide Course | $127.00 |
| Score Analysis | $200.00 |
| Private TOEFL Lessons | $30.00/hour - $100.00/hour |
---
4. ETS Review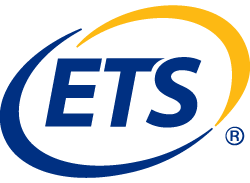 Best for realistic practice questions.
Educational Testing Service creates the TOEFL exam, so its online prep course is the best place to turn for realistic exam practice. Unfortunately, there are no full-length practice tests included, but you take pre- and post-tests for every section to track your improvement. The course contains over 80 hours of content and a personalized learning plan that adapts to your needs. It's not a good fit if you struggle with learning on your own, though. There is no way to contact instructors for help if you run into questions.
What to Expect
You receive a six-month subscription to ETS's online resources when you sign up. These include the course lessons, pre- and post-tests, 500 additional activities and an interactive gradebook that saves and tracks your responses. Full-length practice tests aren't included, but you can purchase up to four from ETS for $45.95 each. These are a nice resource to assess your knowledge throughout the prep course, so you can see how you're improving. Once you submit a practice test, you'll receive scores and feedback within 24 hours.
The TOEFL prep course proceeds through the exam in order. Before each section, you'll complete a diagnostic pretest. The program uses this to build a personalized learning path that emphasizes the skills you need improvement with. Then, you proceed through lessons and activities that teach you the strategies you need to succeed on the TOEFL. Wrap everything up with a post-test at the end to see how much you've improved. You can go back through the course material at any time if you need to review a topic.
The course material is clear and easy to follow, but if you do run into questions, there isn't anyone around to ask. Unlike our other finalists, ETS doesn't even offer email support to its students. If this concerns you, you may feel more comfortable with a company like Kaplan or English Success Academy that emphasizes personalized support for its students.
ETS Details
| Course | Price |
| --- | --- |
| TOEFL Online Prep Course | $89.99 |
---
The Most Important Features: Course Access, Comprehensiveness, Materials and Support
When choosing the best TOEFL prep courses, we assessed each company on a variety of factors. The most important of these are course accessibility, comprehensiveness, study materials and instructor support.
Course Access
TOEFL courses are available online or through local organizations. We chose to focus on the online programs to keep our recommendations accessible to everyone. Courses may be either live or self-paced, but self-paced programs are much more common. We also looked at what mobile resources are available to students who want the flexibility of learning from a smartphone or tablet. Kaplan stood out here as the only program to offer self-paced and in-person courses with mobile-friendly study materials.
Comprehensiveness
All of our finalists cover each of the four TOEFL sections — reading, listening, speaking and writing. We looked at the number of hours of instruction each course offers and how easy the lessons are to understand. Then, we reached out to former students to get their insights into what made a course great or where it could use some improvement. All of our finalists performed well in this category, but ETS deserves a special shoutout. As the creator of the test, its course is uniquely tailored to the information you need to know to pass the TOEFL.
Materials
Good TOEFL prep courses usually include some type of formal instruction — either through a virtual classroom or on-demand videos — practice problems, workbooks and simulated exams. Access to full-length practice tests is key because it familiarizes you with the test layout and gives you an accurate estimate of your scores. We favored courses that included analytics and personalized study plans that adapt to target your weak areas. BestMyTest was easily the best in this category with 19 full-length practice tests, over 800 practice questions and a targeted learning plan built around your performance.
Support
Live TOEFL prep courses give you the opportunity to ask questions of a trained instructor, but support is usually limited in self-paced courses. We preferred the companies that gave these students some means of support via email, phone or live chat. English Success Academy goes above and beyond, providing private tutoring sessions to students who need additional help. Kaplan and BestMyTest also deserve a mention for their score improvement guarantees. If you don't improve your score, you'll receive a full refund of the course tuition. There are certain requirements you must meet in order to qualify for the guarantee, so make sure you read the fine print before signing up.
---
Choosing the Right TOEFL Course Delivery Type for You
The right TOEFL prep course for you will depend on several factors, chief among them your budget, schedule and learning style. We've listed the main course types below in order from least expensive to most expensive.
Self-Paced: You review the study materials at your own pace when it's convenient for you.
In-Person: You learn alongside other students in a familiar classroom setting.
Private Tutoring: A tutor works with you to create a custom study plan that targets the areas where you need improvement.
Self-Paced
Pros:
Cheapest courses
Create your own schedule
Learn at your own pace
Cons:
Self-discipline required
Less personalization
Little to no instructor help
Who It's Best For
A self-paced course is best if you enjoy moving at your own pace and studying when it's convenient for you.
In-Person
Pros:
No distractions
Familiar setting
Interact with teachers and students
Cons:
Requires travel
Fixed schedule
More expensive than self-paced
Who It's Best For
A live in-person class is a good fit if you learn best from an instructor and enjoy the interaction found in a traditional classroom environment.
Private Tutoring
Pros:
Tailored instruction
Personalized study plans
Can be done online or in-person
Cons:
Who It's Best For
Private tutoring is best if you are retaking the TOEFL or you need to improve your scores significantly. A private tutor will work with you one on one to design a study plan to help you meet your goals.
---
Frequently Asked About the TOEFL
We spoke to students who have taken the TOEFL to learn what questions they had about the exam prior to taking it. We've answered some of the most common ones below. If there's anything else you'd like us to add, don't hesitate to reach out and let us know.
What are the most important things to know prior to taking the TOEFL?
Before you sign up for the TOEFL, you should understand what your school's requirements are, how the exam is formatted and what procedures you'll be expected to follow on test day.
School Requirements
Each university has its own TOEFL requirements that you must meet in order to be admitted. Some may have a minimum score while others may list a range of scores they will accept. Scores may also vary depending on the program you're applying to. Do some research and figure out what the requirements are for your school. Make this number your goal. If there is a range, aim for the high end just to be safe.
Exam Format
The TOEFL consists of four sections: Reading, Listening, Speaking and Writing. The first two sections are multiple-choice while the latter two consist of a number of short tasks that you must complete. In most cases, the exam is administered on a computer, but paper-based tests may be given in areas where a computer-based test is not an option. The exam takes approximately four-and-a-half hours to complete.
Test-Day Procedures
Know how to get to the testing center and make sure you arrive at least a half hour early. If you show up late, you won't be admitted to the testing room and you'll forfeit the exam fee. You must bring two forms of valid photo identification with you when you check in. The exam proctor will take a photo of you that will be attached to your score report. You cannot bring anything into the testing room except your ID, so leave your personal items at home. For a full list of test-day procedures, visit the Educational Testing Service website.
How much time should I spend studying for the TOEFL?
That depends on several factors, including how well you already know the material, your school's application deadline and your own schedule.
Current Knowledge
Take a timed practice test to get an estimate of your TOEFL score. Compare this to your goal. If you have a long way to go, you're going to have to spend more time studying than someone who is already close to their target number. Use your results as a guide to figure out which test sections are your weakest and spend more time on these. Keep taking practice tests as you go to assess your progress and adjust your study plan accordingly.
Application Deadlines
Look up your school's application deadline and work backwards from there. Leave yourself at least two possible TOEFL exam dates. That way, you have plenty of time to retake the test if you don't score as high as you'd like to on your first attempt. Keep in mind that you can't take the TOEFL more than once in a 12-day period and that it takes approximately 13 days after your exam for scores to be submitted to schools.
Your Schedule
It's best to set aside some designated study time each week to keep yourself on track. Once you've decided on your test date, plan backwards and set goals for each week. Some TOEFL prep courses do this work for you, so all you have to do is follow along. If you struggle to stay motivated on your own, you may want to consider enrolling in a live TOEFL prep course or private tutoring where the schedule is planned for you.
How is the TOEFL scored?
The Reading and Listening sections of the exam are multiple-choice. The Reading section contains 36 to 56 questions while the Listening section has 34 to 51. The Speaking portion is composed of six tasks. Certified tests scorers rate each response from 0 to 4. The Writing section contains two writing tasks that are scored on a scale of 0 to 5. These are your raw scores. They are converted to scaled scores out of 30 in each section to give you a combined score out of 120.
Scaled scores are determined through a mathematical process that accounts for differences between exam versions. This helps ensure that scores are consistent and fair. If the Reading section of one TOEFL is harder than the Reading section on the previous version of the exam, it will be graded more easily to account for this difference. That way, a 100 represents the same level of knowledge across all test versions.
The Reading and Listening sections contain a handful of unscored items. These are pretest questions included by ETS to measure their difficulty and fairness. Questions that pass will be included as graded items on future exams. There is no way of knowing which are the unscored questions when you're taking the test, so it's best to act as if all of the questions were going to count.
How do I send my TOEFL scores to schools?
Your TOEFL exam fee includes four free score reports. You choose which schools you would like to receive your reports through your online ETS account, and you can add, change or delete them until 10 p.m. on the day before your test. If you'd like to send your scores to more than four schools, you may do so, but you'll be charged $20 for each report after the first four. All schools on your list will receive your TOEFL scores as soon as they become available, usually within two weeks after the exam.
You can dispute your Speaking and Writing scores if you feel you weren't graded fairly. You must fill out a request form and send it to ETS, along with the $80 per-section Score Review fee. You must request a review within 30 days of receiving your test results, and you cannot do so if you've already submitted your scores to schools. If you'd like both sections reviewed, they must be done at the same time.
Canceling your scores is also an option if you feel you didn't do well, but it's not recommended. It's difficult to gauge how you did right after the exam, and if you do cancel, you will lose your exam fee and you'll have to retake the test. It's better to wait to submit your scores to schools until you see how you did. Then, decide whether you want to try again or keep the scores you have. If you do choose to cancel, you must do so at the end of your exam. Canceled scores aren't reported to you or any of the schools on your list, and they're not listed on future score reports. Canceled scores can be reinstated within 60 days of the test date for a $20 fee.
---
Key Statistics of the TOEFL
TOEFL scores range from 0 to 120 overall and 0 to 30 in each section. To give you a better idea of how you measure up to other test takers, we've listed some of the Educational Testing Service's TOEFL percentile rank data below. All data is rounded up to the closest percentile listed.
Total Score
90th Percentile: 108
70th Percentile: 96
50th Percentile: 88
30th Percentile: 76
10th Percentile: 56
Reading
90th Percentile: 29
70th Percentile: 26
50th Percentile: 22
30th Percentile: 18
10th Percentile: 12
Listening
90th Percentile: 29
70th Percentile: 26
50th Percentile: 22
30th Percentile: 18
10th Percentile: 11
Speaking
90th Percentile: 27
70th Percentile: 24
50th Percentile: 22
30th Percentile: 19
10th Percentile: 17
Writing
90th Percentile: 28
70th Percentile: 25
50th Percentile: 22
30th Percentile: 20
10th Percentile: 15
---
The Other 10 TOEFL Prep Courses We Reviewed
Bryce Welker is an entrepreneur and owner of over 20 test prep websites dedicated to helping professionals earn certifications and pass their licensure exams. Bryce is a regular contributor to Forbes.com, Inc.com, and Business.com where he shares his knowledge to help others boost their careers.