The ACT exam is the most widely accepted undergraduate entrance exam in the nation. Over 1.8 million students took the test in 2019 and that number continues to climb each year. We've created this guide to the best ACT prep courses to help you find the one that's right for you.
Our experts evaluated 21 ACT prep courses on accessibility, comprehensiveness and materials. We also looked at what resources the company provides to support students throughout the prep course and afterward. Then, we reached out to industry experts and former students to learn what they had to say about each of our remaining contenders. In the end, four ACT prep companies stood out from the pack.
Reviews of the Best ACT Prep Courses Online
1. The Princeton Review ACT Review Course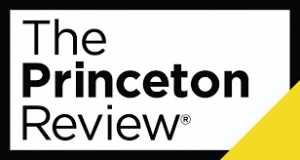 Best ACT prep test for flexibility and practice tests
The Princeton Review is unmatched when it comes to program flexibility. Courses are available in all formats and there are several levels to choose from, depending on how much practice you feel you need. Its tutoring packages are equally impressive, starting out at just $540 for three hours. The Princeton Review also stood out for its 14 full-length ACT practice tests, four of which are proctored. This is hard to beat if you're looking for real practice with the questions and constraints you'll face on test day.
What to Expect
The Princeton Review has three levels of live courses, so you can choose the amount of instruction you need. The ACT 31+ course is the most popular and the only one that is taught in person as well as online. It includes 44 hours of live instruction, online videos and practice questions and four hours of personalized live chat help from an instructor. The Ultimate Course is a quick refresher that covers the basics of the exam in 18 hours. You also get access to all the online resources for studying on your own.
The Princeton Review understands the importance of preparing under real test conditions. Taking proctored practice exams throughout your prep course will help you gauge how you're doing and feel more relaxed come test day. Every live Princeton Review course includes at least three proctored practice exams, with more available through your online dashboard. Each exam is taken online and The Princeton Review's software analyzes how well you did and highlights where you need improvement. Its Recommendation Engine shows you how you can master these tricky areas to boost your overall score.
The Princeton Review also provides online and in-person private tutoring, and the packages are much more flexible than Kaplan's. You can start with as little as three hours of instruction and work up hourly from there. There's also 10- and 18-hour packages with discounted rates. If you know you want personalized instruction, this is the way to go. You'll be hard-pressed to find a more affordable price and student feedback has been almost entirely positive. All packages come with access to The Princeton Review's online study materials, and the 18-hour package, like the self-paced and live courses, comes with a free retake or money-back guarantee if your score doesn't improve.
The Princeton Review ACT Details
| Course | Price |
| --- | --- |
| Self-Paced | $299 |
| Ultimate | $599 |
| ACT 31+ - Live Online | $1,199 |
| ACT 31+ - In-Person | $1,324 |
| ACT Intro Tutoring (3 hours) | $540 |
| ACT Intro Tutoring Plus (3 hours) | $840 |
| ACT Targeted Tutoring (10 hours) | $1,600 |
| ACT Targeted Tutoring Plus (10 hours) | $2,600 |
| ACT Comprehensive Tutoring (18 hours) | $2,700 |
| ACT Comprehensive Tutoring Plus (18 hours) | $4,500 |
Go To Princeton Review ACT Now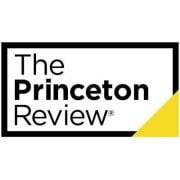 Check Weekly Offers on Princeton Review ACT Courses
---
2. Prep Expert ACT Review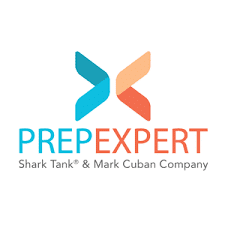 Best online ACT prep for instructors
Prep Expert was created by Dr. Shaan Patel, an educator and top scorer on the SAT. The company he created offers excellent study materials for both SAT and ACT exams, with no discernable difference in quality between either course's curriculum.
What to Expect
Depending on your study needs, Prep Expert offers a specific ACT prep course that can help you learn in your preferred style and format. For example, their Weekend Review courses are short and sweet, taught by instructors within the top 1% of exam takers. This is a great way to immediately get up to speed on all the essential concepts required to pass every section of the test, and it's also highly affordable when compared to many other options currently available for students online.
If you have some more time to devote to your studies, an excellent alternative is the Prep Expert Self-Paced Video ACT Prep Course. This is taught by the course founder and top scorer Shaan Patel through a series of pre-recorded video lectures. This on-demand format allows you to easily study around a packed schedule, especially since you can access this content on your mobile devices for on-the-go studying.
However, the best study experience by far is Prep Expert's 6-Week Flagship ACT Course, which functions like an online classroom course. If you have the availability and finances to try this option, I highly recommend it. You will definitely learn everything you need to know in order to earn an impressive score on your ACT, or you'll receive a full refund!
Prep Expert ACT Details
| Course | Price |
| --- | --- |
| ACT Weekend Review | $499 |
| ACT Self-Paced Video | $699 |
| ACT 6-Week Flagship | $999 |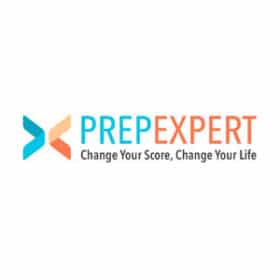 Get 30% Off All Prep Expert Review Courses
---
3. Kaplan ACT Prep Review

Best ACT test prep online for comprehensive study materials
Kaplan ACT impressed us with its varied course formats and comprehensive study resources that help students learn in the way that's best for them. In addition to 18 hours of live instruction, you get access to course books, thousands of practice questions, nine full-length practice tests and a growing library of webinars covering all aspects of the exam. Students enrolled in the PLUS courses also get three hours of private tutoring at no cost. This is a better place to start than the company's private tutoring packages, which require a minimum 10-hour purchase to start.
What to Expect
Kaplan offers self-paced and live online ACT prep courses. Live classes give you a choice between the standard course and the PLUS course. The standard course includes 18 hours of live instruction, eight full-length practice tests (two proctored) and access to all Kaplan's ACT online resources. The PLUS courses include all this, as well as three hours of private tutoring and access to a Math Foundations course and the company's SAT prep materials. There's also a unique Unlimited plan for students who want to start studying early. You can take any Kaplan PSAT, SAT or ACT course as many times as you like from the date of your purchase until December of your senior year.
All courses include on-demand videos, ranging from five to 15 minutes in length. These bite-size lessons enable you to focus on a specific area of the test until you achieve mastery. The ACT Channel also maintains a library of videos and new ones are being added all the time. It's best to watch these webinars in person if you can. You're able to interact with the instructor and other students just as you would in a virtual classroom. If you can't attend, though, you can still benefit from watching the recording at a later date. Search available videos by difficulty, instructor or topic to find the ones that match what you're looking for. Live ACT prep courses come with free, unlimited access to the ACT Channel, but unfortunately, it's not included with the self-paced course.
Private tutoring is also available through Kaplan, either in person or online, but its plans are less flexible than many of its competitors. Packages can only be purchased in 10-hour increments and the price rises steeply, especially for live online tutoring. It could still be the right choice, however, if you're committed to doing your best on the ACT. All private tutoring packages include a live online or in-person course for free and former students have had a lot of positive things to say about their tutors. Its tutoring packages, like its live courses, also come with a higher score guarantee, so you can either take the class again or receive a full refund if you don't improve your score.
Kaplan ACT Prep Details
| Course | Price |
| --- | --- |
| ACT Rapid Review Single Session | $25 |
| ACT Rapid Review On Demand | $40 |
| ACT Rapid Review Live | $75 |
| ACT Rapid Review All Access | $99 |
| Self-Paced Course | $299 |
| ACT Live Online Course | $599 |
| ACT Live Online PLUS Course | $899 |
| Unlimited Prep | $1,599 |
| ACT Tutoring (10 hours) | $1,999 |
| ACT Tutoring (20 hours) | $2,899 |
| ACT Tutoring (30 hours) | $3,799 |
| ACT Tutoring (40 hours) | $4,599 |
---
4. Magoosh ACT Prep Review

Best ACT prep course for studying from anywhere
Magoosh ACT is ideal for the busy student who doesn't have time for structured classes and loses interest with long video or text-based lessons. Its flexible mobile course consists of bite-size lessons and the schedule is tailored to you so you can learn whenever it's most convenient for you. Support is limited to online messaging, but with Magoosh's +4 score guarantee, you can keep taking the course as many times as needed until you see a noticeable improvement.
What to Expect
Magoosh understands that students today lead busy lives, so it built an ACT prep course that can accommodate any schedule. It's accessible on your computer or mobile device so you can study from anywhere and it breaks the lessons down into bite-size chunks so you can fit in your studies in as little as 20 minutes per day. The platform will create custom study schedules for you and it can even send you text message reminders to help keep you on track if you forget.
The course is composed of 250 video lessons, over 1,300 practice questions, and four practice exams you can take throughout the program. Magoosh is so confident in the success of its program that it offers a +4 score guarantee. If your score doesn't improve by at least four points, you can retake the course for free. Throughout the whole program, you can track your progress in your online account and message Magoosh's team with any questions you have about the material.
Magoosh is a subscription-based service and it's pretty affordable for everything it offers. If you're not sure if it's right for you, you can start with a free account that gives you access to over 100 video lessons and practice questions. Those who decide to upgrade to a Premium account can also take advantage of its seven-day money-back guarantee. If you're not happy with its program for any reason, you can get a full refund, no questions asked.
Magoosh ACT Prep Details
| Course | Price |
| --- | --- |
| One-Month Subscription | $79 |
| Three-Month Subscription | $89 |
| 12-Month Subscription | $99 |
---
5. Testive ACT Prep Review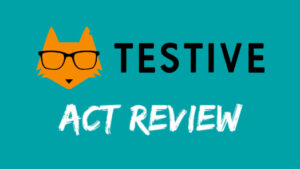 Best ACT course for student support
Testive ACT provides a happy medium for independent learners who want access to instructor support when they need it without having to pay the high cost of private tutoring. It offers one-time and subscription-based pricing, so you can choose the model that best works for you. All of its packages include access to its online resources and at least once weekly video chats with one of Testive's highly qualified coaches to help you through those troublesome sections.
What to Expect
The Testive platform strives to offer the flexibility of a self-study course with the personalized support of a live course or private tutoring. You sign up for the service and you can begin accessing the test materials as soon as you've completed an online practice test or uploaded your results from a practice test you did elsewhere. You can move through all of the online material at your own pace, including taking additional practice tests and completing assignments. You can also input your ACT test date and Testive will create a schedule for you to keep you on track.
The help comes in with its one-on-one weekly video chat sessions with Testive's coaches, all of whom have scored in the 99th percentile on the ACT. If you choose the Coaching package, you get one video chat session per week while students who choose the Bootcamp or Coaching Plus option get two video chat sessions per week. You can schedule these whenever it's most convenient for you through the Testive platform. This is your opportunity to get assistance with any concepts or question types that you are having trouble with.
The cost is a little high, especially if you need several months to complete the program, but it's not out of line with many ACT prep services that offer private tutoring. However, if you aren't that interested in the coaching, you can probably find more affordable options elsewhere. The Bootcamp option is a good choice if you don't want to pay the subscription fee for months at a time, but if you do go the subscription route, you can cancel at any time.
Testive ACT Prep Details
| Course | Price |
| --- | --- |
| Bootcamp | $799 (one-time fee) |
| Coaching Package | $399/month |
| Coaching Plus Package | $599/month |
---
6. Veritas Prep ACT Review

Best ACT prep class for comprehensive admissions help
Veritas Prep markets itself as a complete resource for college admissions. It offers live online and self-study ACT and SAT prep courses with 25 hours of live instruction and office hours seven days a week. It also hosts free college admissions and test prep workshops and conducts profile evaluations to improve your chances of getting into the school of your choice. For students who really want to go the extra mile, Veritas Prep's admissions consulting packages are worth a closer look. Unfortunately, there are no in-person ACT prep courses, so students interested in this should go with The Princeton Review.
What to Expect
All of Veritas Prep's courses are taught by instructors who have scored in the 99th percentile on the ACT. They understand how the test works and are dedicated to helping you get the score you want. The self-study program is taught through a series of pre-recorded videos while live online students receive 25 hours of virtual classroom instruction. Both programs give you access to live instructor help seven days a week through your online account, so there's no need to struggle with a question you don't understand. The self-study course is more expensive than those offered by our other finalists, but it also includes SAT prep material, so it's a good fit if you're considering taking both exams. Private tutoring is an option as well if you prefer one-on-one instruction.
Veritas Prep's On Demand library contains 12 detailed video lessons covering every aspect of the exam. It also includes six full-length practice tests, though none of these are taken under proctored conditions as a part of the live course. The tests are immediately scored after you take them, so you can see where you need improvement. The online question bank can help you target these areas until you feel comfortable with them. You can study these materials at your leisure or follow Veritas Prep's 30-, 60- or 90-day plans if you prefer a more structured approach. The online resources can be accessed from your computer, smartphone or tablet for up to one year from the purchase date.
Veritas Prep is the only one of our finalists to offer additional admissions help to its students. Some resources, like its college admissions workshop and profile review, are free, so you can start here before committing to any paid services. Its comprehensive admissions packages are expensive, but if you want to give yourself the best chance of getting into the school of your dreams, it may be worth the investment. You start with a free consultation and then you can choose between hourly or school-based packages. Your admissions counselor guides you through all aspects of your application from writing essays to obtaining recommendation letters. They can also give advice on securing scholarships and other financial aid. An ACT prep course is included for free with your purchase.
Veritas Prep ACT Details
| Course | Price |
| --- | --- |
| Self-Study | $499 |
| Live Class | $899 |
| On Demand Plus Tutoring (3 hours) | $89 |
| On Demand Plus Admissions Consulting | $2,300 |
| Independent Tutoring (12 hours) | $2,400 |
| Focused Tutoring (24 hours) | $4,400 |
| Hourly Admissions Consulting - Budget (3 hours) | $900 |
| Ambitious Tutoring (36 hours) | $5,900 |
| Comprehensive Tutoring (48 hours) | $7,900 |
---
7. ACT Online Prep Review

Best self-study ACT prep course
The ACT creators have built their own self-study program to help students prepare for the exam. This mobile-friendly course is designed to help you stay on track and target the areas where you need improvement. There are traditional study tools like flashcards and quizzes, but there's also games to make learning new concepts fun. You can purchase a single six-month subscription for $39.95. There's also special bulk pricing for schools teaching ACT prep courses. The downside to this otherwise outstanding self-paced program is that there's no instructors around to help you if you run into questions. If this concerns you, you're better off going with one of our other top picks.
What to Expect
The course begins with a short, diagnostic ACT to assess your strengths and weaknesses. Then, it uses this information to build a personalized learning path just for you. You'll be taken through lessons and exercises designed to target the areas where you need improvement. Your dashboard is constantly updated with a new predicted score, so you can see how you improve over time. The course creates daily goals for you to help keep you motivated and working toward your desired score. You can access all materials on your computer or through the company's Android or iOS apps.
There are only two full-length practice tests included, but ACT Online Prep makes up for this with innovative study tools like its Game Center. It teaches core ACT concepts in a fun, engaging way that makes the material more likely to stick in your mind. Compete against others or your own high score and play as often as you like. There's also more traditional resources as well, like flashcards and a question bank to help you target certain question types that you've been struggling with.
ACT Online Prep is well adapted for classroom use. Teachers can purchase bulk subscriptions at a discount and monitor students' progress through the lessons via the administrator dashboard. It aggregates data on individual and collective strengths and weaknesses, which can help guide teachers in their classroom instruction.
ACT Online Prep Details
| Course | Price |
| --- | --- |
| ACT Online Prep | $39.95/6 months |
---
List of Every ACT Prep Course Worth Considering in 2023
We've listed 17 other ACT prep courses we considered. Click on the links to see what we had to say and to learn more about the available courses and start dates.
---
The Most Important Features: Access, Comprehensiveness, Materials and Student Support
When comparing ACT prep courses, we focused on four main areas: course accessibility, comprehensiveness, study materials and support from instructors. We ranked each company based on how they performed in each category.
Access
In the interest of providing useful recommendations to everyone, we required all of our finalists to offer online ACT prep courses that students can attend from anywhere. We favored companies that offered a variety of course formats to suit all different learning styles and schedules. Self-study programs work best for students who prefer to learn independently while an in-person course is a good fit for those who feel more comfortable in a classroom environment. Live online courses are a happy medium, giving you the flexibility to study from home with the interactivity of a classroom course. Our top two companies, Kaplan and The Princeton Review, offer courses in all three of the formats listed above.
Comprehensiveness
Next, we looked at how well each company covers the material tested on the ACT. We required each of them to provide at least 15 hours of instruction covering all sections of the exam. Student reviews also played a big role. The true effectiveness of an ACT prep course is measured in how well prepared you feel on test day and whether your score improves from where you began. All of our finalists fared well in this category, with The Princeton Review garnering especially high praise.
Materials
A good ACT prep course gives you additional study materials to supplement your classroom instruction, like a question bank, on-demand videos and course books. Practice tests are also important because they give you a sense of the test's time constraints and a measure of your progress as you continue throughout the course. Our four finalists each offer multiple full-length practice tests, as well as thousands more practice questions and additional resources, so you can study as much as you need to in order to feel prepared on exam day.
Student Support
A good prep course tailors your study plan to fit you and gives you access to trained instructors who can answer any questions you have. This support can take many forms — email, office hours or private tutoring, to name a few. Some companies also offer higher score guarantees. These promise a full refund, a free course retake or your choice of either if you don't score higher on the ACT after completing the prep course. Before you sign up for one of these programs, you should read the fine print, though. Often, there are certain requirements you must meet in order to be eligible for the guarantee, like completing the full course and taking the ACT within a certain period of time afterward.
---
Choosing the Best ACT Prep Course for You
ACT prep courses are available in four main formats. Each has its own advantages and disadvantages, and the right one for you depends on your budget, schedule and preferred learning style. We list them below in order from least expensive to most expensive.
Self-Paced: You're given the course materials and you study at your own pace.
Live Online: You attend a virtual classroom and learn from a remote instructor alongside other students.
Live In-Person: You travel to a physical location and learn from a trained instructor in a classroom setting.
Private Tutoring: An instructor works with you one on one to create a custom study plan that addresses your needs.
Self-Paced
Pros:
Cheapest courses
Study when you want
Possible to cram
Cons:
Requires self-discipline
No personalized instruction
Little to no instructor support
Who It's Best For
The self-paced option works best if you're a self-disciplined, independent learner or you can't fit a live course into your busy schedule.
Live Online
Pros:
Attend anywhere
More interactivity than self-paced
Some course structure
Cons:
Less interactive than live classroom
Opens up potential for technical difficulties
Who It's Best For
A live online course is the next-best thing to an in-person course if you enjoy some interactivity in your lessons and prefer being taught by an instructor. It's a good fit for students who don't live near a company's offices or who can't commit to showing up in person each week.
Live In-Person
Pros:
No distractions
Familiar learning environment
Interact with instructor and other students
Cons:
Travel required
Limited flexibility
More expensive than online courses
Who It's Best For
Live in-person courses enable you to focus solely on ACT prep and get the personalized instruction you need from your teacher. It's best if you prefer the familiarity of a classroom environment and live near one of the company's locations.
Private Tutoring
Pros:
Tailored instruction
Personalized study plans
Can be done online or in person
Cons:
Expensive
Can be more time-consuming
Who It's Best For
Private tutoring is the best choice if you need to significantly improve your score or you feel you learn best from personalized instruction. Unfortunately, the high price tag may put tutoring out of reach for some students.
---
Frequently Asked Questions About the ACT
Knowing the material you'll be tested on is only part of preparing for the ACT. You also have to know how to study effectively and how the ACT fits into the larger picture of your college application. We've answered these questions and others below. If there's anything we missed that you'd like us to answer, feel free to reach out.
What are the most important things to know prior to taking the ACT?
Before you take the exam, you need to understand the requirements of the schools you're applying to, the ACT format and the procedures you'll be expected to follow on test day.
School Requirements
The first thing you should figure out is whether your school requires the ACT or the SAT. Many will accept both, though they may prefer one over the other. Then, you should figure out what scores you need. You can get some idea of what you should be aiming for by doing some research online. Most schools list their students' average ACT score or a range of accepted scores. Take note of whatever numbers you can find and make this your goal. If there's a range, shoot for the high end of it, just to be safe.
You should also look up the college's application deadline. Start from there and work backward to determine when you need to take the ACT. Keep in mind that it can take anywhere from two weeks to two months for your scores to be released after your exam. If your school has a rolling deadline, you have greater flexibility in when you submit your application, but if there's a single date, it's paramount that you get your test scores in on time. It's best to leave yourself plenty of time, so you can retake the exam if you don't score as high as you'd like to on your first try.
Test Format
The ACT is a paper test broken down into four multiple-choice sections — English, Mathematics, Reading and Science — plus an optional writing sample. It's 175 minutes long (or 215 minutes with the writing sample) spread out across three-and-a-half to four hours. You are graded based on how many questions you get correct. There is no penalty for wrong answers, so you should always make an educated guess if you don't know.
Though uncommon, you may see a fifth multiple-choice section on your ACT. It will cover the same subject as one of the previous sections. It contains experimental questions that are not graded. They are used by the test makers to assess the difficulty and fairness of the questions, which may show up as graded items on future exams. You won't know which section is the experimental one, however, so it's important to treat them both as if they were going to count.
Exam-Day Procedures
Make sure you know how to get to your testing center and arrive at least a half hour early. If you show up late, you won't be permitted into the testing room and you'll forfeit your registration fee. When you arrive, you'll be required to submit a valid, government-issued photo ID (driver's license, passport, etc.) and your registration ticket. You're not permitted to bring anything into the testing room except pencils, erasers and a calculator. Scratch paper will be provided to you. For a full list of exam-day procedures, please visit the ACT website.
How much time should I spend studying for the ACT?
This depends on how well you already know the material and how much you need to improve. When creating your study plan, ask yourself the following questions.
When is the admission deadline?
Look up the admission deadline for all the schools you're applying to and work backward from there. Give yourself at least a two-month buffer in case there's a delay in receiving your ACT score. When possible, it's best to take the test several months in advance. That way, you have plenty of time to take it again if you don't like the score you get the first time. You should also keep in mind that the ACT is only administered six times per year (September, October, December, February, April and June), so you may have to wait a few months in between attempts.
What are my strengths and weaknesses?
If you feel pretty confident in your understanding of the material, you don't need to put as much effort into studying as someone who is a bit rusty. Before you begin any study program, you should take a practice test to establish a baseline. Time yourself and take it under conditions as close to the real exam as possible. Then, look at your score and identify where and how much you need to improve.
Build your study plan around this. Certain ACT prep companies, like The Princeton Review, offer different courses based on the level of assistance required. There's a quick refresher course for students who are already close to their target goal and a more intensive program for students who need to improve their scores significantly. One of these may work for you; however, a general ACT prep course will be best for most students.
What's my schedule like?
When and how you study will depend on what other commitments you have. Ideally, you'd be able to devote at least a couple hours each week to studying, either on your own or through a live prep course. But if you can't do this, you'll likely have to study independently when you can fit it in. It's best to begin earlier, in this case, to make sure you have plenty of time to cover all sections of the exam.
How is the ACT scored?
Your ACT scores are broken down in three ways: your raw scores, scaled scores and your percentile rank. Only your scaled scores and percentile rank show up on your official score report.
Raw Scores
Your raw score is simply the number of questions you get right. The number of questions and the exam time limits vary by section. The English section contains 75 questions you must answer in 45 minutes while the Math section has only 60 questions and a 60-minute time limit. Both the Reading and Science sections are 35 minutes long, containing 40 questions. There are no penalties for guessing incorrectly, so make sure you don't leave any answers blank.
Scaled Scores
Your raw scores are converted to scaled scores ranging from 1 to 36. You receive a subscore for each section as well as a composite score that incorporates all four. Scaled scores are calculated by the test creators to ensure that the difficulty of each exam remains the same. For example, if the Science section on the September exam is more difficult than the one on the October exam, the September exam will be graded a little easier. This ensures that a 28 represents the same level of knowledge on both exams, even if the raw scores were different.
The optional writing section is scored by two different graders on a scale from 1 to 6, giving you a composite score of anywhere between 2 and 12. They assess your writing based on its ideas and analysis, development and support, organization and language use. You are not graded on the factual accuracy of the information you include, and your writing sample is not factored into your ACT composite score.
Percentile Rank
Your percentile rank tells you how well you measure up against other test takers. A 90th percentile rank, for example, means you scored higher than 90 percent of all test takers. Your score report breaks down your percentile rank for your state and the nation. You get separate ranks for your composite score, section scores and subsection scores, so you can see exactly where you excelled and where you could use some more practice.
How important is the ACT to college admissions?
The ACT serves as a measure of your readiness to tackle college coursework, so it's a key part of your application. It's not the only thing schools look at, though. They also take into account your high school transcript, extracurricular activities, essay and letters of recommendation. Doing your best on these other aspects of your application is just as important as studying for the ACT, and it could help make up for a below-average ACT score.
Every university weighs the various components of your application differently. There's no way to know for sure how much your ACT score will impact your chance of acceptance. Ideally, you want to meet or exceed your school's average ACT score. You can figure this out by doing some research online. Most schools list their student body's average ACT score or a range of scores that they'll accept.
A below-average score doesn't mean all hope is lost, though. Schools understand that some students just don't test well, and that's where the other components of your application come in. Colleges want to get to know you as a person to make sure you fit what they're looking for. They don't just want smart students — they want motivated, thoughtful students who are eager to learn and build a bright future for themselves. If you can demonstrate this in the rest of your application, you may not have to worry about a lower ACT score.
How do I send my ACT scores to schools?
When you register for the ACT, you can choose up to four schools you'd like to send your scores to. They'll receive a copy of your score report at the same time you do — anywhere from two to eight weeks after the test. There are no charge for these first four, as they are included in the registration fee. If you would like to send more, you can do so through your online account, though you must pay for these. A regular report costs $35 and will usually make it to your desired school in two weeks or less. A priority report costs $39.50 and will get your score report to the school in three to four business days.
Canceling your scores is an option, but it's not recommended unless you have an emergency that prevents you from completing the exam. It's difficult to assess how you did right after the test and then you'd lose the money you paid for your registration fee. If you choose to cancel your test, you must tell your exam proctor before you leave the testing center. They will make a note of it and your exam won't be scored.
A better option if you're worried about your performance is to cancel your score reports. You have up until the Thursday after your exam to go into your online account and cancel the score reports you requested on your registration form. Then, you can wait until your official scores come out and decide how you want to proceed. If you're happy with the results, you can send your score reports out then, although you will have to pay the fees mentioned above.
Typically, your score report contains a record of every time you took the test. The ACT gives you the option to erase certain low scores, however, if you don't want colleges to see them. To do this, you have to submit a formal written request to the ACT and they will send you a form that you must fill out and return. Once this is done, your low score will no longer show up on any score reports sent to schools. This only applies to full exams. There's no way to cancel a low score for a particular section of the test.
---
Key Statistics of the ACT
ACT composite scores range from 1 to 36 in one-point increments. The optional writing sample is graded from 2 to 12. The ACT compiles national rank data to show how your score compares to other ACT test takers. We've listed some of that data here, so you can see how you measure up. All data is rounded up to the closest percentile listed.
Total Score
90th Percentile: 28 70th Percentile: 24 50th Percentile: 20 30th Percentile: 17 10th Percentile: 14
English
90th Percentile: 29 70th Percentile: 24 50th Percentile: 20 30th Percentile: 16 10th Percentile: 11
Mathematics
90th Percentile: 28 70th Percentile: 24 50th Percentile: 20 30th Percentile: 17 10th Percentile: 15
Reading
90th Percentile: 31 70th Percentile: 24 50th Percentile: 21 30th Percentile: 17 10th Percentile: 13
Science
90th Percentile: 27 70th Percentile: 23 50th Percentile: 21 30th Percentile: 18 10th Percentile: 14
Writing
90th Percentile: 9 70th Percentile: 8 50th Percentile: 7 30th Percentile: 6 10th Percentile: 5
---
The Other 16 ACT Prep Courses We Reviewed
Bryce Welker is an active speaker, blogger, and regular contributor to Forbes, Inc.com, and Business.com where he shares his knowledge to help others boost their careers.  Bryce is the founder of more than 20 test prep websites that help students and professionals pass their certification exams.