The Dental Admissions Test (DAT) is a 4.5 hour test that students need to take in order to get accepted to dental school. Only 55.3 percent of applicants are admitted, so the test, along with undergraduate GPA are extremely important factors. Generally, the lower your GPA, the higher you need to score on the DAT in order to be accepted to one of the 66 accredited dental schools within the United States.
The test is broken down into four sections:
Survey of natural sciences (90 minutes / 100 questions)
Perceptual ability (60 minutes / 90 questions)
Reading comprehension (60 minutes 50 questions)
Quantitative reasoning (45 minutes / 40 questions)
The perceptual ability test is unlike any other standardized test section, and what makes the DAT unique. It is meant to mimic someone's ability to look in a mouth and see around teeth. So the section tests dimensional manipulation and spatial reasoning with a variety of different puzzles.
The average score on the DAT is 17 out of a possible 30.
Top Rated DAT Prep Course Comparisons
Reviews of the Best DAT Courses
1. Kaplan DAT

Best For
Users who learn best from self-paced, video courses, and practice questions or users who want the most comprehensive review package or tutoring.
What To Expect
Kaplan DAT is the worldwide leader in test prep course materials and offerings. They have an impressive 4.6 out of 5-star rating on Trustpilot, and always give students different options when choosing prep material to fit every type of budget. In the case of the DAT, Kaplan offers both a Self Paced, and slightly more expensive Live Online course. Both courses come with the option to upgrade to PLUS which gives you one-on-one tutoring and a math foundations section.
You can also purchase individual study aids from within each course, like the Qbank ($99), Practice Test Pack ($149), or the Self-Study Bundle ($199), which is a combination of the two.
Private tutoring is offered as well, starting at $1999 for 10 hours of instruction.
Course Details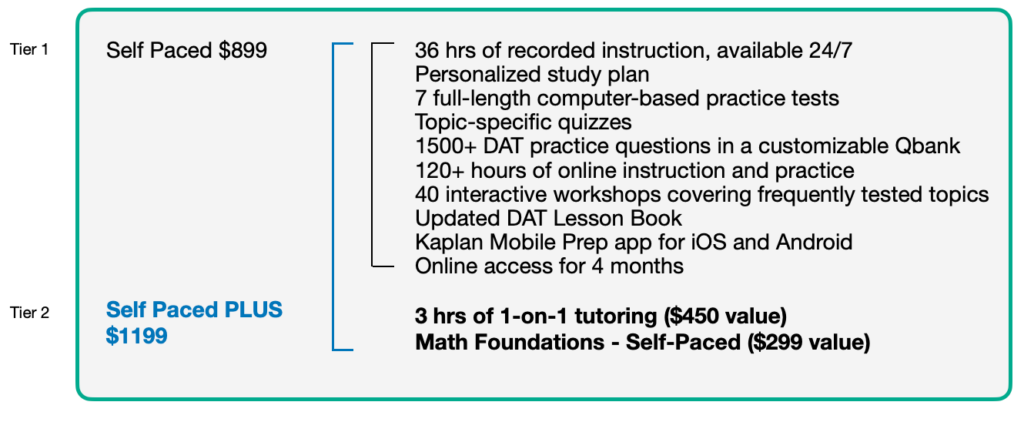 2. The Princeton Review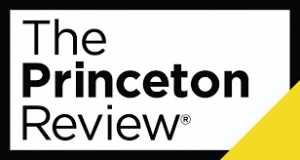 Best For
Users who prefer learning a live classroom setting.
What To Expect
Cofounded by Adam Robinson and John Katzman, in 1981, you may know The Princeton Review DAT from its annual list of ranking the best colleges in the United States. They offer test prep services as well, for a variety of different standardized tests, and from our research, appears to be the second largest test prep course provider after Kaplan. Like Kaplan, they offer many test review textbooks, in addition to their course prep.
Princeton's DAT course prep is completely live, and online. Aside from they're tutoring service, they only offer two variations of their courses, compared to Kaplan, which offers four. However, their pricing is competitive in the industry, based on what they offer.
To give you a sample of The Princeton Review, and its material, they offer free DAT sample tests, and strategy sessions. In addition to the DAT two courses, The Princeton Review also offers private tutoring starting at $1800.
Course Details

3. DAT Cracker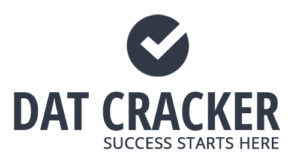 Best For
Users who don't need much personal attention or who are on a budget.
What To Expect
DAT Cracker is a prep course company that specializes in its namesake. In our review, we couldn't find any information on the company or its history, but we did find a few interesting features that make it stick out from other niche prep course providers. They offer the option to gift the course to a loved one, an annual CrackDAT scholarship you can apply to, and the ability for bulk purchasing, which comes in handy if you're currently in a pre-dental society.
You can sign up and try the course for free, however, all sales are final once you decide to purchase the software. You have the option to purchase individual sections of the course, and they guarantee that you will score at least a 14 on the actual test.
The company also offers a variety of Dental School Applications Services ranging from interview preparation to personal statement assistance; something that no other prep course we reviewed does.
Course Details

4. Gold Standard DAT Prep

Best For
Users who learn best from textbooks who are on a budget.
What To Expect
Gold Standard DAT Prep is another company that focuses solely on the DAT. The 'About Us' page on their website didn't lead anywhere, so we couldn't find any information about the company or its history, but the website seems pretty up to date aside from that page.
As this is a review of courses, we don't include any DAT books, however books and practice exams are what comprise 90 percent of Gold Standard's DAT prep material. The 15 hour natural sciences video review is the only video that comes with Gold Standard's course, which is basically a bundle of all their books and practice tests.
We're including this as part of our review because we understand that many students prefer learning from books, and based on research, the books at Gold Standard seem like a reasonably safe bet that many others have had success with. Priced at about $38 per book after taxes and shipping, you can purchase them individually or as a set, which saves you $50. You can also purchase individual practice tests.
The course includes all four books, optional TopScore practice tests, and an audio summary of science. There are also free resources on the site to give you an idea of what it is like to use the material.
Course Details

Here are some of the most frequently asked questions about the DAT.
How do I register to take the DAT?
You first need to register for a DENTPIN®. You can then register for the test through the ADA.
How much does it cost to take the DAT?
$415
Where and when can I take the DAT?
There are test centers across the country and the test is administered year around.
What happens if I want to retake the DAT?
You can take the DAT a total of three times and must wait 90 days in between each test. If you want to take the test more than three times you must apply to take the test again and demonstrate that you have been applying to dental schools.
---
Bottom Line
The course you pick depends entirely on your budget. Ideally you'd want to have a private tutor the entire time, but $5000 for 40 hours of tutoring is about as expensive as going to the dentist!
The order in which we reviewed each course coincides with its price, with Kaplan being the most expensive and Gold Standard being the least. The purpose of this review isn't to make recommendations or come up with ratings of each company's material. A recommendation would render one's budget and learning aptitudes meaningless, and there is no scale or system to base ratings on. Our purpose is to give you an unbiased rundown of each course, its price, and offerings.
So think about it like buying a car; all the options would be nice to have, but they come with a price. Some people can get their desired score by buying one DAT prep book, and some people may need to hire a private tutor to even have a shot at getting a decent score. The courses (like most of us) fall somewhere in the middle.
Dentists are in the top five percent of earners, so if you've got a competitive GPA and all the prerequisites completed, you should by all means do everything you can to get a score that will gain you admission to dental school.
Bryce Welker is an active speaker, blogger, and regular contributor to Forbes, Inc.com, and Business.com where he shares his knowledge to help others boost their careers.  Bryce is the founder of more than 20 test prep websites that help students and professionals pass their certification exams.