The Praxis® tests measure the academic skills and subject-specific content knowledge needed for teaching. The Praxis tests are taken by individuals entering the teaching profession as part of the certification process required by many states and professional licensing organizations, according to ETS.org.
In order to be a teacher in about half of U.S. states, you need to pass a Praxis test, or combination of additional tests depending on the state. You will start with the Praxis Core, which measures academic skills in reading, writing and mathematics and consists of:
| Test | # Of Questions | Duration |
| --- | --- | --- |
| Reading | 56 | 85 mins |
| Math | 56 | 85 mins |
| Writing (2 sections) | 40, 2 essays | 40 mins, 60 mins |
The test is computer generated and the scores are between 100 and 200. Your score is how many questions you get correct (known as your raw score). If you don't pass the test you can retake it 21 days after an attempt, and there is no limit on how many times one can take the test.
A Full List of Every Praxis Prep Course Worth Considering
Full Reviews of the Best Praxis Prep Courses
1. Kaplan Praxis Review

Best for users who like lots of practice questions.
What To Expect
Kaplan Praxis continues to be the worldwide leader in test prep courses. They are continually placed at the top of our prep course reviews because they consistently garner positive reviews across a wide range of standardized tests that people need to prepare for. The pricing of their courses is usually comparable to what others charge, so it is generally a safe bet to go with Kaplan.
Course Details

The Math Foundations Course can also be purchased individually for $299.
---
2. Magoosh Praxis Review

Best for users who want the most bang for their buck.
What To Expect
Magoosh Praxis is a relatively new test prep service that started in 2008 by students who were getting their MBAs together. The company has grown quickly since then, and now offers test prep courses for a variety of different tests, including the Praxis. If you go to their website you will get an idea of the company and culture, and how it bleeds into their material. Words like agile, swift, and affordable come to mind, but that's not to say they skimp on their material.
After reviewing the Magoosh Praxis prep course, the feature that stuck out most was that they offer video explanations of each practice question which covers "important concepts, shortcuts, and pitfalls." This along with their 7 day guarantee, and simple interface make Magoosh a viable option for anyone preparing to take the Praxis.
Course Details

3. Khan Academy

Best for users who want a free test prep experience.
What To Expect
"Anyone can learn anything. For free." Is one of the many slogans on Khan's website. This non-profit started in 2008 while Samuel Khan was tutoring his cousin in math using Yahoo! Doodle images. Soon his other cousins began using Khan's instruction so he decided to start posting videos of his lessons online via Youtube. The organization has received sizable donations from companies like Google and AT&T.
Once you get into the material you will find an overview of each Praxis test section with lessons, along with practice questions and video explanations accompanying each question, similar to Magoosh.
Course Details

It is also worth noting that Khan Academy Praxis prep is what ETS (the company that administers the test) recommends.
---
4. Teachers Test Prep

Best for users who want a comprehensive Praxis prep experience.
What To Expect
When we review prep courses, companies like Kaplan always come up because they offer courses for pretty much every kind of test. There are also companies that exist solely for one type of test that they specialize in, and that is exactly what Teachers Test Prep Praxis is. Having served over 250,000 Praxis test-takers as of this writing, Teachers Test Prep is the most robust Praxis prep course that we reviewed. They also have the most options available for test-takers, ranging from free overview study guides and full-length practice tests to live prep classes or even one-on-one tutoring. They boast a 93-98 percent success rate and have instructors from the best universities in the country.
Course Details
As there are writing, reading, and math sections on the Praxis, Teachers Test Prep offers an individual course for each section, and you can decide how in depth you want to get with each course, as outlined below.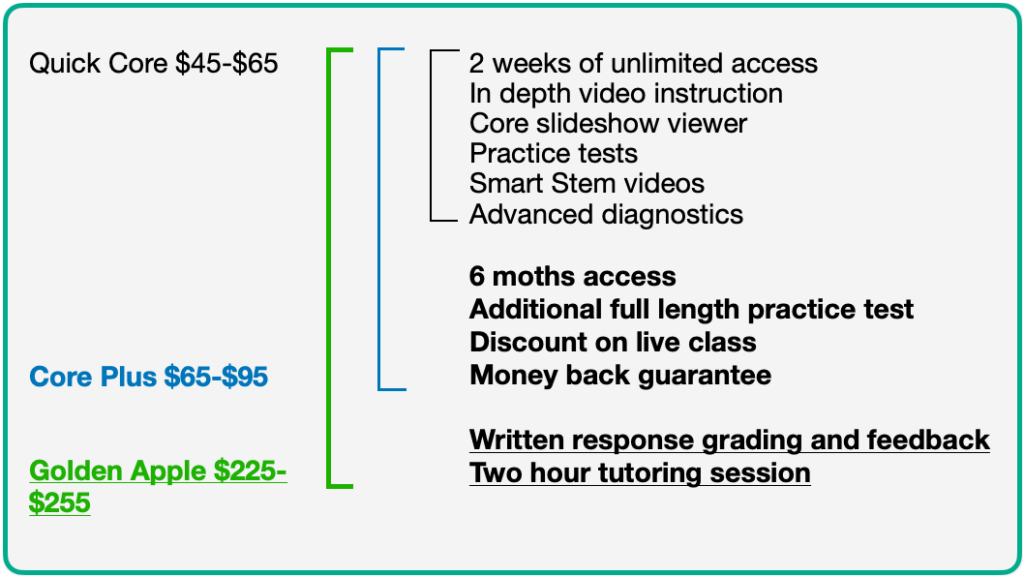 Teachers Test Prep is also the only course we reviewed that offers prep material beyond the Praxis Core for additional tests you may have to take depending on your state.
The Most Important Praxis Features: Math Preparation, Materials, and Student Support
Math Preparation
Three of the four prep courses we reviewed placed heavy emphasis on the math section of the Praxis by giving the option to purchase math only review. Because of this, we have concluded that the math section is where test takers have the biggest challenge come test day. Every prep course we reviewed gives you the option to purchase a course that focuses on Math, only, or in the case of the Khan Academy, complete it for free.
Materials
Every course we reviewed offers video instruction, and in some cases, video explanations of practice questions. Each course also has an intuitive interface that is easy to navigate and two of the four courses (Khan and Teachers Test Prep), offer diagnostics where you can take a practice test at the beginning of your studies to see where you need the most improvement.
Student Support
Every course we reviewed offers support except Khan Academy. However, Khan Academy is the only course that is free, so it is up to you, the test taker, to decide what you're most comfortable with.
Praxis Frequently Asked Questions
How much does the Praxis cost?
$90 per individual subtest or $150 for combined tests.
How do I register for the Praxis?
You can register at ets.org.
What does the Praxis cover?
There are three different Praxis tests and the amount of tests you have to take depends on your state and or the subject grade level you are preparing to teach.
Praxis® Core Academic Skills for Educators (Core). These tests measure academic skills in reading, writing and mathematics.
Praxis® Subject Assessments. These tests measure subject-specific content knowledge, as well as general and subject-specific teaching skills, that you need for beginning teaching.
Praxis® Content Knowledge for Teaching Assessments (CKT). These tests measure subject-specific content knowledge, with a focus on specialized content knowledge used in elementary school teaching.
Source: ets.org
Do I need to take any exams before the Praxis?
No. There are no exams that you need to take prior to the Praxis.
When can I take the Praxis?
This depends on the test you are taking, and where you are taking it. Ets.org provides all the dates and locations.
Do I have to take exams after the Praxis?
You may have to take an additional combination of Praxis tests depending on your state.
---
Bottom Line
The Praxis test is definitely passable if you study, and the above courses are here to help you do that. The pricing, and your learning aptitude are probably the two determining factors when selecting a prep course, so we encourage you to take what you have learned in this article, and then go to the different prep course websites so you can get a feel of the format and delivery of each course. From there, you should be able to make an educated decision which Praxis prep course fits your needs.
Other Courses We Considered
| Course | Price |
| --- | --- |
| Urban Teachers | Free |
Bryce Welker is an active speaker, blogger, and regular contributor to Forbes, Inc.com, and Business.com where he shares his knowledge to help others boost their careers.  Bryce is the founder of more than 20 test prep websites that help students and professionals pass their certification exams.