There are more engineering jobs available in the U.S. than there are engineers to fill those positions. This means big career advancement opportunities. Obtaining your Professional Engineer designation is a major step in your career progress in the field.
The Principles and Practice of Engineering Exam, otherwise known at the PE Exam, which stands for Professional Engineer, is an 8-hour long examination that is offered twice a year and determines whether or not you can be classified as a professional engineer.
Our team at Testing.org analyzed all available information from the National Council of Examiners for Engineering and Surveying (NCEES) from 2014-2019 to break down the odds of passing, why some students pass and others don't, as well as what it means if you wind up unsuccessful on the test.
Key Takeaways From Our Analysis
Only 50% of engineers become licensed Professional Engineers.
The first time pass rate across all disciplines is 65%.
Architectural had the highest first-time pass rate and Structural had the lowest.
If you have to take the test again your baseline odds of passing decrease to only 35%.
Civil has the highest volume of test-takers overall with close to average pass rates.
Test takers with 4 years of professional experience tend to pass at a higher rate, than those with less experience.
If you plan to take the PE exam soon, make sure you do everything you can to pass on the first try. Free and paid resources are available for you to prepare for the PE exam.
PE Exam Statistics and Pass Rates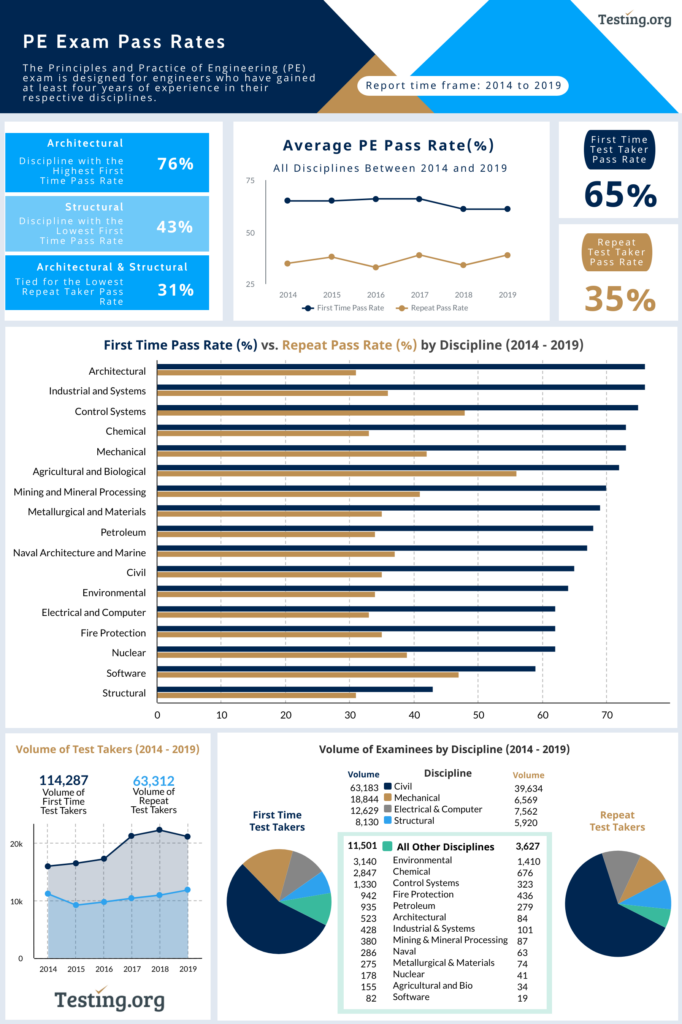 According to nspe.org, approximately 25,000 engineers take the PE Exam each year, with an aggregate pass rate of 50 percent. To give you perspective, this is about the same percentage of students who are accepted to dental school after taking the DAT, so it is a pretty difficult test to pass.
The data in the infographic above was compiled from NCEES's annual report and illustrates different pass rates in a variety of different mediums.
Finding #1: Pass On The First Try
What we found is that an overwhelming amount of students who pass, do so on their first try. Students who don't pass the first time either choose not to retake the test, or don't pass it the second time around. You can take the test as many times as you'd like, but can only take it twice a year; so it's not like you can schedule another test a month after you fail the first one.
Finding #2: Different Disciplines Have Different Pass Rates
Another variable on the pass rates is the discipline in which you are taking the test. There are 17 different disciplines and 17 different discipline-specific tests. Some disciplines have multiple tests. That makes the PE exam, unlike other standardized tests which are uniform for all those who take it. As you can see in the graphic, the Architectural and Industrial & Systems tests have the highest first-time pass rates of 76 percent, whereas the Structural discipline has the lowest first-time pass rate of 43 percent.
Finding #3: The Sweet Spot Is 4 Years Of Experience
Traditionally you can take the PE Exam after passing the FE Exam and gaining four years of supervised experience. Starting in 2005, states began allowing students to take the exams before their four years of experience was completed, but we have seen in our research that students with the recommended length of the experience tend to do better on the exam. As you can see in the chart below, there is a roughly 10 percent increase in the pass rate from 0 to 4 years of experience. However, there is a fifteen percent drop from 4 years of experience, to 6, and it continues to get worse as time passes.
What Does It Mean if I Don't Pass On The First Try?
Our research shows that your odds do go down if taking the exam a second time. However, we did find people that took the test 5+ times before passing, so it can pay to keep trying if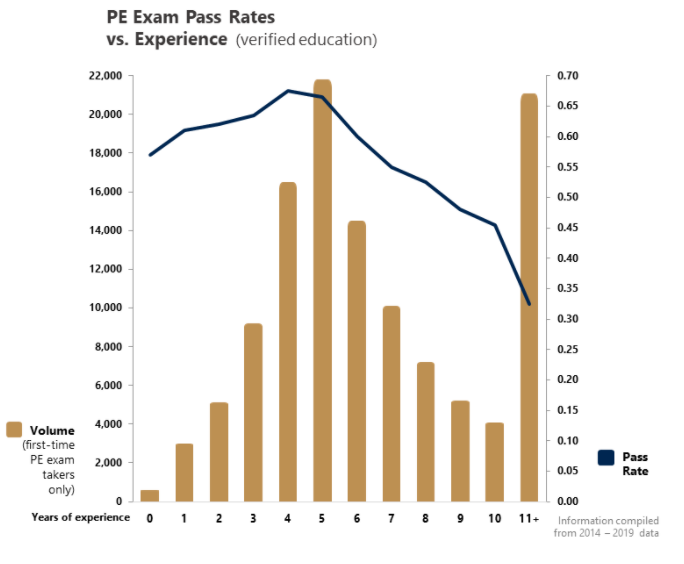 you can afford it. Other engineers have taken the exam in a different discipline, and others have simply pivoted within their careers.
Remember, only 50 percent of engineers become licensed, Professional Engineers, which means 50 percent don't. It's not like you will be unemployed if you don't pass the exam, or that you'll be guaranteed a higher paycheck if you do pass it. Either scenario may open doors to different job opportunities. So while it certainly can help to pass the exam, it won't necessarily hurt you if you don't make it.
What Can I Do To Increase My Chances of Passing?
1. Have a few years of experience under your belt.
Based on our research you now know that your prior experience and discipline factor into your chances of passing the PE Exam. As we can see above, you're ideally going to want to take the test after 4 solid years of experience and strive to pass the exam on your first try. It is also worth noting that pass rates significantly decrease after 5 years of experience, getting worse with time.
2. Make sure you have ample time to study and prepare.
One of the reasons people fail the exam is simply because they're not prepared. A big reason for this is that people have been out of school for so long and they forget how to adhere to proper study habits. As we're in the business of standardized tests, we have published a comprehensive article that will help you methodically prepare for the exam.
3. Take advantage of free resources from your alma mater, network, or online sources.
This also might be a good time to reach back out to your alma mater's engineering school and see if there are any resources to help you study there. You can also contact past professor's and ask for any advice or tips they might have. Take advantage of peer study groups, and other free resources to keep on task.
4. Pay for a PE exam review course if needed.
Finally, there are numerous PE Exam prep courses available from highly reputable companies with a long history of preparing test takers for the PE exam. Here are three of the courses to give you a ballpark idea of the pricing associated with a PE Exam prep course.
Bottom Line
Now that you have a better understanding of the PE Exam, its pass rates, and the options you have in order to boost your chances, we encourage you to do some research of your own. Every test prep company we mentioned has terrific customer services. So if that is a route you decide to take, it might be a good idea to get a feel for each company by interacting with their support staff. We understand that these courses aren't peanuts money-wise, but if you look at it as an investment in the well-being and longevity of your career, it makes a little more sense.
Compare The Best PE Review Courses
Bryce Welker is an active speaker, blogger, and regular contributor to Forbes, Inc.com, and Business.com where he shares his knowledge to help others boost their careers.  Bryce is the founder of more than 20 test prep websites that help students and professionals pass their certification exams.