The Principles and Practices of Engineering (PE) exam is designed to assess your competency within your chosen engineering discipline, and passing it is a necessary step to becoming a Professional Engineer. The exam is challenging, and many students opt to take a PE exam prep course first in order to give themselves the best chance of passing the first time. We've compiled a list of the best PE exam prep courses to help you find the one that's right for you.
If you're looking for a Civil PE Exam focus, you can't beat School of PE.
Our research team looked at the most popular PE exam prep courses to determine which are most useful for preparing for the exam. We focused on courses that are available nationwide and offer programs for the most popular PE exams — civil, electrical, mechanical, and chemical. Each program was evaluated based on its comprehensiveness and the quality of the study materials it provides. We also spoke to students of each course to learn how well they felt the company supported and prepared them.
We ended up with three finalists after analyzing all of our data. School of PE is our top overall pick because it offers the largest selection of courses and covers all the key material thoroughly. PPI has also recently expanded its Learning Hub for the PE and FE exams. Independent learners interested in a self-paced program may prefer one of our other finalists, though. We recommend checking out all of your options before making any decisions to ensure you find the program that best fits your schedule, budget, and learning style.
If you are looking for Fundamentals of Engineering preparation courses, you can head over to our Best FE Exam Prep Courses resource. You could also be thinking of getting your EIT certification after passing the FE exam.
A Full List of Every PE Exam Review Course Worth Considering
Our top PE exam prep course providers are listed below, followed by the other 10 companies we considered. Click on the links to visit each company's website and to see what we had to say about our finalists.
The 4 Best PE Exam Prep Courses
Full Reviews of the Best Professional Engineer Exam Prep Courses
1. School of PE Review

Best overall PE review course.
School of PE easily outstrips the competition in terms of course offerings and accessibility. It offers on-demand, live online and onsite programs for 11 different engineering disciplines, including civil, industrial and electrical engineering. Unlike most PE exam prep courses that are taught by a single instructor, School of PE courses are taught by several instructors, each of whom are experts in the subject matter they're teaching.
School of PE Features
School of PE hosts onsite courses in major cities of 46 states nationwide.
School of PE offers PE exam prep courses in architectural, chemical, control systems, civil, electrical, environmental, industrial, mechanical and petroleum engineering.
There are also special courses for California residents to prepare them for the CA Seismic and CA Surveying exams.
All courses except the latter two are available in a live online format; many are available on demand as well for students who prefer to move at their own pace.
If you're interested in civil engineering, you can opt for an in-person course instead.
Course length varies from 60 to 80 hours, depending on your program.
1,000 practice questions and 3 full practice exams
Structured Classroom: Classes are broken down into two sections — refresher sections and workshop sections. The refresher sections make up 60 percent of the course and review the key concepts that will likely appear on the exam. You will also work through some theory problems. The workshop sections consist exclusively of practice problems. These questions are usually more challenging and require numerical solutions.
Subject Matter Experts: Each course is taught by a group of Professional Engineers that specialize in the area they are teaching, so you know you're learning from the best. Outside of class, you can send questions to your instructor via email or post them to the course's discussion forum. Responses are usually prompt. If you need to go back and review something talked about in class, you can do so through your online account.
Convenient Access: All lectures are recorded and made available within 24 to 48 hours of the lesson, and they remain available up until your test day. These videos are mobile-friendly, so you can watch them on the go if you need to. And should you study your hardest and still fail the exam, the School of PE will enable you to retake the course free of charge.
School of PE Bottom Line
Check out School of PE if you want to prepare for your engineering exams with the best online resources currently available.
| Course | Price |
| --- | --- |
| OnDemand Course | $1,190.00 |
| Live Online Course | $1,490.00 |
| Live Onsite Course | $1,490.00 |

Get $1,000 Off School of PE PE Civil Course

$50 Off School of PE PE Review Course – Loyalty Discount

$50 Off School of PE FE Review Course – Loyalty Discount

Save Up to $300 on School of PE PE Courses

Save Up to $300 on School of PE FE Courses

Get $180 Off School of PE PE Civil Course

$10 Off School of PE PE Mechanical Courses

Get $100 Off School of PE FE Review Course

Get $100 Off School of PE PE Review Course

$200 Off School of PE FE Review Course – Undergrad Discount

Military Discount- $100 Off School of PE PE Review Courses

Military Discount- $100 Off School of PE FE Review Courses

$200 Off School of PE PE Review Course- Undergrad Discount
---
2. PPI2Pass PE Review

Best for scheduling.
PPI2Pass PE offers an impressive level of detail in every course and it offers programs tailored to every major engineering discipline. With an average of 68 hours of course time and additional homework and practice tools, you shouldn't have any trouble mastering the PE exam material.
PPI Features
PPI offers PE exam prep courses for chemical, civil, electrical, environmental and mechanical engineers.
There's also special Seismic and Surveying courses for California engineers.
Students in the live courses attend online classes twice per week.
This course includes 68 hours of lectures, problem-solving demonstrations and strategy sessions.
All courses are available as on-demand video courses with a number of subscription options.
Specialized Curriculum: Within the chemical, electrical and mechanical disciplines, you can choose between several specialties so that your prep is tailored to the work you're going to be doing. Alternatively, those who learn better in a classroom will want to consider the live online options available for most of their catalog.
Adaptive Education: PPI also adapts to the way you want to learn. They are the leader in reference manuals for people who want to just use a book, and their recently updated Learning Hub allows you to decide how long you want to prep, and pay accordingly.
Community Features: There are different times to accommodate different schedules. Your instructor walks you through several hours of lecture content during each classroom session, but you can also reach out to your instructor during office hours if you need help outside of class. Students in both the live and on demand courses have access to video lectures, quiz generators, and helpful exam tips in the online portal.
Costly: PPI exam prep courses are more expensive than most, but you won't have to pay to retake them again if you fail. All live classes included with PPI come with a pass guarantee. If you fail the PE exam after completing the PPI prep course, the company will let you retake its on-demand course free of charge.
PPI Bottom Line
This is one of the best courses
| Course | Price |
| --- | --- |
| On Demand Exam Day Courses | $2,009 - $3,067 |
| On Demand Monthly Renewing Course | $195 - $485 |
| On Demand 3-Month Course | $465 - $1,185 |
| On Demand 1-Year Course | $995 - $2,385 |
| Live Online Course | $1,984 - $3,042 |
---
3. The Ultimate Civil PE Review Course Review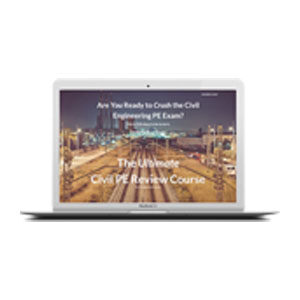 Best for Civil PE review.
The Ultimate Civil PE Review Course is the best option for self-driven learners preparing for the civil PE exam. Its online course delivery gives you the flexibility to learn where it's most convenient for you and its in-depth lessons and video practice problems ensure that every key concept that might appear on the exam is covered in detail. For those who like to learn with others, you can connect with an online community of others who are also taking the course.
Ultimate Civil PE Features
Features 10 modules covering all eight topics covered on the civil PE breadth exam.

Over 150 video practice problems.

40-question breadth exam to help you test your understanding.

The Ultimate package includes an additional breadth exam plus 20 extra theory questions.

30-day money-back guarantee if you're unhappy for any reason.
Focused Education: The Ultimate Civil PE Review Course focuses solely on the civil PE exam, which allows it to provide an in-depth review course unmatched by any of the more general PE exam prep course providers. It delves into each subcategory so that you get a thorough grounding in all the key material that you'll see on the exam.
Convenient Access: This self-study program is accessible on your computer or your mobile devices, so it's the perfect solution for those who prefer to learn independently and those with busy lifestyles who cannot attend a regular classroom course.
You can move through the lessons at your own pace and reinforce your knowledge with their library of video content, some of which you can sample on the course's website before you buy.  
Lacking Features: Because it's a self-paced course, the Ultimate Civil PE Review Course doesn't include a pass guarantee. Additionally, there aren't any instructors you can reach out to with questions, although you can access an online community of other students. Try asking questions here and help others while reinforcing your own knowledge of the material.
Ultimate Civil PE Bottom Line
If you're just trying to pass the Civil PE exam, this is probably the best way to quickly study and pass on your first attempt. However, you should consider our top choices instead if you want to take a different subject PE exam.
| Course | Prices |
| --- | --- |
| Month to month access | $397 |
| 6 month access | $697 |
| 1 year full access | $997 |
---
4. Capstone Learning Associates Review

Best for expert-led instruction.
Capstone Learning Associates offers five different expert-led PE exam prep courses taught through instructor-led videos and modules. 
Capstone Learning Features
Capstone offers online course materials for chemical, mechanical, thermal and fluid, structural and electronic and computer power PE exams.
250 practice questions
30 hours of narration
Unlimited course access
Tutor support
All-in-One: Capstone offers online course materials for all components needed to pass the PE exams. This includes targeted engineering principles instruction and PE-based practice problems. Additionally, to support the PE open-book format of the exam, a topic-specific index of reference materials is provided as an additional resource.
Instructor Feedback: Capstone allows you to get direct responses to any course-specific questions from a certified exam instructor. Additionally, Capstone provides a collaboration forum for you to discuss exam topics with other engineers taking the exam.
No Money Back: Unfortunately, they don't offer guarantees or refunds if you are not happy with your purchase. All sales are final. However, they do offer a free FE Sample Course if you would like to experience their dashboard and program before committing.
Capstone Learning Bottom Line
Although Capstone offers a great selection of study materials with several helpful features, it doesn't quite offer the same quantity or quality of our top courses. Still, this is an excellent choice that can help you succeed in your career goals!
| Course | Price |
| --- | --- |
| Chemical PE Review | $699 |
| ME PE Mechanical Systems and Materials | $699 |
| ME PE Thermal and Fluid Systems | $699 |
| Civil PE Structural Review | $699 |
| Electrical and Computer-Power Review | $699 |
---
The Most Important Features Of PE Review Courses: Accessibility, Course Offerings, Comprehensiveness and Student Support
We considered dozens of features when comparing the best PE exam prep courses. They broke down into four main categories — accessibility, course offerings, comprehensiveness and student support.
Accessibility
In order to keep our recommendations useful to everyone, we only focused on courses that were available nationwide. Most of these are self-study courses that teach you the material either through a set of physical textbooks and workbooks or through an online learning portal. School of PE stood out the most in this category because it is the only one of our finalists to also offer live online and in-person courses. There may be other organizations that host in-person courses in your area as well, and these are worth looking into if you learn best in a structured classroom environment.
Course Offerings
There are several versions of the PE exam depending on which type of engineering you specialize in. Many programs only cover one or two types of the PE exam, and these companies didn't make our final cut. Instead, we focused on those that offered courses in the most common engineering disciplines — civil, electrical, mechanical and chemical. Courses designed for other fields, like industrial or environmental engineering, were also a plus. School of PE did the best here as well with 11 different PE exam prep courses to choose from.
Comprehensiveness
Next, we evaluated each company based on how well they cover the key concepts that are going to come up on the exam. All of our finalists did well in this category, providing dozens of hours of instruction, plus practice questions and full-length exams. Practice exams are an especially important tool because they help you gauge how you're doing and pinpoint the areas where you need more practice. A question bank is also useful for targeting problem areas, so you can focus exclusively on those questions until you master them.
Student Support
A good PE exam prep course enables students to quickly get the answers to any questions that arise. In a live class, you can ask your instructor, but often students in self-study courses are left to fend for themselves. Cognistar MGI breaks the mold, offering email and phone support to all its students, so you can get help with practice questions and clarify any misunderstandings. It also offers a pass guarantee, so if you fail your PE exam after completing one of its exam prep courses, you will receive a full refund for the course tuition.
---
Choosing the Right PE Exam Prep Course Delivery Type for You
There are several types of PE exam prep courses out there, and the right one for you depends on your schedule, your budget and how you learn best. We've outlined the three main types below in order from least expensive to most expensive.
Self-Paced: You purchase the study materials and review them at your leisure.
Live Online: You log in to an online classroom and learn from a remote instructor.
Live In-Person: You travel to a physical location and learn in a traditional classroom setting.
Self-Paced
Pros:
Cheapest courses
Most flexibility
Move as fast or as slow as desired
Cons:
Discipline required
No personalization
Little to no instructor help
Who It's Best For
A self-paced course is best for driven, independent students who are good at keeping themselves on track. These courses may be your only option if your schedule doesn't permit attending a live class.
Live Online
Pros:
Join from anywhere
Personalized assistance available
Structured to keep you on track
Cons:
Less interactive than in-person classes
Potential for technical difficulties
Who It's Best For
A live online class is great for students who prefer learning from an instructor but don't have the time or ability to travel to a physical classroom every week.
Live In-Person
Pros:
Distraction-free environment
Familiar classroom setting
Interact with instructor and other students
Cons:
You must travel
No schedule flexibility
More expensive than online programs
Who It's Best For
A live in-person course is best for students who live in or near a major city and prefer learning in a traditional classroom environment.
Books
Pros:
Ability to study from anywhere
Schedule flexibility
Typically less expensive than online programs
Cons:
You are in charge of motivating yourself and setting your own study schedule
No interaction with an instructor and other students
Who It's Best For
Using books to prepare is best for students who have the ability and drive to sit and learn on their own terms.
---
Frequently Asked Questions About the PE Exam
We wanted to create a useful resource for all engineers planning to take the PE exam. So we put together this list of answers to some of the most common questions about the test. If there's anything else you'd like us to add, feel free to reach out and let us know.
How do I register for the PE exam?
The first step to registering for your PE exam is to ensure that you meet your state's licensing requirements. Usually, this includes holding an appropriate degree and having several years of professional experience under your belt. You may also have to submit an application with an accompanying application fee before you are eligible to sign up for your test. Once your application has been verified and approved by your state board, you will be granted permission to register for the exam. If you're unsure what your state's requirements are, you can check with its Board of Professional Engineering or visit the National Council of Examiners for Engineering and Surveying (NCEES) website.
Once you've received state approval, you can create an account with NCEES and register for the exam. Paper-based exams are available twice per year in April and October. Registration closes for each at the end of February and August, respectively. The Chemical PE exam is the only one that is available as a computer-based test and you can sign up for this year-round. When you register, you must pay the examination fee — $350 for paper tests and $375 for computer-based tests — in order to hold your place. Once you've done this, you will receive an email confirmation from NCEES.
Upon your arrival at the testing center, you must present a valid, government-issued photo ID to the exam proctor. The examiner will inspect it and help you find your assigned seat. Make sure you arrive a little early to give yourself time for these check-in procedures. You are permitted to bring snacks, wristwatches a magnifying glass, two straight edges, and an approved calculator. Reference materials are also allowed as long as they are bound together and remain bound during the exam. Loose-leaf paper is not permitted. For a full list of test-day rules and procedures, visit the NCEES website.
How is the PE exam scored?
Most PE exams consist of two four-hour sessions separated by a lunch break. The morning section is a breadth exam and the afternoon section is a depth exam, focusing on a specific area of the discipline. Each section consists of 40 multiple-choice questions. The exception is the Civil Structural exam, which takes place over two days, with multiple-choice breadth exams in the morning and essay depth exams in the afternoons.
There is no set number of questions that you must get right in order to pass. It varies from one testing administration to another. In order to account for differences in difficulty between the different versions of the exam, NCEES uses a process called equating. This assigns a weight to each question based on its difficulty so that the passing score for each exam demonstrates the same level of knowledge. There is no penalty for incorrect answers, so it's always best to guess if you're not sure of an answer.
Results for computer-based tests are available through your online account within seven to 10 days of the exam. Paper test takers will have to wait eight to 10 weeks for their scores to be released. Most exams are graded by a machine, though a handful are graded by humans to ensure accuracy. You can request that your exam be graded manually, but this costs extra.
What if I fail the PE exam?
The PE exam is a difficult test, and it's not common to fail on your first attempt. If you do, don't worry. You can always take it again. As paper-based tests are only available twice per year, you'll have to wait until the following April or October to try one of these again. Computer-based tests may be taken year-round, but you can only take the exam once every quarter and a maximum of three times per calendar year.
When you receive your grade, you'll also be given a diagnostic score report that shows how you did in each of the knowledge areas tested on the exam. It will show you how many questions were in each category, how many you got right, and how that compares to other test takers. It also recommends which subjects you ought to review before you take the test again. Study each of these areas thoroughly and work on practice questions for each until you feel confident that you can pass them this time. When you're ready to retake the exam, you must register for a new test date with NCEES. Unfortunately, you must also pay the $350 or $375 exam fee again.
Some states may impose additional restrictions that limit how often you can take the exam. After repeated failures, you may be required to resubmit your application to your state Board of Professional Engineering or log additional hours of professional experience before you try again. To learn more about retake procedures, visit your state Board of Professional Engineering website.
---
Bottom Line
There are plenty of choices for how to prepare for the PE exam. Our team would first recommend figuring out what type of learning style and environment is best for you. After you have determined the best learning style and environment, you can then choose from our top recommendations.
---
The 8 Next Best PE Prep Courses We Reviewed
Bryce Welker is an active speaker, blogger, and regular contributor to Forbes, Inc.com, and Business.com where he shares his knowledge to help others boost their careers.  Bryce is the founder of more than 20 test prep websites that help students and professionals pass their certification exams.