Covid-19 update: most testing companies have stopped in person tutoring and classes. All of our recommendations have digital preparation options. If you are looking for in person test prep, we suggest you speak directly with each company for more information.
Passing the Fundamentals of Engineering (FE) exam is the first big step toward becoming a professional engineer. Unfortunately, 20 – 30% of students who take the FE exam fail the first time according to the NCEES. You need to be prepared for the FE exam, and many people increase your odds of success by taking an FE exam prep course. Your other preparation choices for Fundamentals of Engineering review are books and free study guides.
This guide looks at the overall most comprehensive options for FE exam review in all disciplines, with civil engineering being the largest discipline. If you need a Civil Engineering focus, you can't beat The Ultimate Civil FE Review Course.
Our research team evaluated 12 of the most popular FE exam prep courses to determine which offered the greatest value to students. We focused on the number of disciplines covered, the comprehensiveness of the course content and the opinions of real students who have taken the course. Breadth and depth of online learning options also weighed heavily since in person review is limited due to Covid-19. Though there are many excellent courses offered at specific universities, we chose to limit our focus to online courses that anyone in the country could take.
After weighing the pros and cons of each course, we selected five finalists. School of PE was our top pick for the reasons listed below; but you may prefer one of our other top picks, so we recommend exploring all of your options before you make a final decision.
Also, if you're looking for Principles of Engineering exam preparation, you can head over to our Best PE Prep Courses resource.
A Full List of Every FE Exam Prep Courses Worth Considering
Below, you'll find details on our 5 finalists, along with a list of the other 7 companies we considered. You can learn more about these companies by visiting their websites or reading our full reviews.
The 5 Best FE Exam Prep Courses
Full Reviews of the Best FE Exam Prep Courses
1. School of PE FE Review

Best for comprehensive instruction
School of PE FE Review was the clear winner in terms of thorough instruction and course offerings. Unlike most FE exam prep courses, its courses are taught by multiple instructors, each specializing in a key topic that will appear on the exam, so students receive the best education possible. And if you require one-on-one attention, look no further. School of PE also offers private tutoring that can be purchased in one- or five-hour increments.
What to Expect
School of PE is the best course that offers specific study guides for each of the seven disciplines of the FE exam. For all of them, you may choose between a self-paced, on-demand course or live online course. The live online courses take place on weekday evenings for three hours at a time. Each course runs for about a month and a half, with new courses starting every three months.
No matter which course you choose, you will receive 72 hours of comprehensive instruction covering all key topics that appear on the exam. The live courses are split between about 60% traditional classroom instruction and 40% workshops, where students work exclusively on solving some of the complex mathematical problems they are likely to see on the test. If you miss a session, you can turn to the pre-recorded videos and practice problems available through the Student Learning Center.
Students can check out the online discussion forums if they run into trouble or they can sign up for private tutoring sessions. School of PE's subject matter experts will help you understand the material and design a custom study plan to help you prepare for the exam. If all that wasn't enough, School of PE also offers a free course repeat guarantee to any students who fail their FE exam after completing a School of PE FE exam prep course.
School of PE Details
| Course | Price |
| --- | --- |
| 30-Day On-Demand Course Demo | $0 |
| On-Demand Course Monthly Subscription | $290/month |
| 4-Month On-Demand Course Access | $990 |
| 6-Month On-Demand Course Access | $1,190 |
| 8-Month On-Demand Course Access | $1,390 |
| Live Online Course | $1,290 |
| Private Tutoring - Hourly | $125/hour |
| Private Tutoring - 5 1-Hour Sessions | $500 |

Get $100 Off School of PE FE Review Course

$200 Off School of PE FE Review Course – Undergrad Discount

Military Discount- $100 Off School of PE FE Review Courses
View More
---
2. PPI Review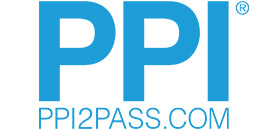 Best for online resources
PPI2Pass FE Review is owned by Kaplan, and its comprehensive course offerings echo the test prep giant's. Students can choose between flexible on-demand or live online courses in six disciplines. All include access to a robust online portal with discussion forums, study aids and more. With its pass guarantee and office hours where students can get individualized attention, it's the ideal choice for students who want to feel supported throughout the entire process.
What to Expect
PPI offers FE exam prep courses in six disciplines: chemical, civil, electrical and computer, environmental, industrial, mechanical and other disciplines. All courses are available in live online or on demand courses. The live on demand courses meet one to two days per week for two to three hours at a time over 10 weeks. Depending on the discipline, you may be able to choose between one of two schedules so you can pick the one that works best for you.
The course may include anywhere from 26 to 70 hours of material, depending on which FE exam you're taking. Not only will your instructor walk you through the key concepts that will appear on the test, he or she will also take you through problem-solving demonstrations and test-taking strategies. Students in both the live online and the on demand courses will also have access to the PPI Learning Hub, which contains a quiz generator, web books, online video lectures and more.
Students who need more personalized help will be happy to know that the live courses include office hours where you can speak one on one with your instructor. There's also a pass guarantee for all live courses. If you fail the FE exam after completing the PPI course, you can retake the on demand course free of charge.
PPI Details
| Course | Price |
| --- | --- |
| On Demand Monthly Renewing Course | $285 |
| On Demand 3-Month Course | $685 |
| On Demand 1-Year Course | $1,785 |
| Live Online Course | $999 - $1,599 |
---
3. The Ultimate Civil Review Course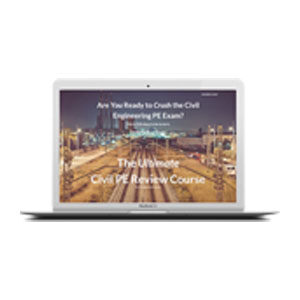 Best for the Civil FE exam
Few other FE exam prep courses can match the Ultimate Civil FE Review Course in terms of depth and comprehensiveness. Unlike other FE exam prep companies, the makers of the Ultimate Civil FE Review Course focus only on the Civil FE exam, so you can be certain that they have a thorough understanding of the material. The online format gives you the flexibility to learn at your own pace and in your own way while the online study group can provide support and encouragement when you need it most.
What to Expect
The Ultimate Civil FE Review Course drills deep into all of the key topics that appear on the civil FE exam only. It includes:
18 self-paced modules that you can access from your computer, tablet or smartphone, and each lesson contains downloadable slides so you can take notes just as you would in a traditional classroom course.

60 video practice questions to walk you through the types of problems you can expect to see on the exam.

D

ownloadable practice questions so you can work them out yourself even when you're not connected to the internet.

In addition to the online materials, you also get access to reference guides and two 110-question practice exams to help you pinpoint the areas where you're doing well and the areas where you could use a little more study.
These extras are included in every package and for no additional fee. You can review all of the materials as often as you'd like during your access period, which could range from one month to one year, depending on the assistance you need. And, of course, all the downloadable materials are yours to keep and use even after you've finished the course.
There aren't any instructors standing by to offer assistance to you if you get stuck, but you do get access to an online community of others who are also studying for the Civil FE exam. You can ask questions, help others, and maybe even find a new study buddy if you learn better that way. There isn't a pass guarantee, which isn't unusual for self-paced courses, but the Ultimate Civil FE Review Course does include a 15-day money-back guarantee if you're unhappy with the course for any reason. But judging on student reviews, this doesn't appear to be a common issue.
Ultimate Civil Review Course Details
| Course | Price |
| --- | --- |
| Monthly Access | $297/month |
| 6 Month Access | $697 (or 4 payments of $179/month) |
| Full Year Access | $897 (or 4 payments of $229/month) |
---
4. Capstone Learning Associates Review

Best for student support.
Capstone Learning Associates offers three various FE exam prep courses taught via online modules. If you are interested in trying their platform before purchasing, they do offer a free FE Sample Course. Capstone is not a high-tech course, it is basic but gets the job done.
What to Expect
Capstone offers online course materials for all components needed to pass the PE exams. This includes targeted engineering principles instruction, PE-based practice problems and tutor support. Additionally, to support the PE open-book format of the exam, a topic-specific index of reference materials is provided as an additional resource.
There are no time limits on any of the Capstone courses. Once you pay for a course, you have access to the material forever. You can take each course module once or 100 times. Capstone also allows you to get direct responses to any course-specific questions from a certified exam instructor.
All courses are designed to help you review the key terms and concepts that will appear on the exam and teach you techniques to solve common problems. According to their website, "the Capstone program applies a learning methodology that mirrors the FE exam experiences, combining engineer exam expertise with state of the art eLearning best practices to equip you with the methods, tools, and knowledge you need to successfully pass the FE certification exam."
Additionally, Capstone provides a collaboration forum for you to discuss exam topics with other engineers taking the exam.
Capstone Learning Association Details
| Course | Price |
| --- | --- |
| Instructional Modules | $699 |
| Solved Problem Sets | $299 |
| Sample Exam and Solutions | $70 |
---
5. Excel Test Prep Review

Best for flexible course structures
Excel Test Prep earned a place in the top thanks to its unique course offerings, affordable pricing, and comprehensive course coverage. Its live online and hybrid courses are a better value than its self-paced courses, but self-paced materials are available to those who learn better in this way. There's also a custom course option for groups who want a more personalized learning experience.
What to Expect
Excel Test Prep offers FE prep courses for civil, mechanical, electrical and chemical engineering, as well as the "Other Disciplines" option. Each discipline has an on-demand option for self-paced learners that gives you four months' access to the online materials, including 78 to 106 hours of online videos. The live courses include six live classes of seven to eight hours each. There are also hybrid courses, which include the live and online study materials, and a custom course with 90 hours of guaranteed instruction.
During the courses, instructors will provide a comprehensive review of all key materials that will be covered on the exam and give you plenty of opportunities to practice with realistic practice questions. You'll also get to take a mock exam so you can get a feel for what the conditions will be like on test day.
Excel Test Prep's courses are one of the most affordable options for those interested in a comprehensive, live online course. If you sign up early, you'll get $100 off for early registration. You may also be entitled to special discounts if you sign up as part of a group. And thanks to the company's pass guarantee, you don't have to worry about all that money going to waste. If you don't pass, you can try the course again at no cost to you.
Excel Test Prep Details
| Course | Price |
| --- | --- |
| On-Demand Course | $999 |
| Live Online Course | $999 |
| Hybrid Course - Early Registration | $999 |
| Hybrid Course - Regular Registration | $1,099 |
| Custom Course | Contact Company |
---
The Most Important Features: Course Offerings, Accessibility, Content Coverage and Support
We weighed dozens of factors when choosing the best FE exam prep courses. The four most important were the course offerings, accessibility, content coverage and student support.
Course Offerings
The FE exam is offered in seven disciplines — chemical, civil, electrical and computer, environmental, industrial and systems, mechanical and other disciplines. The best FE prep course providers will offer specialized review courses for each of these disciplines rather than a cookie-cutter approach that doesn't account for all of the unique topics that will be covered in each exam. School of PE was the only one of our top three to offer review courses for all seven disciplines. PPI came close with six of the seven disciplines while Excel Test Prep only offered five, plus a custom course option.
Accessibility
We wanted our recommendations to be useful to as many people as possible, which is why we chose to focus upon self-paced and live online courses that can be accessed from anywhere with an internet connection. While all three of our top picks offer live online and on-demand courses, Excel Test Prep stood out for also offering a hybrid course that enables students to study on their own and attend live class sessions if they need a little extra reinforcement.
Content Coverage
In order for an FE exam prep course to be truly effective, it must provide a comprehensive overview of all the key topics to be covered on the exam. This can be delivered in several ways, including on-demand video, live classes, textbook readings and practice tests. All three of our top picks offer a minimum of 40 hours of in-depth coverage of the exam. Excel Test Prep stood out here again for an impressive 78 hours of instruction in every course.
Support
It's inevitable that students will run into questions while studying for the FE exam and the best prep courses make it easy to get these questions answered. Some have discussion forums where students can talk to one another or problem-solving workshops where they can get assistance with specific problems. A few live courses have office hours or private tutoring for those who need one-on-one help. Still others demonstrate their commitment to helping students by offering a pass guarantee. If you fail the FE exam after completing the prep course, you can take the course again for free. All three of our finalists offer this type of guarantee.
---
Choosing the Right Type of FE Exam Prep Course for You
There are four types of courses you can choose from when studying for the FE exam. Here's a brief overview of each.
Self-Paced: You pay for the materials and you review them on your own schedule.
Live Online: You sign in to a virtual classroom at specified times and learn alongside students from all over the country.
Live In-Person: You travel to a physical location and learn in a traditional classroom setting.
Private Tutoring: You work one-on-one with an instructor to address your specific questions and concerns about the exam.
Self-Paced
Pros:
Most affordable option
Choose when and where you want to study
Can cover a lot of ground in a short time
Cons:
Must keep yourself on track
No personalized instruction
Limited student support
Who It's Best For
A self-paced course is an excellent choice for self-motivated learners and those whose schedules don't allow for attending a live class.
Live Online
Pros:
No need to travel
Option for personalized assistance
Regular class times help you stay disciplined
Cons:
Less interactivity than in-person classes
Technical issues could arise
Who It's Best For
A live online course is the smart option for those who learn best in a classroom setting with a knowledgeable instructor who can answer questions and provide structure to the course.
Live In-Person
Pros:
Immersive learning experience
Familiar course format and setting
Plenty of interaction with instructor and peers
Cons:
Travel required
Little flexibility in time or place
More expensive than online courses
Who It's Best For
Live in-person courses are best if you prefer learning in a traditional classroom setting. Many universities offer these courses, but they are not covered in this review because of their limited accessibility.
Private Tutoring
Pros:
Tailored instruction
Custom study suggestions
May be available online or in person
Cons:
Expensive
May be more time-consuming
Who It's Best For
Private tutoring is worth considering if you need a lot of help with the FE exam or you've already failed it in the past.
Books
Pros:
Ability to study from anywhere
Schedule flexibility
Typically less expensive than online programs
Cons:
You are in charge of motivating yourself and setting your own study schedule
No interaction with an instructor and other students
Who It's Best For
Using books to prepare is best for students who have the ability and drive to sit and learn on their own terms.
---
Frequently Asked Questions About the FE Exam
Our goal was to create a comprehensive guide to the FE exam, so we've answered some of the most common questions about the test below. If there's anything else you'd like to know, don't hesitate to reach out and ask.
What are the best FE exam review books?
Instead of courses, some students may opt to prepare just out of a book. If you're on task, this can be a great, and low-cost way to prepare. Here are the best FE exam books we found.
What does the FE exam cover?
The FE exam is designed to cover the same content that is taught in a typical college engineering program. There are seven disciplines to choose from: chemical, civil, electrical and computer, environmental, industrial and systems, mechanical and other disciplines. Some states require you to take the exam for the specific engineering discipline that you majored in while others just require you to pass any one of the FE exams. Check into your state's licensing requirements before you sign up for the test.
The test consists of 110 multiple-choice questions, split into two sections. The entire exam takes about five hours and 20 minutes with a 25-minute break between the sections. For a comprehensive overview of what material will be covered on each exam, visit the NCEES website.
When can I take the FE exam?
This will vary depending on where you live, but most states allow you to take the FE exam in or after your senior year of college. Some states allow juniors to take it as well. It's usually best to take the exam while you're still in school or shortly afterward because the information will still be fresh in your mind.
When you're ready to take the FE exam, simply create a MyNCEES account with the National Council of Examiners for Engineering and Surveying (NCEES). Follow the prompts on the screen and schedule a time at the nearest Pearson VUE testing center. There is a $175 fee payable directly to NCEES and your state licensing board may have additional fees or requirements as well.
How is the FE exam scored?
The FE exam, like most professional licensing exams, is scored as pass/fail. It is a computer-adaptive test, which means that the question difficulty will automatically adjust as you proceed further into the exam. The first question you see will be of medium difficulty and the next one will be easier or harder based on whether you got the first one right or wrong. This format is designed to provide a more accurate measure of your engineering knowledge than a simple pencil-and-paper test.
You receive points for all of the questions you get correct, with harder questions earning you more points than easier questions. You will not lose points for incorrect answers, so it's best to guess if you don't know. Because each question on the exam has a different weight, there is no specific number of questions that you need to get correct in order to pass. This varies slightly from one version of the exam to the next. Your scores will become available within seven to 10 days after taking the exam. You will receive an email notification from NCEES inviting you to view your results.
What happens if I fail the FE exam?
When you get your FE exam results, they should outline how well you performed on the exam and which areas you struggled in so that you know where to focus your energy. Start with these. If your FE exam prep course includes a pass guarantee, you can review their materials on these topics for free or you can hire a tutor if you're really struggling. The important thing is to make sure that you're prepared for the next time you take it.
The NCEES allows you to take the FE exam once every two months and up to three times per year, but your state licensing board may have different requirements. It's always a good idea to check with your state board to see if it places any limitations on how often you may retake the test. You should also note that you will have to pay a new registration fee every time you sign up for the exam.
---
Bottom Line
There are plenty of choices for how to prepare for the FE exam. Our team would first recommend figuring out what type of learning style and environment is best for you. After you have determined the best learning style and environment, you can then choose from our top recommendations.
---
The Other FE Prep Courses We Reviewed
Bryce Welker is an active speaker, blogger, and regular contributor to Forbes, Inc.com, and Business.com where he shares his knowledge to help others boost their careers.  Bryce is the founder of more than 20 test prep websites that help students and professionals pass their certification exams.