Our Verdict – Best aPHR Study Guides and Prep Courses
HRCP is our top choice because it offers comprehensive study materials in both online and print formats. With hundreds of pages, flashcards, and practice questions, HRCP ensures thorough preparation. Additional features like the audio reader and sample study schedules enhance the learning experience, making HRCP the top choice for aPHR certification exam prep.
Get ready to revolutionize the world of Human Resources and unleash your potential as an HR superhero! If you're looking for the best aPHR study guides, then you probably know that surveys, studies, and statistical reports show certified HR professionals can have a monumental impact.
HR professionals have the power to boost productivity, enhance employee satisfaction, and create a harmonious work environment.
They also have the power to make six figures and create a comfortable career for themselves.
It's true!
But to become a true HR champion, you need the right qualifications.
Introducing the Associate Professional in Human Resources (aPHR) certification – your ticket to an exciting career in HR, with a salary of over six figures a year! With the aPHR designation, you can become a superhero of the workplace, fighting for the well-being of your colleagues and the success of your organization.
But wait, passing the aPHR exam is no walk in the park. It requires dedication, knowledge, and proper preparation. This preparation involves investing in online materials, detailed explanations to practice exam questions, and test taking tips. Test takers also benefit from a personalized study plan, full length practice tests, and an online guide with all knowledge areas covered.
But where can one find this kind of certification exam prep?
You've already arrived. We have compiled a list of the best aPHR study guides that will supercharge your exam preparation and propel you towards success!
Best aPHR Study Guides
1. HRCP APHR Exam Prep Course

HRCP's program is an excellent self study course that can be taken online or offline.
HRCP aPHR Certification Exam Details
Human Resource Certification Preparation (HRCP) offers access to an online and print version of their aPHR certification prep program. Hundreds of study pages, flashcards, and practice questions come included with this course. Plus, students gain easy access to 13 different practice exams that mimic the associate professional human resource exam perfectly. All of these can be taken online or purchased as printed materials. Thanks to that, students can easily pick a study format that best fits their learning style.
HRCP Features
400+ pages of content in both print and electronic formats
300+ flashcards in both print and electronic formats
13 practice exams: 1 pre-test, 5 practice exams, 5 timed exams, 2 comprehensive exams
an audio reader as part of the electronic books (internet connection required)
the online Guide for Successful Exam Preparation (study and test-taking tips)
Sample Study Schedules that help you create a prep plan to fit your lifestyle
HRCP Pros and Cons
Print Version: HRCP's full prep program can be purchased in print. This allows you to complete the entire course without going online once.
Audio Reader: HRCP's audio reader allows you to turn any learning material into an audio lesson. This is a convenient way to study while doing mindless activities, like chores or commuting.
Sample Schedules: Are you interested in building your own schedule? If you want some inspiration, you can use or edit HRCP's sample study schedules as a good starting point.
Bottom Line: HRCP's aPHR Exam Prep Course offers comprehensive study materials in both online and print formats, including study pages, flashcards, and practice exams. With features like an audio reader and sample study schedules, HRCP provides a tailored and flexible learning experience for aPHR certification exam preparation.
---
2. HRCI Learning Center aPHR Certification Exam Prep

HRCI's major focus is helping you build a custom study bundle for the aPHR exam.
HRCI Exam Prep Course Details
The Human Resource Certification Institute (HRCI) prep course focuses heavily on building your own course through different prep modules. Students can choose to add online lessons, practice exams, flashcards, print materials and more. Each can be purchased at full price individually or discounted as part of a bundle. That way you only have to study for the aPHR with materials that you like and that are effective at teaching you what you need to know.
HRCI Features
1,500+ Digital Flashcards
Mobile Friendly
13 Practice Exams
1,000+ Practice Questions
Audio Lectures
HRCI Best aPHR study Guides Pros and Cons
Customization: Students can pick and choose what course materials they want to pay for when signing up for HRCI. This is one of the most versatile options currently available for human resources candidates.
Mobile Friendly: All course materials have full support for mobile devices. Anyone can complete this full program on their phone if they choose to, which makes it much easier to study on the go.
Paid Pass Guarantee: Anyone interested in a pass guarantee needs to pay an extra $250 to get it here. Otherwise, enrolling for one or two smaller packages won't guarantee the test results you need to start your career.
Bottom Line: HRCI's aPHR prep course allows for customization, with students selecting the specific materials they need, including digital flashcards, practice exams, and audio lectures. The course is mobile-friendly and offers a paid pass guarantee option for added test result assurance.
---
3. HR Cert Prep Pros aPHR Course Review

HRT Cert Prep Pros offer extremely effective live classes that teach you everything you need to know about the aPHR exam.
HR Cert Prep Course Details
HRT Cert Prep Pros offers the best live aPHR classes currently available. Each class is taught by highly trained HR professionals with years of teaching experience. Plus, students can easily interact with their peers and learn from each other in addition to the teacher. HRT Cert Prep Pro also has a great tutoring program for students who prefer to learn through 1-on-1 interactions with teachers. Best of all, those who've completed this course report a 90+% success rate on the aPHR exam!
HR Cert Prep Pros Features
6 Class Sessions
Live Online or In Person
90% Pass Rate
Access to Instructors
Tutoring Options
HR Cert Prep Course Pros and Cons
Instructors: Each instructor is an experienced teacher with years of experience in human resources work. And with the ability to directly interact with these instructors, you can reap the benefits of their experience through each lesson.
Online or In Person: Classes can be either taken live online or in person (when safe) while preparing for the aPHR exam. This is one of the only online HR courses that offers this feature, so you should take note if that's the way you prefer to study.
Expensive: This course is easily the most expensive one on this list. This is likely due to how much extra work a teacher needs to put into a live classroom— but rest assured, it's well worth the tuition!
Bottom Line: HRT Cert Prep Pros offers highly effective live classes taught by experienced HR professionals, resulting in a reported 90%+ success rate on the aPHR exam. While the course provides valuable interactive learning, it is the most expensive option on the list.
---
4. Distinctive HR aPHR Prep Course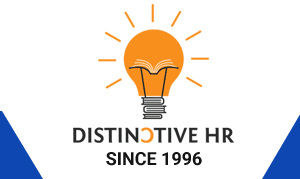 What helps them stand out? Distinctive HR uses a set of self study materials that build off of each other to prepare you for your exam.
Distinctive HR aPHR Course Details
This top pick blends materials in a way that allows each lesson to build off the previous one. Students will watch video lessons that are immediately reinforced by learning games and digital flashcards. They're then asked to apply their new knowledge with a practice exam that is available at key milestones of the course. And since all of this can be accessed for a full year, you'll have plenty of time to work through the substantial library included with this course.
Distinctive HR Features
1 Year Course Access
125 Page Study Guide
Training Games
2+ Practice Tests
Learning Management System
Distinctive HR Pros and Cons
Learning Games: Distinctive HR makes learning fun by including a series of interactive games that teach you important HR practices. This is a unique feature rarely included with online courses that has a tremendous positive impact on student engagement.
Sample Tests: Samples tests that perfectly mimic the aPHR exam are included with this course. These allow you to prepare in a realistic test environment and relieve a lot of pre-test anxiety.
Limited Access: Students can only access course materials for up to 1 year after purchasing. This should be plenty of time, but some other courses don't put you on a strict time limit.
Bottom Line: Distinctive HR offers a self-study course with engaging learning games and sample tests for aPHR exam preparation. However, access to course materials is limited to one year, which may be a drawback for some.
---
5. HR Review aPHR Study Guide

HR Review is a cram course designed to teach you what you need to know as quickly as possible. If you're short on time to prepare for your certification exam — or if you're trying to prepare for a second attempt — this is worth your consideration.
HR Review Exam Prep Course Details
HR Review is a quick 6 lesson course designed to teach you what you need to know as quickly as possible. Students gain access to a set of course handouts paired up with each lesson and a workbook. They also can complete a series of practice exams and digital flashcards. Lessons are also available in audio format for those who prefer to learn on the go.
HR Review Features
MCQ's
Videos
Flashcards
Apps
Continuing Education Credits
Pass Guarantee
HR Review Pros and Cons
Study Notes: Each lesson comes with a series of handouts that help you follow along with what the teacher is saying. This engages different parts of your brain to solidify the impact of each lesson in a short time.
Final Review Course: Anyone interested in some extra cramming can sign up for the 3 hour final review course. It won't take long to finish, but it can provide that small boost you need to earn a passing score.
Limited Live Learning: Only the final review course has a live classroom option. If you're interested in live instruction, you may prefer HR Cert Prep Pros instead.
Bottom Line: HR Review provides a quick 6-lesson course with study notes, practice exams, and digital flashcards. While it offers efficient exam preparation, live learning options are limited, with only the final review course featuring a live classroom option. For this reason, we think one of our top picks like HRCP or HRCI can provide a more comprehensive program that's better for first-time takers.
---
Best aPHR Study Guides FAQs
Q: How long does it take to study for aPHR?
A: The amount varies from person to person. However, most people generally recommend studying for at least 60 hours before the certification exam.
Q: What is the difference between aPHR and PHR?
A: The aPHR is for people just starting out in human resource development. More experienced human resource professionals can earn the PHR designation further down the line. Then they would advance to the Senior Professional Human Resource, or SPHR certification exam.
Q: How long is the aPHR good for?
A: Your aPHR certification is good for 3 years. After that you need to recertify by completing 45 PDUs or by retaking the aPHR exam.
Bryce Welker is an active speaker, blogger, and regular contributor to Forbes, Inc.com, and Business.com where he shares his knowledge to help others boost their careers.  Bryce is the founder of more than 20 test prep websites that help students and professionals pass their certification exams.