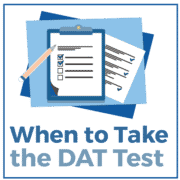 This is a common question most people ask in preparing for the Dental Admission Test. I'll address this question as well as provide some useful information that will help you plan out your undergraduate classes and take the DAT at a reasonable time.
Most people would recommend that you take the DAT right after finishing your General Biology, General Chemistry, and Organic Chemistry required courses so that everything is fresh in your mind. That could be either after your Sophomore year during summer or after your Junior year during summer. I would take it when you are ready and not rush it.
Most students will have their required courses done by the end of their Sophomore year and could take it during the summer before they begin their Junior year of college; but if you aren't feeling completely ready to take it at that point then postpone it, no worries. You won't be applying to dental school till the summer before your Senior year so there is no need to rush it and take the DAT when you are not completely ready. There are pros and cons to taking the DAT after your Sophomore year or taking it after your Junior year.
After Sophomore Year
By taking the DAT during the summer after your Sophomore year you will have your DAT done and scores ready to be submitted along with your application when you apply the following summer. You will have your Biology and Chemistry courses more fresh in your mind as you just finished completing them which will help to make your studying easier for the DAT and it will help you to perform better on it. You can focus on just the DAT and not worry about preparing your application until next summer. You will also have a year before you submit your application in order to retake the DAT if necessary, however, don't even consider retaking the DAT as an option. Take it once when you are ready and be done with it.
After Junior Year
By taking the DAT during the summer after your Junior year you will most likely have a more well-rounded education and knowledge at this point, since you've had more time to take more elective courses. These other elective courses that you could take beforehand, such as: Anatomy, Physiology, and Zoology; could be beneficial in helping you to perform better on the DAT. However, most people complete their General Biology and Chemistry courses after their Sophomore year and these courses are the bulk of the DAT.
By waiting to take the DAT until after your Junior year this material will not be as fresh in your mind and will probably require more studying and refreshing on these topics before taking the DAT. You will also have to make sure you have your application complete and submitted shortly after the application cycle opens. You will have to juggle your application with your DAT studies if you have not taken the DAT by time the application cycle opens up during the summer before your Senior year. You can submit your application without having taken the DAT yet. It is best to get your application done and submitted shortly after the application cycle opens and take the DAT after submitting your application if needed. I would recommend taking the DAT no later than July of that summer however. Whenever you decide to take the DAT, you'll need as much help as you can get to do well on it. Take a look at the DAT prep courses I recommend to ace the exam.
Application Review
Most schools review applications as they get them on an on-going basis. If your application is not complete, because your scores aren't submitted, or for any other reason then your application will not be reviewed until everything is received and it is complete. You will only make the application process more stressful and frustrating by not having your application complete and your scores submitted in a timely manner. Schools will not begin to review applications until August typically so as long as you get the DAT done by July your scores will arrive before your application is reviewed and you should not have any delays in the review process.
It really comes down to the point that the best time to take the DAT is when you feel that you are competent and ready for it. If you feel rushed or are not ready after your Sophomore year then wait a little longer until you take it. Get it done by July at the latest following your Junior year and you'll be good to go.
I didn't take the DAT till July after my junior year, yet I was still able to get my scores into the schools that I was applying to in a timely manner. However, I would try to give yourself more breathing room if possible and take it sooner than I did.
When To Take the Necessary Classes For the DAT
You should have your entire undergraduate career for all four years planned out with which classes you will take each year and even each semester. This will help to ensure that you have taken the essential courses beforehand and are ready to take the DAT and apply to dental school.
Before starting your undergraduate studies if possible, sit down and plan out what courses you will take for every single semester of your undergraduate career. Make sure you have the necessary classes completed by the time that you would like to take the DAT and then take any additional electives or necessary courses for dental school after completing the DAT. You will be properly prepared for the DAT and have much less stress by doing this.
If you haven't completed the necessary courses beforehand then postpone taking the DAT until you have. It would be a mistake to take the DAT without being properly prepared.
Dental school equates to around 20 credits a semester for an undergraduate student. Therefore, I would make sure to plan some of your semesters with more credits to show that you are capable of handling a heavy load, but make sure to still do well in your classes. Don't kill yourself every semester trying to take heavy course loads; plan out your courses wisely so that you have a balanced course load yet still get good grades.
The following courses are necessary to be completed before taking the DAT:
General Biology

General Chemistry

Organic Chemistry
The following courses are either required or beneficial for the DAT or dental school:
Molecular Biology

Cell Biology

Human Anatomy

Physiology

Developmental Biology

Evolutionary Biology

Genetics

Zoology

Ecology

Biochemistry

Physics

Psychology

Mathematics (College Algebra/Trigonometry/Pre-Calculus/Calculus)

English

Art Course (Ceramics, Sculpting, Painting, Drawing, etc.)

Business Course (Business Management, Accounting, Finance, Marketing, etc.)
I would recommend taking the courses you'll need for the DAT at the following times in your undergraduate studies:
---
| | |
| --- | --- |
| Year | Courses |
| Freshman | General Biology, General Chemistry, Other Electives |
| Sophomore | Organic Chemistry, Other Biology Electives, Math, Other Electives |
| Summer | Dental Admission Test |
| Junior | Physics, English, Other Electives |
| Senior | Possibly Biochemistry, Other Electives |
Hopefully this will aid you in your preparation for the DAT and I can promise you that by planning out your courses beforehand you will have less headaches and more success in your studies and preparation for the DAT and dental school. Make a plan and follow it!
If you have any questions or comments then feel free to share them below!
Bryce Welker is an active speaker, blogger, and regular contributor to Forbes, Inc.com, and Business.com where he shares his knowledge to help others boost their careers.  Bryce is the founder of more than 20 test prep websites that help students and professionals pass their certification exams.