Ok all you young, aspiring engineers! So you may be at the start of your journey towards becoming a Professional Engineer, but wondering how you can take steps toward that designation, and show prospective employers that you're serious about your path. One step you can take today is to get your EIT certification.
What is the EIT Certification?
EIT stands for Engineer In Training. Obtaining the EIT certificate is optional and it simply states that you are an Engineer In Training or, Engineer Intern (EI). The certificate in no way grants you a license to practice as a professional engineer, mechanical engineer, professional land surveyor, or civil engineer, for example. Instead, it serves as a mark that you are well on your way to becoming licensed – exactly the type of progress hiring managers like to see.
So how do you get the EIT Certification? Here's how to get there in 5 steps.
5 steps to get your EIT Certification
First and foremost, to get your EIT certification, you have to pass the Fundamentals of Engineering (FE) exam. Luckily, the FE exam is given year round, so it's easy to get signed up and started anytime.
To get you prepared for the test, you can check out the best FE exam prep courses here.
There are also a few other steps to take depending on where you live. Here's what you need to do.
Step 1: Check your state's requirements
The process varies by state, so quite naturally, we made a list with costs and links associated with the EIT sign up portion which are linked below. Some states don't even offer an EIT exam, and in some states the fee is $0.
As of this writing, these are the fees associated with the EIT for each state:
Step 2: Create an account with NCESS for the FE Exam
Before you apply for your EIT certificate you need to first take (and pass) the FE Exam put on by the National Council of Examiners for Engineering and Surveying (NCESS). Though it varies by state board, here is a rough step-by-step guide to taking the FE.
Sign up for an account at NCEES.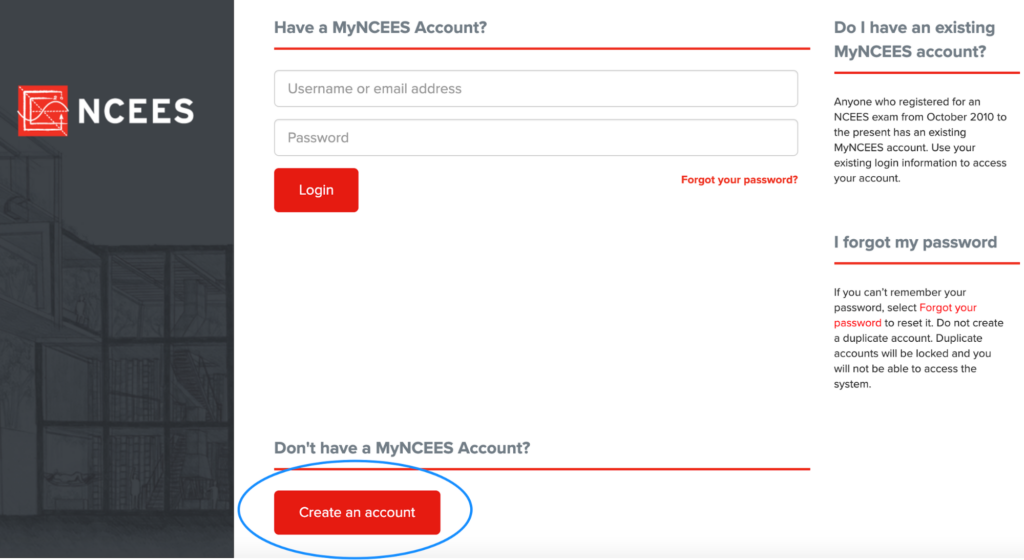 2. Click "Create an account"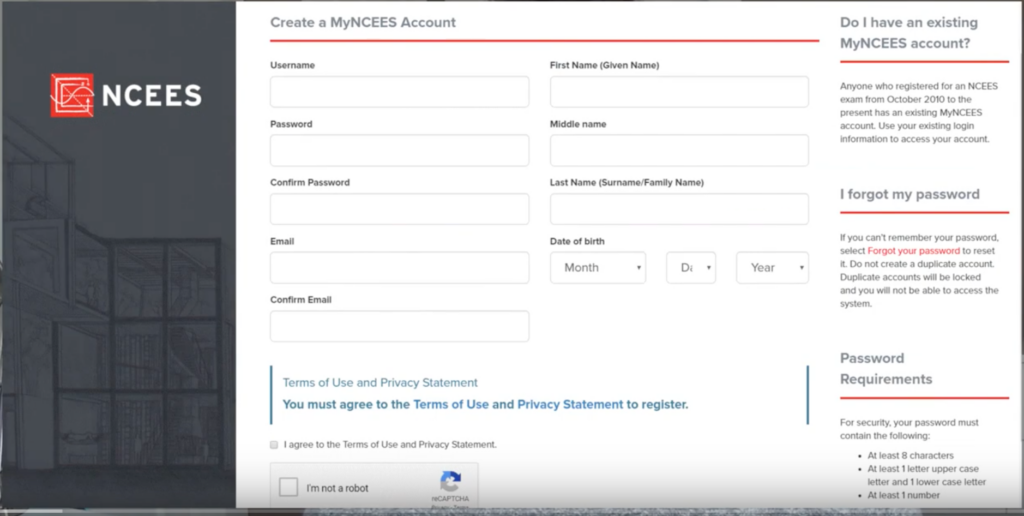 Remember to keep your login credentials handy as you will be checking them often.
3. Fill in your information.
Step 3. Sign up for the FE exam
To sign up for the FE exam, click here. When you sign up for the 6-hour exam, you will get to select the time and date for the engineering examination. The cost is $175 which you can pay by credit card at the testing center before taking the exam.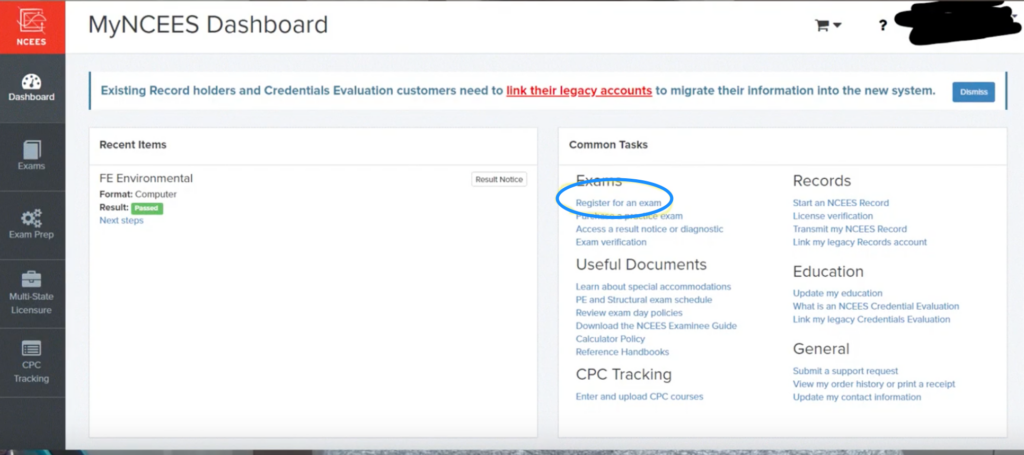 It typically takes about two weeks to see your results.
Step 4: Choose your FE Exam preparation
It is recommended that you spend at least 2-3 months studying. Although you can retake the test, it is in your best interest to pass the first time as you have to pay the $175 fee each time you take it.
We reviewed the best FE exam test prep options. You can browse your options and choose the best path for your learning style.
Step 5: Pass The FE Exam
You're all signed up for the exam, and you have studied all your FE test prep materials. Now, all that's left is to pass the exam! The exam is electronic, but you usually have to wait 7-10 days for your results. You will get an email with instructions on how to view your results within the NCEES dashboard.
Step 6: Apply for your EIT Certificate
Congrats! You passed, now click next steps in the dashboard and follow the instructions to apply for your official EIT certification.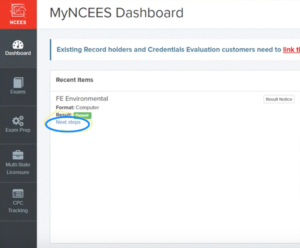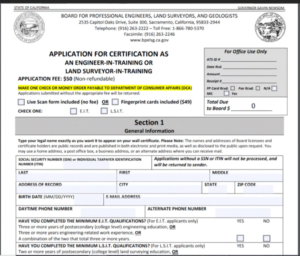 In California, you need to get your fingerprint recorded at a local police station and send in the results, in addition to your application and materials. Not all states will ask for fingerprints, so we will not analyze that section of the application. Once you have everything needed to be sent in you will get a certificate that looks similar to this is the mail:
Step 7: Enjoy Being a Newly Minted EIT!
Once your application is submitted along with your application fee, you will get your official EIT certificate in the mail.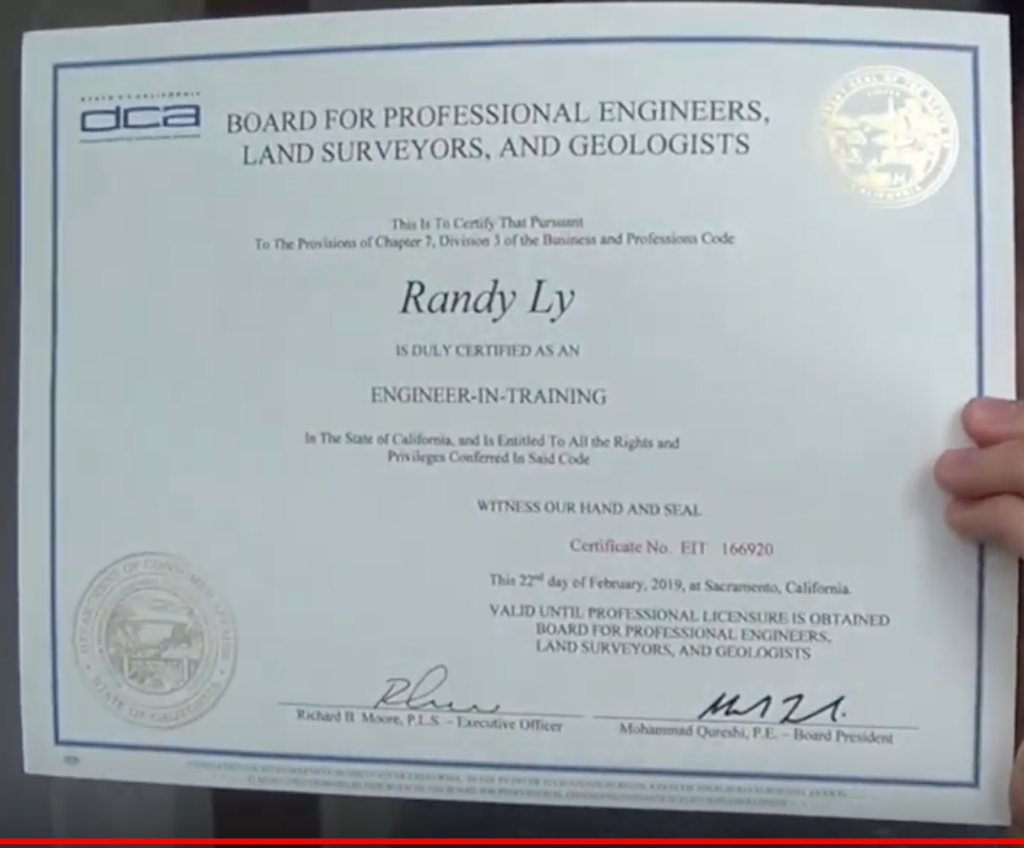 What's Next For an EIT?
Now that you have your EIT certificate, let's take a look at the next steps. It's now time to gain experience and prepare for the PE exam. We compiled a list of the best Professional Engineer Exam review and prep courses to help you pass the PE licensure exam on your first try.
Depending on where you live, experience is considered at different stages in the process. After gaining experience, depending on your state, you can take the PE exam. Most states require 3-5 years of relevant experience. After you pass the PE exam, you can now apply to become a PE.
This process can be a little confusing, so we always recommend consulting NCEES to find information specific to your situation.
Compare The Best PE Review Courses Now
Bryce Welker is an active speaker, blogger, and regular contributor to Forbes, Inc.com, and Business.com where he shares his knowledge to help others boost their careers.  Bryce is the founder of more than 20 test prep websites that help students and professionals pass their certification exams.