The Fundamentals of Engineering Exam is an exam given to recent graduates or students close to finishing their undergraduate studies in engineering. The FE Exam is a requirement to take the Professional Engineer (PE) Exam, which is the highest standard of competence in the industry. In this article, we will cover the ins and outs of how to study for the FE exam.
What Is The FE Exam?
The FE Exam is a 110 question computer based exam that takes around 6 hours to complete. Generally this test is taken during engineering students' senior year. You are welcome to take the test after graduation, but most opt to take it within that senior window. The FE exam is administered year-round by NCEES and costs $175.
The FE is offered in seven different disciplines:
Chemical
Electrical and Computer
Environmental
Industrial and Systems
Mechanical
Other Disciplines
A tutorial, NDA, and scheduled break are allotted in the six hours. The actual test time is only five hours and 20 minutes.
---
Everything You Need To Know To Study For The FE Exam
The FE Exam will cover most of the knowledge concepts you would typically learn in your B.S. engineering degree program. Like all standardized tests, being prepared is everything, which is why most students taking the FE exam will opt for some type of review course. We have looked at all the best FE exam review courses in detail, but here are all the fundamentals to studying for the FE exam.
1. Find Out What Is Being Covered In Your Discipline
You can do this by:
Going to NCEES.ORG.
Clicking on the discipline you will be taking the exam for.
Seeing how many questions are in each section so you can adjust your study time accordingly. Every discipline contains 110 questions, but each section within your specific discipline will contain a different amount of questions.
2. Get Familiar With The NCEES Handbook
This 250 page Reference Handbook will be the only resource you are allowed during the exam. Getting yourself familiar with the Reference Handbook is important because the solutions to the questions will most likely be found in this handbook.
You can download a free copy of the handbook on the NCEES website.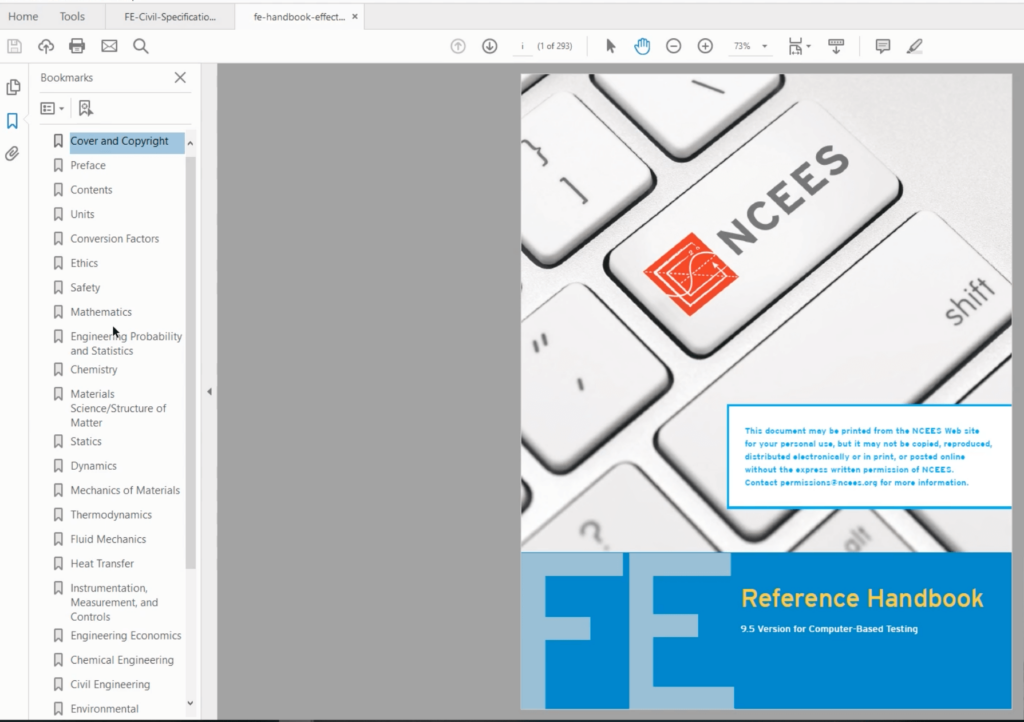 As the test is timed, it is utterly important that you know your way around this book. Think of it this way; if you're taking a road trip, you'll probably pull up the GPS on your phone to find directions. When you're going to the grocery store, you don't need the GPS because you know the way. Think of this as a five hour and 20 minute car ride that you need to know the directions for before you leave. And you do this by studying the map (or in our case, the handbook).
This might seem overwhelming at first (most things do), but with time and repetition, you will know the roads like the back of your hand.
It is recommended that you practice using the electronic version of the handbook and avoid purchasing a hard copy. During the test you will only be permitted to use the electronic version, so it makes sense to get familiar with that one and familiar with using it on a computer.
3. Create A Study Plan & Practice Using An NCESS Calculator
First, if you don't already have an NCEES approved calculator, you're going to want to pick one up so you can start practicing and becoming familiar with it. It is recommended that you study 10-15 hours a week for 4-6 months prior to the exam. Any of the prep courses linked above will have an ample amount of practice questions, reviews, and instruction. There are also great review books from PPI specific to the discipline you're preparing for on Amazon.
Becoming familiar with the reference handbook, and completing as many practice problems and practice exams as you can, and simulating test conditions are the three pillars you're going to want to focus on. If you get a book, it should look beat up by the date of your exam. If you go with a digital prep course, you should know every practice set backwards and forwards. You will have just under three minutes to complete each problem.
4. Take Practice Tests
The good news is that the more you practice, the more fluent you will become with the handbook. You will find yourself being able to answer your practice sets faster as you work your way up to your exam date.
The best method we have seen for other standardized tests is to start by completing exercises and reviews within your prep material. After that, we recommend working your way up to full-length practice exams. So you start by learning the material, and you finish by executing it.
As you transition into full length practice exams you will be able to review your scores and see the areas you need to improve on, and which areas you are excelling at.
If you've come this far, you've probably gotten high scores on previous tests and exams, but we know that standardized tests are a different animal. If you fail, you'll have two more chances to pass within the calendar year. Either way, standardized exams are different from midterms or finals as far as the discipline and longevity that goes into the preparation. If you're looking for a little motivation or practical tips on spending six months studying for one exam, this article might help.
5. Tip The Scales With An FE Exam Prep Course
According to our research, approximately 25% of FE exam takers fail. With one in four failing the FE Exam, many students opt to purchase a course or other type of FE review material to help.
Testing.org reviews and compares the top prep courses around. We extensively reviewed the best FE Exam prep courses available on the market. You certainly don't need to purchase a prep course to pass, but if you feel one will help, this article is worth reviewing. Some courses specialize in certain disciplines, and there is a wide gamut of pricing and options available, which is all outlined and compared in detail in the above article.
Top FE courses we recommend
Bottom Line
If your goal is to become a Professional Engineer, your first step is to pass the Fundamentals of Engineering Exam. It may take 4-6 months of solid preparation to pass, and even then around 25% of students fail on their first try. Pass rates for the PE exam are even lower.
What is overlooked, however, are the doors that passing these exams will open throughout your career. Relocation, promotion, and transition are all easier with licensure in the field of engineering. It is for that reason we recommend playing it safe and investigating the FE prep courses. Using this guide will not only help you to study for the FE exam but also help you in your career.
Compare The Best FE Review Courses Now
Bryce Welker is an active speaker, blogger, and regular contributor to Forbes, Inc.com, and Business.com where he shares his knowledge to help others boost their careers.  Bryce is the founder of more than 20 test prep websites that help students and professionals pass their certification exams.