Electrical engineering is a complicated field to get into. It requires a lot of hard work and a highly specialized skill-set to succeed. However, it can also be extremely rewarding, with high job satisfaction for many working professionals.
Many people end up joining this field with those thoughts in mind. In light of that, it's important that you understand everything about the industry before you decide on your career path.
The most important things you need to know are the prerequisites to earning an engineering certification, what the certification process looks like, the salary you can expect to make, and how this branch of engineering is different from the others.
Keep reading to learn how to become an electrical engineer, and you can start preparing today with an online engineering program.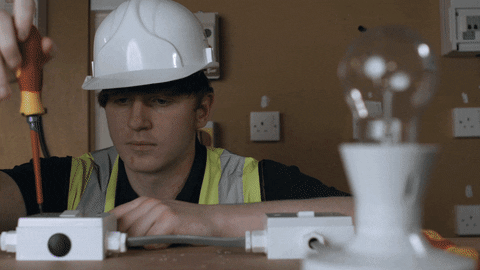 Electrical Engineering Requirements
First, anyone interested in electrical engineering needs to complete a set of education and work requirements. It is possible to find low level work without a license but your pay and responsibilities will be far lower than other engineers.
With that in mind, let's see what you need to do to start your career in electrical engineering.
First and foremost, you need a 4 year bachelor's degree in a related engineering field. Some workplaces recommend a master's degree, but you can always earn that further down the line.
Completing this step will qualify you for the Fundamentals of Engineering exam. However, you must complete 4 years of work experience before you move on to the Principles and Practice of Engineering exam. If you have never heard of the two qualifications (FE vs PE), you may want o look into it before moving forward.
Licenses are state-specific so they won't carry over into other states. You'll need to retake the FE and PE exams in any other state where you plan to work. Make sure to check out the requirements each state licensing board sets for this process.
How to Become an Electrical Engineer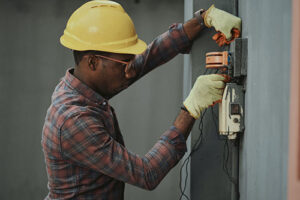 Assuming you've finished up the required education, it's time to start earning your certifications. Your first step will be to sign up for the Electrical and Computer FE exam. It costs $175 to schedule the exam, so make sure you're ready before signing up. I recommend taking a look at the FE exam blueprint provided by the National Council of Examiners for Engineering and Surveying and building a study schedule based on those concepts. That way you can know exactly what to expect on testing day.
When the test starts, you'll have 6 hours to complete 110 questions— with a mandatory 25 minute break. Your testing center will also take a few minutes to walk everyone through the testing software so no one is confused during testing.
After completing the FE exam, most people are able to start getting the necessary work experience for the PE exam; essentially, you're qualified to work as an engineering intern or engineer in training. This gives you a chance to learn from professional engineers while preparing for your second exam.
It's time to take the Professional Engineer exam after you've completed your 4 years of work experience. Enrollment for this exam costs $375. Unlike the FE exam, you have a chance to choose the content of your exam when signing up. NCEES currently offers 3 different electrical engineering PE exams:
Computer Engineering

Power

Electronics, Controls, and Communications
Each of these tests consists of 85 questions and has a 9.5 hour time limit. As with the FE exam you'll have a chance to learn the software and take a brief break.
Make sure to check out the exam specifications for each test. They'll help you create a study plan ahead of your testing date.
Electrical Engineer Salary
Engineering pays well at all levels. The average base pay for an electrical engineer is $95,111 per year. That can go up to well over $100k a year if you stick with it long enough.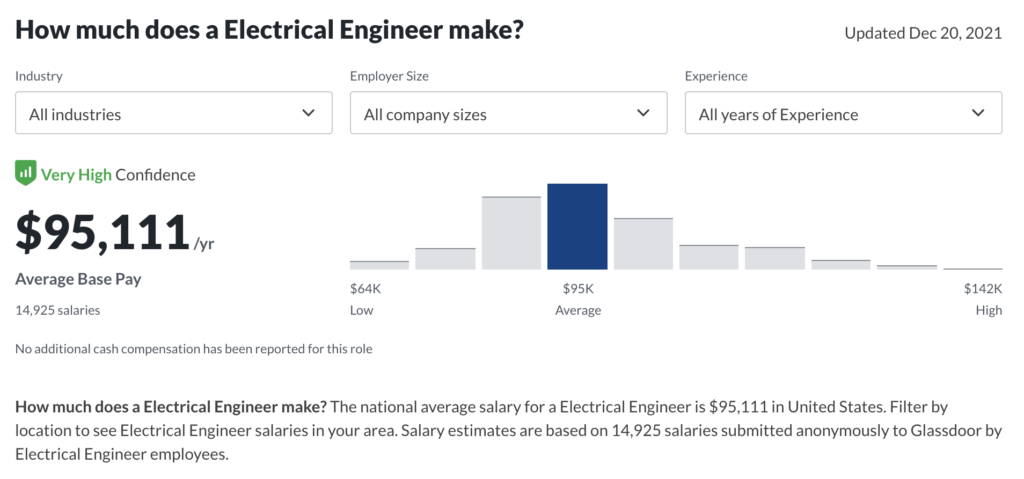 Assuming you stick with the same career path, you can expect to start out as an engineer in training before moving onto a professional engineering position. Further down the line you have the potential to move on to a senior engineering position or even lead engineer at your place of work.
The top paying US cities for electrical engineers are San Diego, Chicago, Jacksonville, and Houston. Consider looking into positions there if you live near these cities.
Electrical Engineer vs Electronics Engineers

There's a lot of overlap between both of these engineering branches. In fact, electronics engineering is largely considered a sub-discipline of electrical engineering. The main difference between these two branches is scale.
Typically, an electrical engineer is in charge of designing and maintaining larger equipment such as power distribution networks. In contrast to that, electronic engineers focus on creating and maintaining smaller electronic circuits. However, both disciplines have nearly identical salaries— working either position can easily earn you six figures.
Electrical Engineer vs Electrician
Both of these career paths are very different despite having a similar name. As I mentioned before, electrical engineers work on large scale electrical production. Electricians instead repair electrical systems installed in houses, buildings, and outdoor areas.
Both jobs require certification. However, an electrician only needs a high school diploma to qualify for an electrician program. The license can be earned through a blend of schooling and apprenticeship hours. Unfortunately, an electrician's salary is significantly lower than an electrical engineer's, and it's extremely unlikely that you'll earn more than $70,000 a year.
Electrical Engineering vs Civil Engineering
Civil engineers differ quite a bit from electrical engineers. They largely work on public works projects such as bridges, tunnels, and buildings. Electrical engineering can be involved in that process, but they're specifically focused on anything that needs a power supply to work.
In terms of salary, electrical engineers tend to make a little more money. Civil engineers can expect to make $77,632 a year as an average base pay. As with other forms of engineering, that salary goes up over time.
Electrical Engineering vs Computer Engineering
Computer engineers are much more specialized than electrical engineers. They focus only on designing hardware and software for computer systems. Of course, since computers are now used in a wide range of fields this adds a bit of variety to the career. This is in contrast to an electrical engineer's work on any electrical systems.
A computer engineer typically makes an average of $89,256 per year. That's around the same pay as an electrical engineer. AS a result, it's easier to pick a career based on the subject you're more interested in.
Bryce Welker is an active speaker, blogger, and regular contributor to Forbes, Inc.com, and Business.com where he shares his knowledge to help others boost their careers.  Bryce is the founder of more than 20 test prep websites that help students and professionals pass their certification exams.