The Fundamentals in Engineering (FE) Exam is your first step to a Professional Engineer (PE) licensure. Most engineers opt to take the $175 exam during their senior year of college while the subject matter they're currently learning is still fresh. The exam lasts five hours and 20 minutes and is administered during four testing windows throughout the year.
Our team at Testing.org analyzed all available information from the National Council of Examiners for Engineering and Surveying (NCEES) from 2015-2019 to break down the odds of passing, why some students pass and others don't, as well as what it means if you wind up unsuccessful on the test.
How Difficult Is The FE Exam?
The first time pass rate across all disciplines is 71% and 35% for repeat exam takers. It's not the most difficult, but you have to account for the disciplines, which varies.
Environmental & Mechanical had the highest first-time pass rate Industrial & Systems had the lowest.
Exam takers with engineering degrees have a 9% higher passing rate than exam takers who don't have a degree, or aren't working towards one.
If you plan to take the FE exam soon, make sure you do everything you can to pass on the first try. Free and paid resources are available for you to prepare for the PE exam.
The majority of engineers who hold a bachelor's degree don't take the FE Exam.
The purpose of these findings is to highlight different variables associated with FE Exam pass rates, so you can give yourself the highest probability of attaining a passing rate when you take the exam.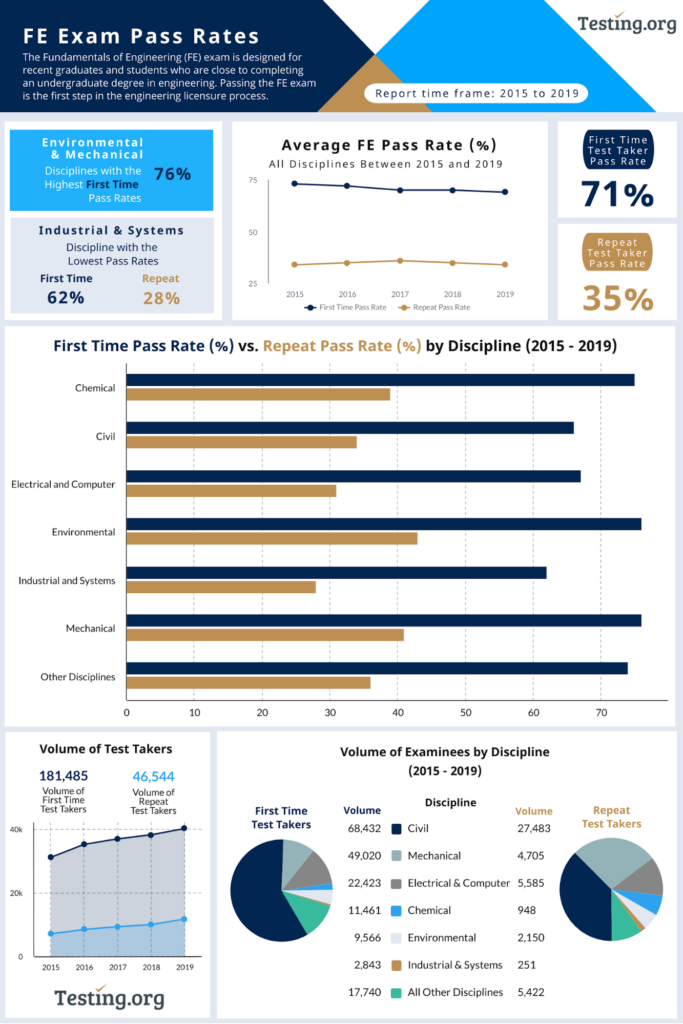 Finding #1: Try To Pass On The First Try
As we can see above, there is a 36% drop in pass rates on the second attempt from 71% for first-time exam takers to only 35% for repeat exam takers. So basically, if you fail the first time, your probability of failure on the second attempt increases exponentially. However, a first-time pass rate of 71% indicates passing to be very doable if you put in the time to prepare.
Finding #2: The Pass Rates Vary Among Disciplines
The FE Exam is not like other standardized tests because it varies among disciplines – so there isn't one uniform exam for all engineers in training. There are seven different exams you could take depending on your area of focus, and the pass rates change with each discipline. So looking at your specific discipline above will give you a better idea of what your chances are. The good news is that there are study materials available tailored to each specific discipline. 
Finding #3: The Majority Engineers Don't Take The FE Exam
There is no rule that you need to have a degree or be working toward one in order to take the exam, so there are exam takers with no college experience. It is worth noting that Takers with an EAC / ABET bachelor's degree pass at rates higher than those without one.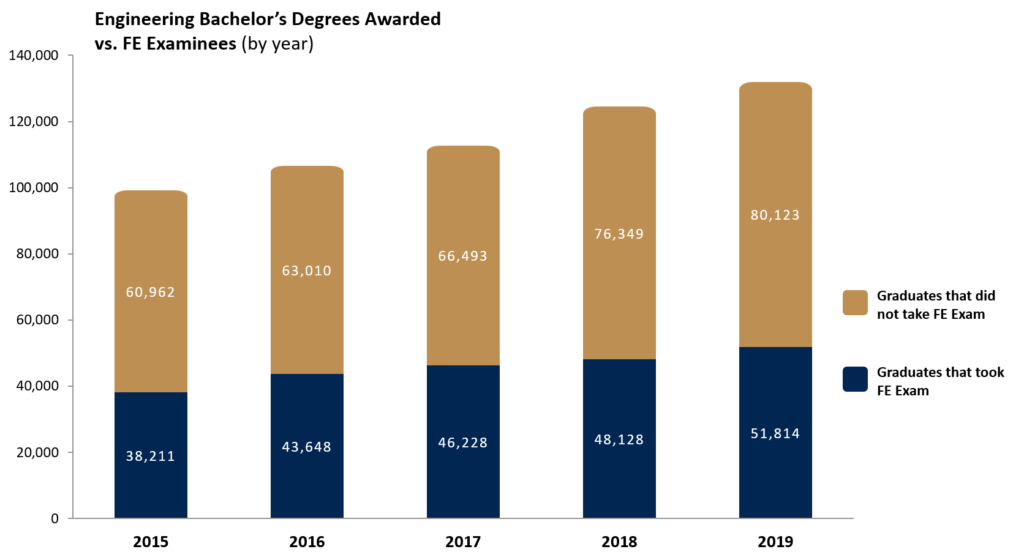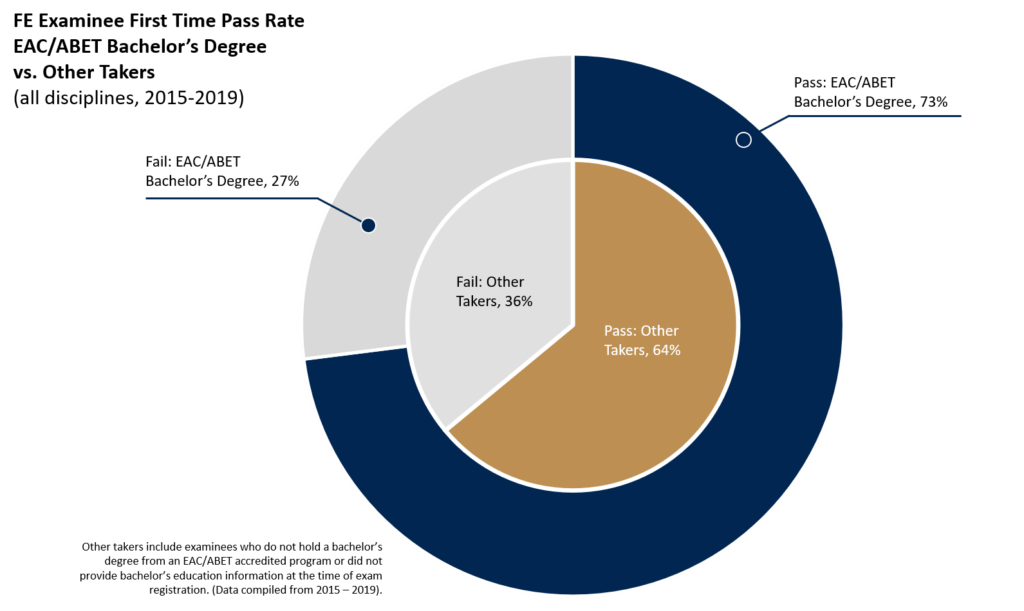 Why The FE Exam Is Important
The reason the majority of engineers don't take the FE Exam is that there is no immediate benefit that is correlated with it, which makes it a tough sell for some. We're talking about a lot of time and effort for something that is tough to quantify in the short run. However, there is a reason why the FE Exam exists, and why nearly 40% of engineers decide to take it. Going through the scrutiny of preparing, paying for, and passing the exam now will open more doors throughout the longevity of your career by helping with employment and advancement opportunities.
How To Pass The FE Exam The First Time
You raise the odds of increasing your pass rate by taking the exam while a senior in college, proper study habits and preparation, reaching out to professors who've passed it, and taking a FE review course prior to your testing date.
Take the exam around your senior year of college
This is when almost everyone takes the exam because it tests material they're already learning in school. In our research, we did find stories of people regretting waiting to take the exam a few years after they finished school because it made the preparation more strenuous.
Make sure you have ample time to study and prepare
One of the reasons people fail the exam is simply because they're not prepared. This is a 110 question standardized exam, not a midterm, final, or test. In order to be successful, you will need to spend months preparing for the exam and be disciplined with your time leading up to it. As we're in the business of standardized tests, we have published a comprehensive article that helps with the lengthy preparation associated with standardized tests.
Reach out to professors or mentors who have already taken FE Exams
If you're currently in school, professors who took and passed the FE Exam are a great resource to turn to that can provide simple answers to simple questions.
How long did you prepare? Was it hard? Is there anything you wish you would have done differently? Better questions give you superior answers.
Your professors are at your school to impart wisdom, so it is a good idea to take advantage while they are readily at your disposal.
Take an FE exam review course if needed
It's natural to be worried about passing the FE Exam, and a lot of engineers choose to enlist the help of FE Exam prep courses that have a proven track record of helping people pass. Here are three of the courses from our review to give you an idea of the pricing and options available.
Bottom Line
We understand that preparing for an exam of this magnitude is a huge time commitment and potential risk. It's unfortunate, but people do fail. Our hope is that this article will alleviate some of the risk, and put you in a better position to succeed. There are resources at your disposal in the form of professors, prep courses, and books. You can and will pass if you put in the time and effort.
Compare The Best FE Review Courses Now
Bryce Welker is an active speaker, blogger, and regular contributor to Forbes, Inc.com, and Business.com where he shares his knowledge to help others boost their careers.  Bryce is the founder of more than 20 test prep websites that help students and professionals pass their certification exams.