There are a number of different ways to study for the LSAT, and Kaplan LSAT is one of the most trusted names in post-secondary education test review. In this article we are going to peer into the different options Kaplan offers its pre-law students, and dive into the material that is covered in their books, courses, and by their tutors. If you are looking for more information like this, our team also did research on the best LSAT prep courses.
As the LSAT moved to a strictly digital format from a paper exam in 2019, Kaplan pivoted and has included channel sessions and relevant fixes to their lessons to accommodate digital. There are also some extra tips for taking a digital exam which have been baked into the curriculum.
LSAT Prep Courses
The bread and butter of Kaplan LSAT is their courses.
Course Type
Self-Paced
Self-Paced
Plus
Online
All Access
Starting Price
$699
$949
$1,099
$1,499
If you need more than books and are looking for a more interactive experience, Kaplan offers a variety of courses that you can sign up for to take either on your own, in a classroom setting, or with a private tutor. There are several options available within the course section of the Kaplan LSAT website so as we navigate through the different options, hopefully you can find one that is suitable for you.
The courses are broken down into four distinct options. It should be noted that when you sign up for the courses, you also get the LSAT Prep book and the LSAT Unlocked book for free with a $25 dollar shipping and handling fee.
Self-Paced
Complete LSAT course, available recorded 24/7 video lessons.
Unlimited access to The LSAT Channel

This is about 120 hours in one hour sessions on specific topics, whereas the class may feature broader areas of the material.

80+ real, released LSATs with self-proctoring tools

This is every practice test the Law School Admissions Council (LSAC) releases. To enable comparison, the book comes with 10 practice tests.

Every real LSAT question ever released with your practice library.
Detailed analysis and study recommendations with Smart Reports.™

Smart Reports are a detailed analysis of your practice tests designed to inform you which areas require additional focus from you given your previous score.

Access to course material from your mobile device.
Online access for 4 months.
Available for $699.
Self-Paced Plus
For $949, the Self-Paced Plus package includes everything you see above plus two hours of one-on-one coaching.
Online
While the Self Paced section is you working your way through pre-recorded videos, the online option is an actual class that meets in real-time with 10 four-hour sessions. You can expect to cover everything the Self Paced course does, but relax a little more knowing you have an option to ask an instructor a question whenever you need. The Online course option is priced at $1,099.
All Access
This chart, from Kaplan's website, shows the difference between purchasing a single course and purchasing the All Access pass. It should be noted that the course length is four months. The All Access package is available for $1,499.
In-Person
These are sessions with just you and the instructor; one-on-one. You'll, of course, cover sections that they go through in the other courses, but with a private tutor, you can focus your efforts where you think you need the most improvement and ask as many questions as you'd like. There are several pricing options for in-person prep.
10 hours for $2199
20 hours for $3099
30 hours for $3899
40 hours for $4799
With Kaplan, there is something for everyone who wants to elevate their LSAT score.
Kaplan LSAT Books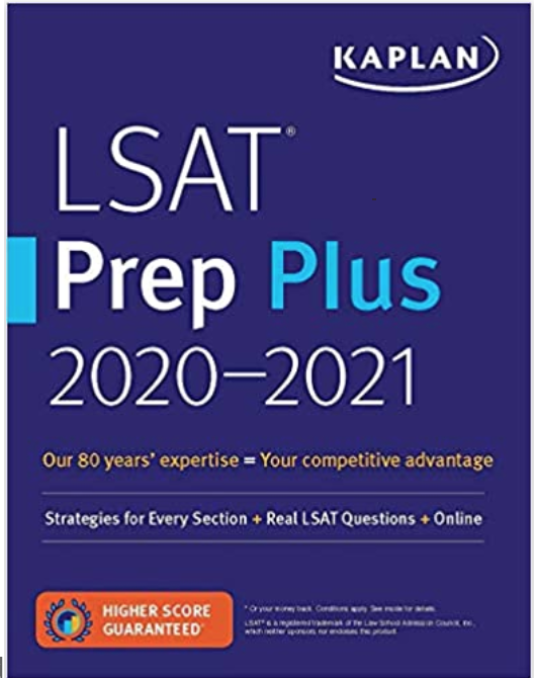 The Kaplan LSAT Prep Plus Book, which retails for $58.49, is a 1044 page study guide that covers everything you need to successfully take and pass the LSAT with a score you're comfortable with. The book has received 4.4 out of 5 stars on Amazon, which means they're doing something right at the test prep company that started in 1938.
The book is divided into five sections that comprise the LSAT:
Logical Reasoning (2 sections)
Logic Games
Reading Comprehension
Experimental Section
Writing Sample
Inside these sections you will see sample questions, answers, and the explanation of the answer to each question. It also comes with multiple practice tests.
Kaplan Prep Logic Games has 11 chapters of logic, puzzles, and exercises to help you try and crack what most describe as the hardest portion of the LSAT. This book retails for $32.99 and includes the following chapters:
Chapter 1: The Logic Games Method
Chapter 2: Logic Game Types and Sketches
Chapter 3: Logic Game Rules and Deduction
Chapter 4: Logic Game Questions
Chapter 5: Basic Strict Sequencing Games Unlocked
Chapter 6: Complex Strict Sequencing Games Unlocked
Chapter 7: Loose Sequencing Games Unlocked
Chapter 8: Formal Logic Games and Selection Games Unlocked
Chapter 9: Matching and Distribution Games Unlocked
Chapter 10: Hybrid Games Unlocked
Chapter 11: Rare Games Unlocked: Process and Mapping
While the Prep Plus book offers you practice questions and answers, it also talks about test tips and strategy that you should incorporate in order to be as comfortable as possible come test day.
In addition to Prep Plus and Logic Games, Kaplan offers another book that is filled with nothing but practice questions, so you can be sure you're fully prepared. The book is called LSAT Unlocked and is 972 pages complete with different practice
Finally, what testing service would be complete without offering flashcards for study. Nail down concepts like formal logic patterns, game rule translation, or argumentative analysis with these 400 flashcards for the price of $34.99
How Does Kaplan Compare?
We know there are a number of LSAT prep courses, guides, and tutors available and hope this gives you a little more insight into one of the more popular guides – Kaplan. With that said, let's look at some criticisms of a course that has scored 4.6 out of 5 stars on the reputable site, Trustpilot.
There is no free trial. Many other LSAT test guides give you a trial run of their material so you can see what it is like first-hand in their curriculum. Kaplan is one of the oldest, most trusted test prep companies around. There's a reason they don't give a free trial and it's because they know their reputation precedes them enough for students to be willing to give it a go, even if they can't peek inside.
There are, however, three free practice tests on the website that you can take to gauge your current test level. One is short (five minutes), one is 20 minutes, and one is a full-length test.
Large class sizes. If you decided to opt for the Online or All Access option you could be learning with 29 other students at the same time. Even with the classes being held over Zoom, you may find yourself having to wait in order to get one of your questions answered.
Qualification of instructors. There has been some questioning of the instructors that Kaplan hires, who need to score in the 90th percentile in order to secure a job, whereas other test prep companies require their instructors to score in the 99th or 98th percentile. What's even more questionable is that this score can be measured on a Kaplan practice test, so you have a situation where you may have an LSAT instructor who hasn't taken an actual LSAT. (ipassthelsatexam.com)
High Score Guarantee
According to the Law School Admissions Council (LSAC) you can take the LSAT up to three times in one testing year and five times total within a five year period. Some schools will take your high score and others will take your average. Lucky for those who use Kaplan, they offer something called a High Score Guarantee.* Kaplan takes a previous score which is either Kaplan administered, or an actual LSAT score and uses it as a baseline to gauge your success.
From there, you have a few additional choices, depending on how you score:
If you score below your baseline you can either ask for your money back or re-enter into the Kaplan LSAT program if you inform them 60 days prior to receiving your score.
If you score above your baseline, but still aren't happy with your score, you can still re-enter into the program.
*The High Score Guarantee does not apply to the Self-Paced course, but only to the In-Person and live Online options.
Get The Best Price on Kaplan LSAT Now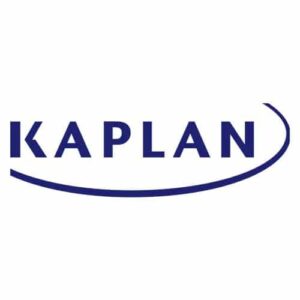 Get $240 Off Kaplan LSAT Live Online Course
Bryce Welker is an active speaker, blogger, and regular contributor to Forbes, Inc.com, and Business.com where he shares his knowledge to help others boost their careers.  Bryce is the founder of more than 20 test prep websites that help students and professionals pass their certification exams.