When joining a growing career field such as project management, one of the first things on your mind should be standing out from the crowd and making yourself shine brighter than the next applicant. A standout way to do this is becoming certified as a Project Management Professional (PMP). Studies from the Project Management Institute show that certified project managers are both in higher demand and tend to earn more than those without certification.
It's a no-brainer, right?
The first step in becoming a certified Project Management Professional is to find the right schooling to get you there. Lucky for you, we've gathered the top PMP certification materials on the market to save you time and money that could be spent studying and stepping into your new career.
Keep reading to learn more!
Top 5 Best PMP Certification Training Courses
1. Brain Sensei PMP Review

Brain Sensei's shakes up the normal project management education system by dropping you into an interactive animated story that takes place in feudal Japan, matching story beats with real-world applicable lecture content. Using this extremely unique learning style, Brain Sensei turns the sometimes boring practice of studying into a compelling instructional narrative.
During instruction, you will also complete quizzes that contain over 1,000 practice questions comparable to the actual exam. Brain Sensei mixes it up and keeps the student engaged, something that many PMP prep courses severely struggle with.

Brain Sensei PMP Review Pros and Cons
Unique PMP exam prep course teaches through compelling storytelling
No Pass/No Pay Guarantee ensures you don't waste any money
Adaptive Practice Questions adjust based on your specific study needs
35 Contact Hours allow you to fully meet any PMP exam requirements
Direct and engaging instruction system ensures you don't waste any time
Bottom Line: Brain Sensei is the best way to prepare for the PMP certification exam because they use the power of storytelling to enhance your memory in a way that's directly applicable to your exam performance and future career!
---
2. PM PrepCast PMP Review Course

With a staggering 2,000 practice questions to get through in 90 days of access, PM PrepCast is anything if not thorough. Including standard terminology and guidelines contained in the latest version of the PMBOK, as well as Agile and Hybrid methodologies, you'll have yourself set up for success as you hit the ground running in your Project Management career.
PM PrepCast also includes over 100 video lessons and a multitude of self-assessments to ensure that you're ready to tackle the exams. This is a well-rounded study resource that offers a straightforward educational experience.
PM PrepCast PMP Review Course Features
2,100+ Practice Questions
5 Practice Exams
120+ Video Lessons
Pass Guarantee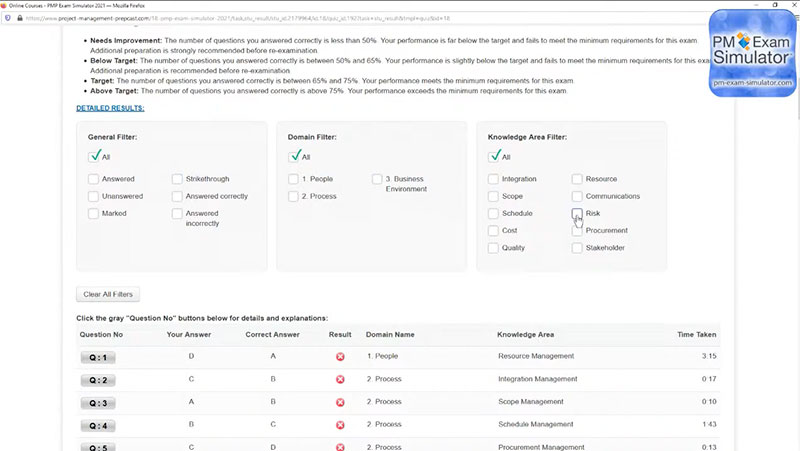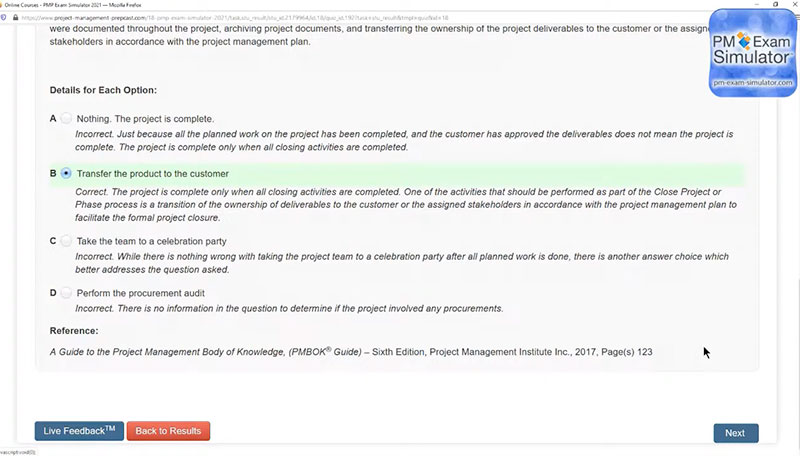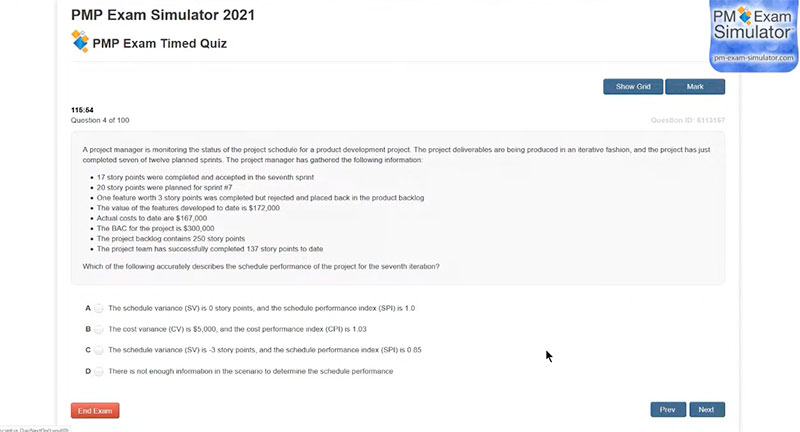 PM PrepCast Pros and Cons
Massive library of practice questions are available in the PM Exam Simulator
PM PrepCast has a very thorough curriculum, applying both Agile and Hybrid methodologies
Limited access period means the large amount of study materials may be hard to get through on a limited schedule
Bottom Line: Try out PM PrepCast if you want the best online prep course that sticks to a standard curriculum, schedule, and presentation. This company is extremely good at what they do— which is helping you pass the PMP exam!
---
3. Dooey PMP Training Course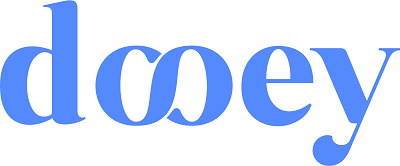 In addition to offering the same style of fast-paced instruction that ExamsPM provides, Dooey also offers a self-paced PMP exam prep course for those who might not want or need to cram when studying for their exams. Depending on your learning style and study schedule, Dooey provides 9 to 18 weeks of live online instruction, 4 simulated tests, and Digital study materials to ensure that you are well prepared to take on the PMP Certification Exam.
Dooey PMP Review Features:
9 – 18 weeks of live online instruction
700+ practice questions
4 Simulated Tests
Digital study materials based on PMI regulations and documents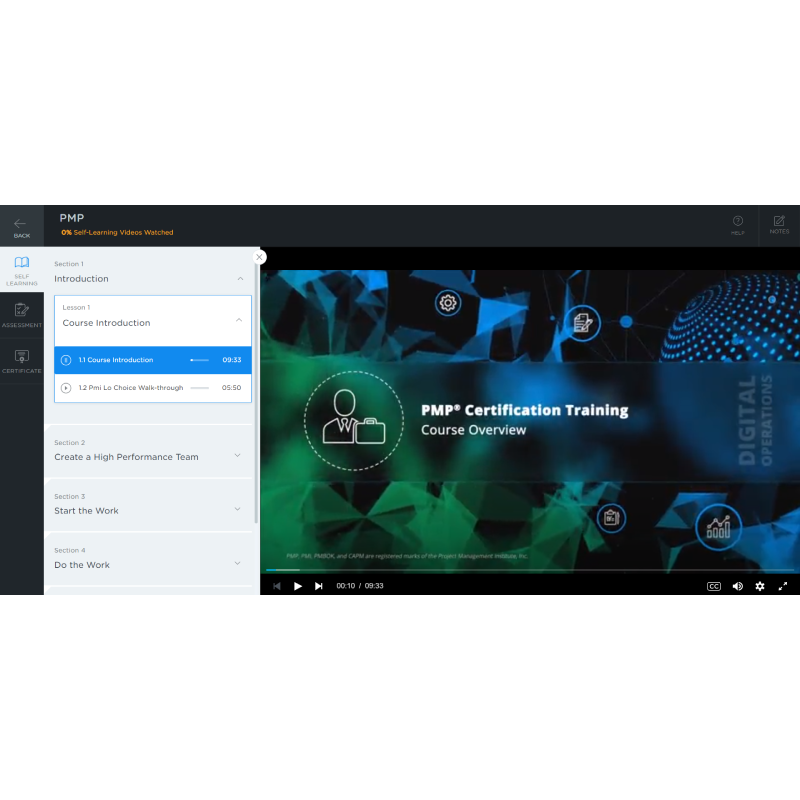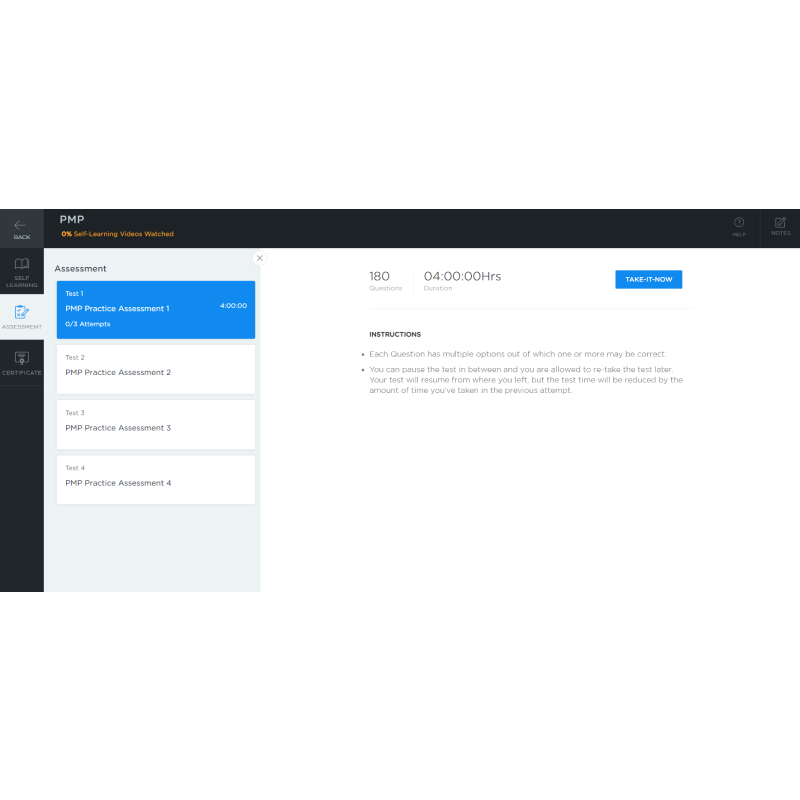 Dooey PMP Pros and Cons
Lessons are based around case studies pulled from the Project Management Institute (PMI), which is the company responsible for the PMP exam
4 simulated exams closely mimic the actual test, providing a great way to practice in realistic exam conditions
Email only support system, no way to contact instructor or tech team for help over phone or live chat
Bottom Line: Whether you need a long time to study at your own pace or you want to work through a guided course with faster results, Dooey has an excellent catalog of PMP exam review materials for you to peruse.
---
4. GreyCampus PMP Online Training Course

In addition to offering excellent support systems in case you encounter any issues, GreyCampus also provides some variety in their catalog that provides more choice than some other online PMP prep courses. GreyCampus provides PMP exam demonstrations, simulated Exams, an online learning platform, and the best student support provided in this list. The only major complaint is that they are very limited in their options for group training courses.
GreyCampus Features
Forum and instructor support
Mobile app for on-the-go study
32 hours of video lessons
13 quizzes and 3 practice exams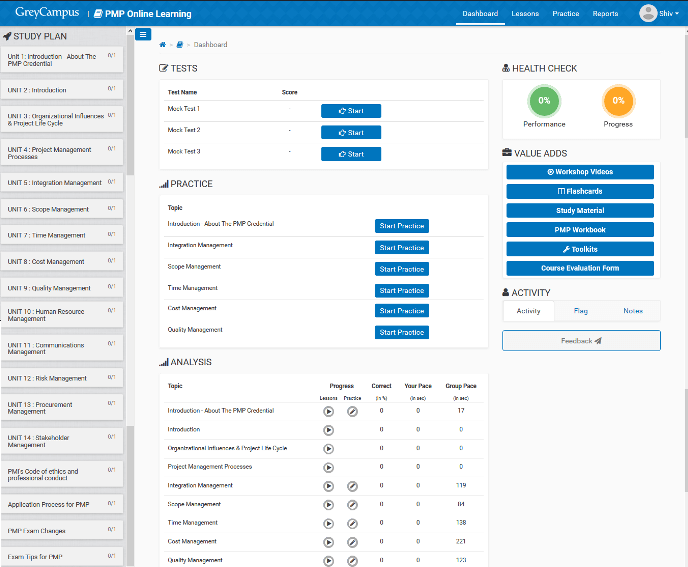 GreyCampus PMP Pros and Cons
24/7 Customer Support and 30-Day instructor helpline make it easy to resolve any issues
No Pass/No Pay Guarantee ensures you achieve success on your studies or you'll receive a full refund
Limited Group Training means you won't be able to study in a collaborative environment, making this a course that's only ideal for self-study
---
5. ExamsPM PMP Training Course
ExamsPM was built for the student who doesn't need a full featured review course like BrainSensei. This training has a fast study schedule of six weeks and is aimed at the person who only needs a quick refresh before their exam. They have just under 1,500 practice questions, packed in that the short Bootcamp period.
In addition to the wealth of information provided during this Bootcamp period, ExamsPM also provides 60 Professional Development Units (PDUs), putting you on the fast track to a renewal of your project management certification.
ExamsPM PMP Features
Less than 1,500 Practice Questions
35 Contact Hours as well as 30 PDUs
Answer explanations based on PMBOK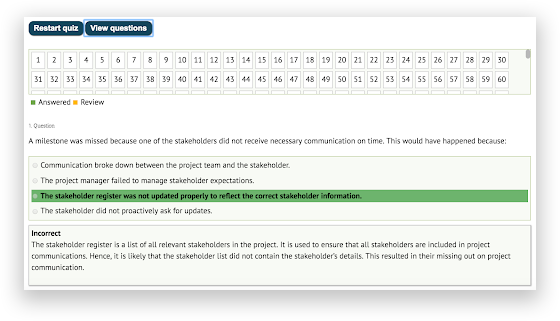 ExamsPM Pros & Cons
Includes 35 Contact hours required for PMP certifications as well as PDUs
Support locked behind higher tiers, disincentivizing you from enrolling in most affordable option
Outdated materials
Buggy platform
---
6. Velociteach PMP Review Course

The strongest benefit to using Velociteach when studying for PMP certification is the ability to set your study schedule for longer or shorter time periods. This way, you can quickly cram for the test or take your time— whatever works best for you.
Velociteach PMP Review Course Features:
Over 1,000 practice questions
More than 40 hours of lecture content
4 practice exams
1 month, 3 month, or 6 month access period
Velociteach PMP Pros and Cons
Excellent practice exams provide a compelling study resource that quickly acclimates you to the exam environment.
Both Audio and Video Lectures are available, providing more versatility when deciding how to study for your exams.
1 month access period is convenient, but many students will feel rushed when attempting to complete the full curriculum in a short time
Bottom Line: Although you have the option to enroll for only one month, most students would be better off enrolling in Velociteach's 3-month access period if you want the ideal balance between efficiency and a comfortable study pace.
---
PMP Frequently Asked Questions
Confused about any aspect of the PMP certification process or about project management in general? Check out these answers to frequently asked questions!
Which of the best PMP prep courses is the best all-around?
Currently, the best online PMP exam prep course is Brain Sensei. They have a unique study format that uses engaging storytelling techniques to quickly acclimate you to project management concepts, but they also provide a strong catalog of traditional study resources to ensure you practice in realistic exam conditions.
Which certification is best after PMP?
After earning your Project Management Professional certification, many professionals recommend becoming PMI-ACP certified to demonstrate your knowledge of Agile and hybrid methodologies. Alternatively, pursuing a Green Belt or higher in Six Sigma can also have benefits for your career prospects in many industries. Don't forget that getting your CAPM certification before your PMP can also help you stand out when applying for jobs.
What is a passing grade on the PMP exam?
Currently, the Project Management Institute doesn't provide a consistent score that test takers need to earn in order to pass the PMP exam. Instead, they use psychometric analysis to generate specialized reports on each student's individual performance, comparing their aptitude to other test takers. This means you should focus on getting every single question correct if possible!
Bryce Welker is an entrepreneur and owner of over 20 test prep websites dedicated to helping professionals earn certifications and pass their licensure exams. Bryce is a regular contributor to Forbes.com, Inc.com, and Business.com where he shares his knowledge to help others boost their careers.