Only the most qualified financial professionals get to call themselves Certified Financial Planners (CFPs), and that's in part because the CFP exam that you must pass in order to earn the designation is so rigorous. While the CFP Board requires everyone interested in taking the exam to complete a Board-certified education course, they're not all created equal. It's important to choose a good one if you want the best chance of passing on your first try.
There are dozens of CFP Board-certified education courses out there. We began our search by looking at 18 of the best and then we narrowed down that list based on their course accessibility, the comprehensiveness of their curriculum, what types of study materials and online resources they provided, and the various methods they gave students for reaching out if they ran into questions or concerns. In the end, we ended up with three courses that rose above all the rest.
Wiley was our favorite because it offers the best live instruction out of any provider, but no CFP prep course is right for everyone. We recommend checking out all of our top picks before deciding which one is right for you!
The 4 Best CFP Prep Courses
Full Reviews of the Best CFP Prep Courses
1. Kaplan Review

Best CFP Prep Course for Flexible Study Options
Kaplan, the giant of test prep, stands out once again due to its wide variety of course options and comprehensive study materials. While its courses can get a little pricey, they also include rare resources like computer-based testing that mimics the real exam and instructor access for all students, even those taking the self-paced courses. The Premium package is worth a closer look for those who want the most comprehensive instruction because it also includes a CFP review course — something that few other CFP education courses throw in.
What to Expect
Kaplan offers three types of courses to suit all budgets and learning styles. Its self-study program contains a variety of online resources, including textbooks, question banks, and performance trackers. This is the most affordable option, and you can take six of the seven courses at this level. However, the final course costs a little more. Those who get bored of reading textbooks might prefer to upgrade to the EssentialsPlus package, which includes on-demand video lectures for previous classes.
The Premium package is for those who want the most comprehensive education possible. It includes access to a live, one-year course and a CFP review course. You'll also get additional textbooks, module quizzes practice exams, and additional videos. All of Kaplan's practice tests are conducted online to best simulate the real exam. Courses meet three times per week for three hours each session.
All Kaplan's CFP education course packages include email access to an instructor that you can reach out to for support, and Premium students may also contact their instructors by phone. Unlike many of Kaplan's other test prep courses, it does not offer a pass guarantee with its CFP exam prep course, but many students find this isn't a huge drawback. Kaplan provides such a rigorous curriculum that many of its students are able to pass the test on their first try.
Comprehensive Curriculum: Kaplan's CFP program offers a thorough and detailed curriculum that covers all topics required for the CFP exam. Their materials are constantly updated to reflect the latest changes and trends in financial planning.
Interactive Learning Tools: Kaplan incorporates a variety of interactive tools, including quizzes, flashcards, and simulations, ensuring that students can grasp complex financial concepts in an engaging manner.
Expert Instructors: Kaplan's CFP courses are taught by experienced professionals in the field of financial planning. These instructors bring real-world experience to the classroom, offering insights that go beyond textbook knowledge.
Flexible Study Options: Kaplan understands that students have different learning preferences and schedules. As a result, they offer a mix of live classes, on-demand videos, and self-study materials, allowing students to choose the study method that best suits their needs.
Kaplan Details
| Course | Price |
| --- | --- |
| Essential Package - Courses 1-6 | $549 per course |
| Essential Package - Course 7 | $749 |
| EssentialPlus Package - Courses 1-7 | $749 per course |
| Premium Education + Premium Review Package - Pay Upfront | $7,199 |
| Premium Education + Premium Review Package - Pay Course-by-Course | $7,641 |
Wiley Efficient Learning Details
| Course | Price |
| --- | --- |
| Self Study Course | $395 |
| Silver Course | $545 |
| Gold Course | $695 |
---
2. Boston Institute of Finance CFP Review

Best CFP Instructors and Support
Boston Institute of Finance's courses are written, designed, and taught by a dedicated team of CFPs with successful businesses and a wealth of professional experience. This makes them one of the best methods of learning about both the fundamentals of professional financial planning and the intricacies of the CFP exam itself.
What to Expect
Boston Institute of Finance ensures that their teachers are available for students to contact at any time. Each teacher has a minimum of 10 years of experience as a practicing CFP. Since they're so experienced, it's easy for them to answer any questions you may have. In fact, they're so helpful that it's almost like you have a personal tutor available to help you throughout the course!
Every aspect of this course has been designed to maximize interactivity and retention rate. Boston Institute of Finance's instructors don't want you to be bored when learning how to be a CFP; instead, they focus on keeping their material engaging so you can easily remember everything you need to know. Plus, they can prove it works since their students boast an 80% pass rate for the CFP exam.
It's easy for Boston Institute of Finance to add extra flair to their materials due to their online platform. For instance, their digital textbook includes embedded audio and practice questions. Thanks to that, you're able to take advantage of the online format and learn via multiple study methods.
Multiple Formats: Classes are available on demand or as virtual classrooms. This is done to appeal to every kind of student.
Custom Time-frame: BIF understands that students learn at different rates. That's why they offer courses that can have their schedules shifted to suit your needs.
Amazing Instructors: With 4 CFPs teaching every class and available for extra student support from 9 to 5, this is the best way to learn from real practicing professionals.
Online Only: Currently, BIF has no offline learning materials. This can be disappointing for anyone who likes to study on the go.
Boston Institute of Finance Details
| Course | Price |
| --- | --- |
| Essential Self-Paced Program | $2,995 |
| Platinum Instructor Led Program | $3,995 |
| Add Exam Prep | $995 |
| Add Signature Exam Prep | $1,795 |
---
3. Dalton Education Review
Dalton Education sets itself apart from the other CFP prep courses listed here by putting a strong emphasis on student support in all course types. It's the only one of our top three to offer a pass guarantee and it gives students in every course, including its self-paced program, access to instructor assistance. It's not an ideal choice if you wanted to pay for courses as you go because Dalton Education doesn't break its program down this way. You must purchase the whole thing at once, but its prices are pretty reasonable, especially for its self-paced programs.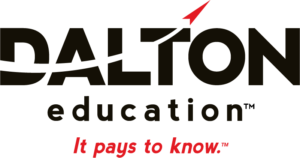 Best Online CFP Course for Student Support
What to Expect
Dalton Education offers a self-paced course and a live online course, so students can choose which they prefer. All courses include online videos, question banks, and interactive games and exercises to help keep you motivated and interested to move forward. Those who choose the Plus courses will also receive the course textbooks for free. Online students have access to the course materials for nine months, but if life gets in the way and they are unable to continue with their studies, they can contact Dalton Education and pause their program. When they're ready to resume, Dalton will allow them to continue their studies without paying for the course all over again.
Dalton is the only one of our top three to off a pass guarantee, but this is only available to students who enroll in the live online course and choose the Guarantee to Pass option. This is the most expensive choice, so it's not ideal for those on a budget, but if you're concerned about failing the exam, paying for this might be more affordable than paying for a whole new education or review course.
Students who enroll in the Virtual Classroom live online course will have access to Dalton Education faculty who can assist them with questions they have about the course material or certain question types. Self-paced students aren't left out either. Dalton Education assigns them a personal advisor who will check in with them periodically to answer questions and help keep them on track for their goals.
Pro: Customized Study Plans: Dalton's CFP program offers tailored study plans that adapt to individual student progress and performance, ensuring a focused and efficient preparation journey.
Multipart Class: Dalton's courses are split into 3 sections focusing on pre-study, live review, and post study. Doing so adds much more focus to the various parts of the course.
Pass Guarantee: Dalton is so confident in their course that they'll give you a full refund if you can't pass the CFP exam.
No Course Options: All of Dalton's courses use a blend of live learning and self study. You have no options for just one learning type.
Con: Platform Learning Curve: Some students have mentioned that Dalton's online platform can initially be a bit challenging to navigate, requiring a brief adjustment period.
Dalton Education Details
| Course | Price |
| --- | --- |
| Self-Paced | $3,195 |
| Self-Paced Plus | $3,995 |
| Self-Paced Plus The Dalton Review | $4,795 |
| Virtual Classroom | $5,650 |
| Virtual Classroom Plus | $6,575 |
| Guarantee to Pass | $7,795 |
4. Zahn CFP Review

Best In Person CFP Course
Zahn's CFP Review isn't just another course; it's like your study buddy for the CFP journey. Here's a snapshot of what they bring to the table: Hands-on Learning: Live sessions that dive deep into the nitty-gritty of financial planning.
What to Expect
When you embark on your journey with Zahn's CFP Review, anticipate a comprehensive learning experience that seamlessly blends theory with real-world application. Zahn's approach is hands-on, with live sessions meticulously designed to delve deep into the intricate details of financial planning. Beyond just preparing you for the exam, the curriculum is tailored to equip you with skills that will serve you in real-life financial scenarios. The extensive collection of practice questions ensures you're well-acquainted with a broad spectrum of potential exam queries. Moreover, the consistent updates to the course material guarantee that you're always aligned with the latest in the financial realm. With Zahn, it's not just about passing an exam; it's about molding you into a competent and informed financial professional.
Hands-on Learning: Zahn offers live sessions that delve deep into the intricate details of financial planning, ensuring that students get a practical grasp of concepts beyond just theoretical knowledge.
Real-world Application: While the primary goal is to help you pass the exam, Zahn's curriculum is designed to equip you with skills for real-life financial scenarios, making you a competent professional in the field.
Practice Makes Perfect: Zahn provides an extensive collection of practice questions, ensuring that by the time you sit for the exam, you've encountered a wide variety of potential questions.
Demanding Post-Study Phase: The recommended 60-80 hours of post-study, though comprehensive, can be quite intense, especially for those juggling work, studies, and personal commitments.
In-Person Session Constraints: While Zahn emphasizes the benefits of in-person live reviews, this approach might not resonate with everyone, especially in today's digital age where online learning is often preferred.
Location Limitations: The location-specific nature of live review sessions might pose challenges, requiring some students to factor in travel time, costs, and other logistical considerations.
---
---
The Most Important Features: Access, Comprehensiveness, Resources and Student Support
When selecting a CFP prep course, the most important features to focus on are course access, comprehensiveness, resources and student support.
Access
Some CFP prep courses offered by universities are only available on that school's campus, but for the purpose of this article, we focused on courses that were available online so that anyone could attend, no matter where they live. We favored courses that have strong online resources so that students are able to review course materials from anywhere with an internet connection. We also considered the length of time that students had access to the course materials once they purchased them.
Comprehensiveness
We limited our search to only CFP education courses instead of CFP review courses because everyone wishing to take the CFP exam must complete a CFP Board-certified education program. Review courses do not count for this requirement. You can expect all approved CFP courses to cover more or less the same information, but some do so in more depth than others. When choosing the top CFP courses, we looked at hours of course time and student reviews of the program to determine which best prepared students for the CFP exam.
Resources
CFP prep courses usually include lectures, textbook readings, and practice exams. Many also offer online review materials, like a question bank, so students can get more practice with troublesome question types. The best CFP education courses offer a number of task-based questions that mimic the case scenarios on the CFP exam and real-world scenarios that you might run into while working as a CFP.
Student Support
Live CFP prep courses often have office hours where students can reach out to their professors to ask questions about material they don't understand. These resources aren't as common with self-study materials, but some programs include a forum where you can ask questions of other students to help each other learn the material most effectively. A few of the top CFP prep courses offer pass guarantees, so if you fail the CFP exam after completing its education course, the company will allow you to retake the course free of charge.
---
Choosing the Best CFP Prep Course for You
CFP education courses usually come in one of three formats. Each has their own pros and cons. Here they are, listed in order from least expensive to most expensive:
Self-Paced: You pay for access to the course materials and you review them at your own pace.
Live Online: You log into an online classroom at regular times and study the material with the help of a remote instructor.
Live In-Person: You travel to a physical location, usually a college campus, and attend classroom courses.
Self-Paced
Pros
Most affordable option
Works with any schedule
Can spend less time on what you know and more on what you don't
Cons
Requires self-discipline
Limited options for assistance if you get stuck
No personalized instruction
Who It's Best For
Self-study courses are best for those who are on a budget, those who prefer to learn independently and those whose schedules prohibit them from attending a live course.
Live Online
Pros
Anyone can attend
Option for personalized assistance
Defined schedule to keep you on track
Cons
Not as interactive as in-person courses
Technical issues could arise
Who It's Best For
Live online courses are a good match for those who prefer a little structure but don't live near an in-person course location. It's also a good fit for those who travel often and want the flexibility to study from wherever they are.
Live In-Person
Pros
Fewer distractions from studying
Learn in a familiar setting
Interaction with classmates and instructor
Cons
Involves travel
Doesn't accommodate everyone's schedule
More expensive than online programs
Who It's Best For
Live in-person courses are ideal for those who live near an in-person course location and value personalized instruction. It's also a good choice for those who are prone to distractions when left to study online.
---
Frequently Asked Questions About the CFP Exam
Here are the answers to some of the most commonly asked questions about the CFP exam.
What requirements do I need to meet to take the CFP exam?
You must complete a CFP Board-certified education course and pass it before you are eligible to sit for the CFP exam. Once you've done this, your course provider will forward your name and information to the CFP Board, enabling you to register for the exam.
It's important that you verify that your course provider is CFP Board-certified before you pay any money for its programs. Most of them are, but it's important to double check because if yours isn't, it won't count toward your education requirement and you won't be eligible to take the CFP exam.
How do I apply for the CFP exam?
Once you've completed your CFP prep course, you can register for the CFP exam on the CFP Board's website. You must create an online account and log in. Then, you'll be able to select your testing date and pay to reserve your place. The CFP Board offers the CFP exam three times per year — once in March, once in July and once in November. For each session, there is an eight-day testing window so you can choose the day that's most convenient for your schedule.
Once you've scheduled your testing appointment, you can change or cancel this at any time through your online account, though you may have to pay a postponement fee and you will forfeit any money you put down to reserve your place.
How is the CFP exam structured?
The CFP exam is a computer-based test consisting of 170 multiple-choice questions. The exam is broken down into two three-hour sessions with a short break in between them. The exam goes over more or less the same information as your education course. These are the eight principal knowledge areas along with how much of the test they comprise:
Professional Conduct and Regulation (7%)
General Financial Planning Principles (17%)
Education Planning (6%)
Risk Management and Insurance Planning (12%)
Investment Planning (17%)
Tax Planning (12%)
Retirement Savings and Income Planning (17%)
Estate Planning (12%)
When studying for the exam, you should focus primarily on the General Financial Planning Principles, Investment Planning and Retirement Savings and Income Planning categories as together these make up over half of the questions you'll see on the exam.
What if I fail the CFP exam?
You'll get a preliminary pass/fail result as soon as you finish your CFP exam, but you won't get your official results until approximately four weeks after you complete the exam. It's a rigorous test and many don't pass it on their first try, so don't be discouraged if you fail.
You may retake the exam at the next testing date if you feel you are ready to do so or else you can wait until a future exam date to take it again. You must pay the testing fee again and schedule your next exam. You should use the time until your next testing date to review the areas that you struggled in. The CFP Board enables you to take the test a maximum of three times within a 24-month period and a total of five times overall.
Our team has also reviewed many other financial prep courses such as CPA Prep Courses, Series 63 Prep Courses and more.
---
The Other 14 CFP Prep Courses We Reviewed
Bryce Welker is an active speaker, blogger, and regular contributor to Forbes, Inc.com, and Business.com where he shares his knowledge to help others boost their careers.  Bryce is the founder of more than 20 test prep websites that help students and professionals pass their certification exams.