Getting a Series 7 license is your biggest hurdle to becoming a stockbroker. Also known as the General Securities Representative Qualification Examination, Series 7 is meant to assess your knowledge as an entry-level general securities representative.
The exam was created in 1974 by the National Association of Securities Dealers (NASD) to provide an industry-wide qualification examination for general securities representatives, more commonly known as stockbrokers. There have been several revisions to the examination in order to "narrow its scope." 
If you've arrived here, it means that you're getting ready to take the Series 7 and are looking for the best prep course to help you pass the exam. Below you will find detailed descriptions of the best available prep courses and our criteria for selecting them so you can select one that best suits your budget, schedule, and learning aptitude.  
The 125 multiple-choice question exam takes 3 hours and 45 minutes to complete and requires a passing score of 72 percent.
Full Reviews of the Best Series 7 Prep Courses
1. Securities Institute of America Series 7 Prep

What To Expect
The best part about Securities Institute of America is that they give you multiple options (and thus pricing options) when you purchase their material. However, they don't offer live training like other courses we reviewed. But their pricing is consistent with the other on-demand prep courses and training we reviewed. The Complete Self Study Solution is a compilation of all their materials that sells for $259, which is a reasonable price. If you don't need the whole kitchen sink, you can purchase each of their four products individually or even bundled as a pair.
Everything available for purchase comes with chat and phone support, as well as the Greenlight Guarantee. The Greenlight Guarantee means if you pass one of their Greenlight practice exams you are guaranteed to pass the actual Series 7, or you get your money back. And while they don't offer live training, they do offer private tutoring, in which case you'd need to contact them directly to discuss the price.
Securities Institute of America Course Details
| Course | Price |
| --- | --- |
| 624 Page Textbook | $145 |
| Ebook | $145 |
| 2,100 Question Exam Prep Software | $99 |
| 20 Hours Online Video Lecture | $99 |
| The Complete Self Study Solution (Everything Combined) | $259 |
Go To Securities Institute of America Series 7
---
2. Securities Training Corporation Series 7 Prep

What To Expect
A nice thing about STC is that they offer a variety of different options in the form of online classes, in-person classes (at a variety of different locations across the U.S.), or webinars. If you're studying with a book, and there is a particular section you are having trouble with, they have individual sections you can purchase for as low as $39.
STC, or Securities Training Corporation,offers a number of different courses for licensure in areas across the securities and insurance industries. The company has impressive accolades, like:
Over 1,000,000 users
Over 50 years in business
The highest pass rates of anyone in the industry (according to them)
STC Prep Course Details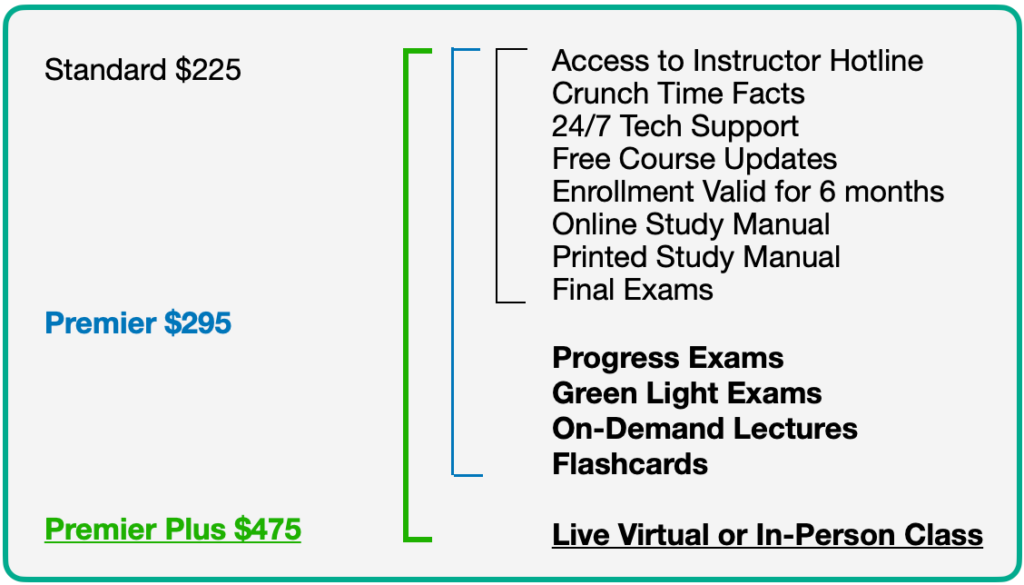 ---
3. Achievable Series 7 Prep

What To Expect
Achievable's distinguishing feature is an adaptive learning model that's designed to prevent students from forgetting any of the content they study. They accomplish this through a spaced repetition system, and the end result is a ludicrously high pass rate of 98.2%. This makes Achievable a very appealing option for students, but it may not be as appealing if you're not interested in answering the same questions multiple times during your study schedule.
This course doesn't have a mobile app, but the entire website on which it's hosted has been designed to function smoothly and effectively on desktop, tablet, and mobile devices. This means you'll need a consistent internet connection to access your content, but that shouldn't be a problem for most modern students. Still, it's another factor to keep in mind if you live in an area with a poor signal.
Achievable Course Details
| Course | Price |
| --- | --- |
| Achievable Series 7 Review - One Year of Access | $149 |
---
4. ExamFX Series 7 Prep

What To Expect
With an "Excellent" Trustpilot rating of over 1,100 reviews, ExamFX packs a powerful punch with a lower price point than its competitors. ExamFX also comes with a guarantee – if you score 80 percent or higher on their "Guarantee Exam" and take the Series 7 within three days, they guarantee you will pass on your first attempt or you are entitled to a full refund. 
On their website they boast that they are "trusted by millions" and have "millions of success stories" which obviously implies that at least two million people have successfully used ExamFX to pass either their securities or insurance exams. There is no way of verifying this, but based on their positive reviews, we'll give them the benefit of the doubt. 
ExamFX Course Details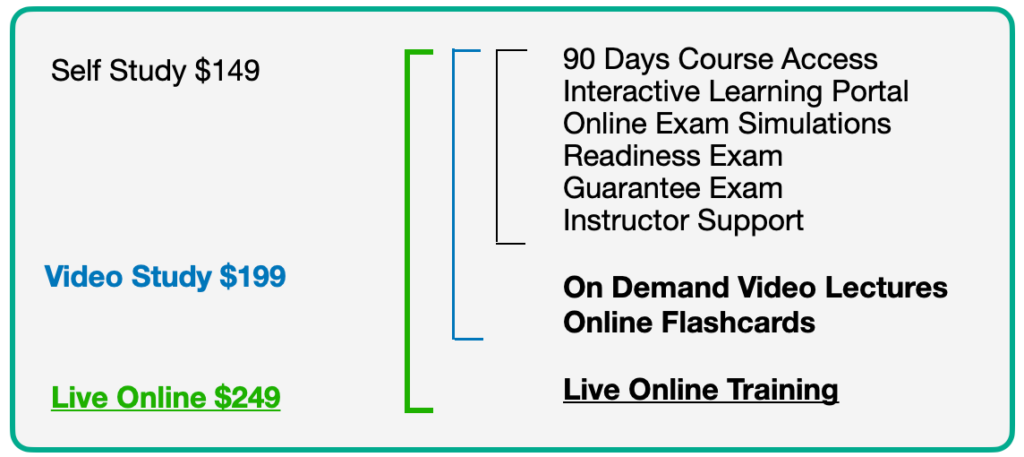 ---
5. Kaplan Series 7 Prep

What To Expect
Kaplan is the 800 lb. gorilla in the test prep world. They have books and courses for just about every standardized and professional test and have been doing it since 1938. Kaplan offers three packages for their Series 7 prep; basic, essential, and premium, or you can purchase some of the tools within those packages individually. So if you decide to go with Kaplan, you will have a plethora of options to choose from. 
One caveat with their Series 7 prep is that they don't offer any private tutoring. 
Kaplan Course Details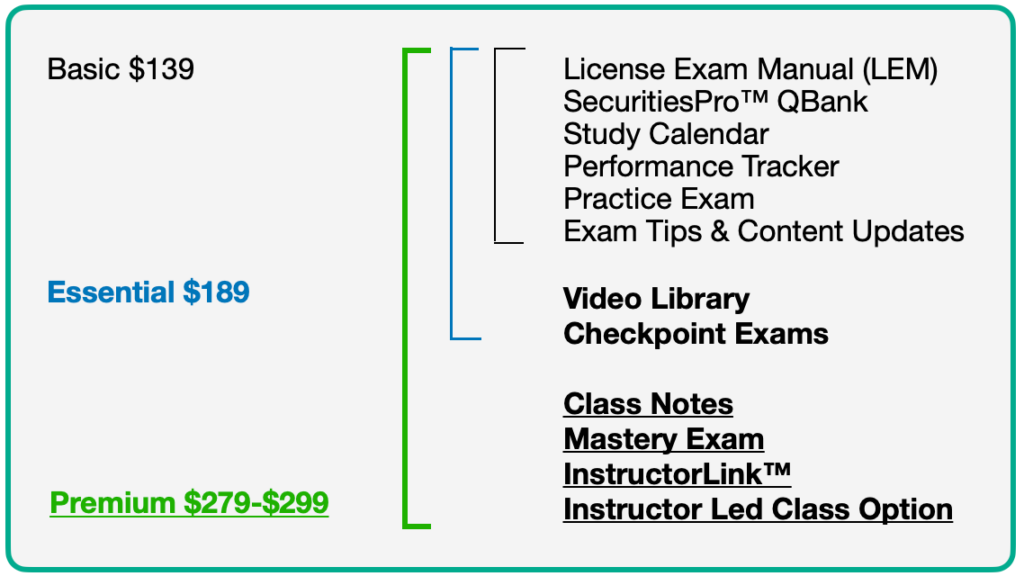 ---
6. KnopmanMarks Series 7 Prep

What To Expect
Knopman offers its course for $350 and you have the option to add live training for an additional $225. They boast a 95 percent pass rate which they claim is higher than other prep courses, even though other Series 7 exam courses don't post their pass rates online. One thing that separates Knopman is that you're allowed to login and experience a demo course so you can get a feel for the software and its intuitiveness. No other Series 7 prep courses we reviewed offers a test drive like this. 
Knopman Course Details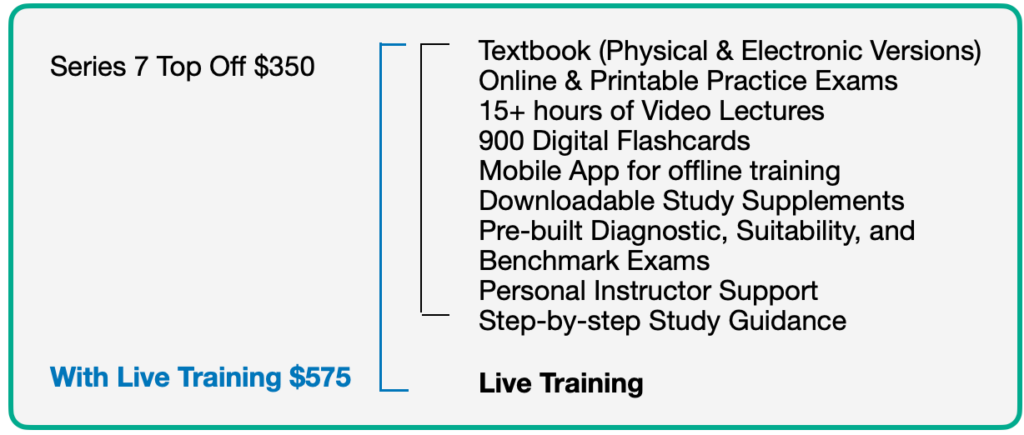 ---
7. Training Consultants Series 7 Prep

What To Expect
Training Consultants offers a number of different course options with similar pricing to other Series 7 prep services. On top of their packages they offer an optional online exam center, which replicates exactly what you will be experiencing on test day for $125, online flashcards for $70, and even private tutoring which is available for $100/hour after you are already enrolled in one of their courses. 
The online course, which they recommend, comes with:
39 hours of lecture
A 410-page textbook with 22 chapters
6 practice exams
180 days of access
The personalized study calendar and plan is not simply another schedule to adhere to. You actually plug in your test date and the software creates an actionable roadmap that you can stick to. As you progress through the lessons, you will be prompted to take different quizzes and practice sets and, eventually, full length practice exams. Training Consultants boasts that they offer more practice exams than any of its competitors and has a 4.5 out of 5 star rating on Yelp which is comprised of 21 reviews as of this writing. 
Training Consultants Course Details
| Course | Price |
| --- | --- |
| Textbook | $309 |
| Online Course Package | $349 |
| Live Class Package | $425 |
| Everything Package | $550 |
What Is Tested On The Series 7
Function Description
% of Exam
# of Questions
1 - Seeks Business for the Broker Dealer from Customers and Potential Customers
7%
9
2 - Opens Accounts after Obtaining and Evaluating Customers'
Financial Profile and Investment Objectives

9%
11
3 - Provides Customers with Information About
Investments, Makes Suitable Recommendations,
Transfers Assets and Maintains Appropriate Records

73%
91
4 - Obtains and Verifies Customers' Purchase and Sales
Instructions and Agreements; Processes, Completes
and Confirms Transactions

11%
14
Total
100%
125
A Full List of Every Series 7 Review Course Worth Considering
---
Frequently Asked Questions About the Series 7 Exam
Bottom Line
As of this writing, around 11,000 people sit for the Series 7 every year with a pass rate of 71 percent which includes the SIE exam, as well. This is encouraging news for two reasons. First, the 29 percent who failed probably didn't enroll in a Series 7 exam prep course as pass rates for students who complete the courses is about 95 percent. Second, as we can see in the FAQ, you have the option to retake the test several times if you fail. 
What does this mean?
If you follow the material with at least some degree of discipline it's almost a certainty that you will pass and be well on your way to a successful career in the securities industry.
---
Other Series 7 Courses We Reviewed