For a career in life insurance sales, you must first pass the life insurance license exam in your state. This comprehensive test measures your understanding of life insurance policies and the regulations that govern them. Most states require you to complete a set number of education hours before you can take the exam, and that's where life insurance exam prep courses come in. There are many options out there, so we put together this guide to the best life insurance exam prep courses to help simplify your search.
Our team of experts compared 20 of the most popular life insurance exam prep courses to see which provide the greatest benefit to students. We only focused on companies that offered online classes because we wanted to keep our recommendations open to everyone. But you may also want to check if there are any in-person courses available in your local area. Each course was evaluated based on its study materials, student support and overall comprehensiveness. We also spoke to former students of each program to get their insights into what worked and what didn't.
After analyzing all the data, six companies stood out from the rest. Securities Training Corporation offers the best overall experience, but a few other courses offer unique benefits that appeal to different students. You may prefer one of our other finalists because of their quirks, so we recommend checking out all of our reviews before you make a decision.
A Full List of Every Life Insurance Exam Prep Course Worth Considering
Our six finalists are listed below, along with the other 17 companies we considered. Click on the links to read our reviews and to learn more about the available courses on the company websites.
The 6 Best Life Insurance Exam Prep Courses
1. STC Insurance Review

Best for on-demand instruction.
Securities Training Corporation is mostly known for their FINRA study materials, but they also offer a comprehensive life insurance prep course. It doesn't reinvent the wheel, but the quality of the video lectures, flashcards, and study manuals on offer with this course are unparalleled. If you're looking for a course with a basic structure that covers the necessary exam subjects in intricate detail, this is an excellent choice.
What to Expect
Depending on how you prefer to study, STC's diverse catalog of educational resources can help you prepare for a career in life insurance in a few different ways. Of course, we recommend using all of the content in their review course, but there's nothing wrong with sticking to what you know will work for your personal learning style.
Visual learners can benefit the most from STCUSA's On-Demand Training, which are pre-recorded video lectures that go over each subject. If you prefer to learn through direct communication, you can use the Instructor Hotline to ask direct questions to your teachers, or enroll in a Premier Plus package with live classroom sessions. Additionally, you can download PDFs of the slides contained in each video lecture, print them at home, and write notes in the margins if you prefer. But if you prefer to practice with realistic practice questions, you may want to jump right into their interactive final exams.
A lot of the guesswork is removed from your career prep, since STC includes a recommended schedule in your study manual and will even offer state-specific certification exams when they're required by law in your jurisdiction. They also offer a rudimentary progress tracking page that shows how far you've gone in your studies; it's not the most impressive implementation of this feature that I've seen, but it's simplified in a way that you can actually understand the data it provides with minimal confusion.
Prices for STC's life insurance pre licensing courses are state-specific; for example, the courses for California are more expensive than Alabama. However, they fall mainly into three tiers and offer six months of access starting on the day of your enrollment. Basic packages include the study manual, final exams, and any necessary certification tests. I recommend the Premier package, since it includes flashcards and video lectures. However, Premier Plus is a great choice when available, since it includes access to live lectures as well.
Well-Designed Curriculum: At the core of the STC life insurance exam prep course is a fascinating primer on life insurance. It explains how life insurers operate, their business models, and the broader context of the industry.
Easy Progress Tracking: STCUSA's progress tracking doesn't go overboard with information. Because of this, you can more easily understand the information this feature provides, which can be an issue with more complicated adaptive learning platforms.
Multiple Choices: You're not stuck with just one option when browsing STCUSA's catalog. They offer courses for state-specific insurance licensing exams, with the possibility to upgrade your study curriculum with extra features and tutoring.
STC Details
| Course | Price |
| --- | --- |
| Standard (State Specific) - Six Months of Access | $79 |
| Premier (State Specific) - Six Months of Access | $139 - $151 |
| Premier Plus (State Specific) - Six Months of Access | $189 - $201 |
| Online Flashcards (Subject Specific) - Six Months of Access | $25 |
| Insurance Continuing Education - One Year of Access | $35 |
---
2. ExamFX Insurance Review

Best for audio lectures
Not only is ExamFX an affordable choice for insurance exam preparation, but it's also popular among its many students who have gone on to start rewarding insurance careers. Much like our top pick, this course offers video lectures, practice exams, and flashcards. However, they also offer some appealing extra features that can make a real difference on your exam performance.
What to Expect
It's important to keep one thing in mind before you sign up for this course. Unlike STCUSA, you only get 60 days of access once you sign up. This is usually enough for students to adequately prepare for their exams, but it might be too fast for some students to work through if they already have a full-time job or other demands on their time. Still, this course is designed to accommodate an accelerated learning schedule to the benefit of its students.
One way this course helps you prepare for your exams in record time is audio lectures; this allows you to devote more study time to situations where you may not have been able to before. If you have a long commute or you frequently exercise, this allows you to multitask in a productive way. Of course, you'll still need to spend the majority of your time working through the other resources to ensure you're retaining the information contained in these lectures.
Another helpful feature ExamFX includes is a Guarantee Exam. This is intended to be taken at the end of your study schedule, right before your exam date. This test is designed to be as accurate to the real thing as possible; kind of like a dress rehearsal. If you pass this test without any problems, ExamFX guarantees that you'll experience the same level of success on the real exam.
Insurance Glossary: Among other helpful features, ExamFX offers students who enroll in their course a detailed glossary of insurance terms. Not only is this a handy reference tool when preparing for your exams; it can also help you remember the information you studied long after earning your
Study Plan Builder: In order to provide the best study experience possible, ExamFX helps you create a customized study plan from start to finish. This means you will learn at a constant pace that's based entirely around your schedule!
Access Period: With this course, you only have two months to prepare for your exams before your access period expires. This may not be an issue if you learn at a fast pace; however, students who prefer taking their time may prefer our top pick instead.
ExamFX Details
| Course | Price |
| --- | --- |
| Self-Study Package - 60 Days of Access | $149.95 |
| Video Study Package - 60 Days of Access | $239.80 |
| Live Online Package - 60 Days of Access | $369.95 |
| Live In-Person Package - 60 Days of Access | $389.90 |
| Insurance Continuing Education - One Year of Access | $6.95 - $39.95 |
---
3. Kaplan University Insurance Review

Best for comprehensive instruction.
Kaplan University has become a popular choice for life insurance exam prep thanks to its thorough study programs and flexible purchasing options that enable you to buy only the materials you want. It offers on-demand courses nationwide and in-person courses in 12 states. Each program comes with dedicated email support and follows the company's tried-and-tested Prepare, Practice, Perform learning strategy. Unfortunately, there are no live online classes, so if you're interested in these courses, you should check out A.D. Banker & Company.
What to Expect
Kaplan's in-person courses are easily the most comprehensive in the industry. While most other companies only offer one- to two-day workshops, Kaplan's life & health insurance classes run a full four days, leaving you 31 hours to review key concepts, work on practice problems and get your questions answered. If you're only interested in life insurance, you can opt for the shorter, 2.5-day life insurance only course. New classes are starting every few days, so you shouldn't have too much trouble finding one that fits your schedule. In-person courses are currently available in Colorado, Connecticut, Georgia, Illinois, Massachusetts, Michigan, Minnesota, New York, Pennsylvania, Tennessee, Texas and Wisconsin.
There are three self-paced courses available to those who prefer to study on their own. The Basic Online Course includes an on-demand course, an online textbook, the InsurancePro QBank with performance tracker, two full-length practice exams and a state law supplement with information exclusive to your state. The Basic Print Course is essentially the same, except the textbook and state law supplement are physical textbooks to accommodate those who don't like to do a lot of reading online. The Essentials Course provides the best value with all the materials from the Basic course, plus a video library and audio review. Most of these materials can also be purchased on their own, but you'll get a better price if you bundle them. All courses include free updates for the duration of your four-month access period and email support if you run into questions.
Kaplan takes you through the material in three phases. In the Prepare phase, you spend most of your time going over the concepts and vocabulary you are likely to be tested on. Then, you move to the Practice phase where you apply the knowledge you've learned to practice questions. You'll get feedback on each one to understand why an answer is right or wrong, and your performance is tracked so you can home in on the areas you need to go back and review again. Finally, there's the Perform phase. This section also deals primarily with practice questions, but they're presented in the form of a simulated exam where you aren't shown the answers until the end. This helps you to gauge whether you're ready for the real exam.
Affordable Options: Unlike the other courses on this list, Kaplan offers 4 different packages for insurance students to select when planning out their study schedule. Best of all is that all these packages cost less than $400, making this one of the most affordable online catalogs for insurance exam prep.
Instructor Communication: Even their lowest-priced course allows you to directly communicate with your instructors for feedback on specific questions you may have about the content of your review course. This is an essential component of any online learning platform, and you can expect a timely response to all of your concerns.
Continuing Education: Unfortunately, Kaplan can only help you prepare for your exams; they offer no continuing education resources to help you maintain your professional knowledge once you start working. This may not seem like a big deal right now, but it will become more important in the future.
Go To Kaplan University Insurance Review
---
4. CompuCram Insurance Review

Best for affordability.
According to CompuCram, over 85% of students who take their prep courses pass their licensing exams the first time. If you like those odds, it's not a bad idea to check them out, especially since many of their state-specific courses are less than $100.
What to Expect
A major component of CompuCram's lessons involve going over vocabulary. Understanding what industry-specific terms mean and how they apply to real-world situations is extremely important, and it won't just help you pass your licensing exams; it also demonstrates competence to clients and potential employers.
Much like ExamFX, this course includes a readiness exam to determine how well you can expect to do on the full exam. They also offer a 100% pass guarantee, although this conflicts with their advertised pass rate of 86.5%. Essentially, this implies that approximately 12% of their students are liable for a full refund, which is a confusing business model. Still, it means that you won't have to worry about wasting your money on this course.
Speaking of money, this is one of the most affordable options currently available for aspiring insurance professionals. Although prices vary by state like our top pick, you won't ever have to pay more than $90, and you'll always get nine months of access. Every course also comes with a satisfaction guarantee, so you're entitled to a refund if you're unsatisfied with the experience.
Repeat Test Takers: Thanks to its affordability and convenience, CompuCram is a popular choice for students who failed their exam and want to study for their next attempt. According to several testimonials left on their site, this course provided the right tools and motivation to ensure they never have to repeat the test again!
Interactive Materials: Although this course is digital, it's designed to be as interactive as a physical workbook. The included app for mobile devices allows for self-marking exams, and you can easily build flashcard decks covering your choice of vocabulary words.
Instructor: Lectures are taught through videos, audio, and PowerPoint presentations. However, there's no easy way to contact your instructor if you have a question or need extra help. Fortunately, CompuCram still guarantees you'll pass on your first try, and they have a support team you can contact for any technical issues.
CompuCram Details
| Course | Price |
| --- | --- |
| Life Insurance Exam Prep (State Specific) - 180 Days of Access | $69.00 |
| Life & Health Insurance Exam Prep (State Specific) - 180 Days of Access | $89.00 |
---
5. WebCE Insurance Review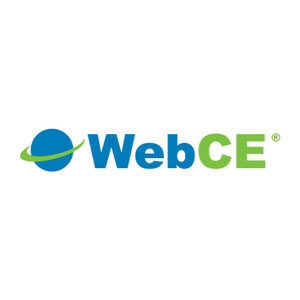 Best for course access length.
If you're the kind of student who likes to take their time working through study material, WebCE has the longest access period out of any of the courses listed here. They're also a fantastic resource for practice exams designed by experienced insurance pros, but you might be disappointed by their flashcards and workbooks.
What to Expect
As I mentioned above, you'll have a full year to work through your study materials when you enroll in any WebCE insurance course. This should be more than enough time to finish your studies, since these courses have an estimated 20 to 40 hours of material for you to examine and work through. That being said, there are some price differences when it comes to specific states, and some material isn't available for Alaska, Hawaii, and North Carolina.
The majority of your study time with WebCE will most likely consist of practice exams, since they offer the ability to generate a limitless supply of them. This makes for a great resource if you want to repetitively practice in realistic exam conditions. Unfortunately, workbooks and flashcards are sold separately, so most of the entry-level exam packages aren't very impressive.
For this reason, I recommend enrolling in one of their Exam Prep Plus packages that includes EXCEED Reinforcements. This is a feature that you won't find anywhere else, and it can have a direct effect on your future career trajectory. Essentially, this is an extra course included with your exam prep materials that ensures you're competent in your field, which will make it much easier to find a great job once you pass your insurance licensing exam.
QOTD: WebCE is an effective way to consistently evaluate your knowledge of essential concepts related to life and health insurance. Signing up for their Life & Health Reinforcements course will provide you with twice-weekly email prompts that include a Question of the Day, among other helpful study materials.
Workbook: For a small additional fee, WebCE offers a physical workbook to help you work through your study plan offline. Take some time away from your computer or phone screen without missing out on any opportunities to study!
FlashTutor: This course includes a digital flashcard program called Flash Tutor. It offers convenient features and informative study material that can help you pass, but it's not effective for tutoring in any way. This course would benefit from offering actual tutoring instead of just rebranding their flashcards.
WebCE Details
| Course | Price |
| --- | --- |
| Life & Health Flashcards (State Specific) - One Year of Access | $9.95 |
| Life, Annuities, Accident and Health Exam Tutor (State Specific) - One Year of Access | $24.95 |
| Life Agent Exam Prep Complete Package (State Specific) - One Year of Access | $69.95 |
| Life, Annuities, Accident and Health Exam Prep Complete Package (State Specific) - One Year of Access | $99.95 |
| Life Agent Exam Prep Plus Complete Package (State Specific) - One Year of Access | $96.95 |
| Life, Accident, and Health Agent Exam Prep Plus Complete Package (State Specific) - One Year of Access | $149.95 |
| EXCEED Life & Health Reinforcements - One Year of Access | $79.95 |
---
6. A.D. Banker & Company Insurance

Best for flexible courses.
A.D. Banker & Company is a good fit for students who want a hand in designing their own study program. You can purchase almost all of its course materials individually or in a number of different bundles until you have exactly what you need. Self-paced and live online courses are available everywhere, and in-person classes are available in 11 states across the country. All courses include prompt instructor support and a guarantee to pass, provided you meet the eligibility requirements.
What to Expect
The live courses consist of five hours of instruction in life insurance policies and regulation. If you're also planning on selling health insurance, you can bundle the two courses together. The health insurance workshop is also five hours long and takes place the following day. Courses are taught once or twice per month, usually on a Monday and Tuesday. Live online courses are available everywhere, but the in-person courses are only for residents of Arizona, California, Colorado, Connecticut, Illinois, Iowa, Kansas, Maryland, Missouri, Nebraska and Virginia.
Every course type comes with a choice of three different packages. The Silver package is the most basic and includes A.D. Banker's study manual and a live or on-demand course if that's what you've signed up for. The Gold package contains all this, plus a question bank with over 1,300 questions. You can use this to target specific areas where you need improvement or to create full-length simulated exams. The Platinum package is the most robust, including all the features of the Gold package, plus an on-demand video library, flashcards and audio lightning facts to help you review key concepts from each chapter. All of these materials can be purchased individually as well or added a la carte to the Silver or Gold packages. You can review all the material as often as you'd like during your two-month access period.
All programs, except the self-study course, include free email support from licensed life insurance specialists. You can send them a question through your online account and you will receive a detailed response, usually within a day or two. These courses also include A.D. Banker's Guarantee to Pass. If you complete the company's Guarantee Exam with an 80 percent or better within three days of failing your life insurance exam, the company will issue you a full refund for the course materials.
Classroom Experience: Unlike many of the courses on this list, A.D. Banker & Company offers a live online web class for insurance students in certain jurisdictions. This allows you to get a learning experience that's nearly identical to a traditional classroom environment, where you can get instant feedback from your instructors whenever you have a question.
Note Taking: Most of the features contained in this insurance prep course are designed to keep you actively participating in the learning process, not just passively observing lectures and flashcards. This includes the ability to take notes within the course dashboard that are easily accessible on multiple devices.
Access Period: With only 60 days of access to your course, you may feel rushed when working through A.D. Banker & Company's course. Even their self-paced study course only gives you two months to complete it; fortunately, that should be enough time for most students to complete their studies.
A.D. Banker & Company Details
| Course | Price |
| --- | --- |
| Life & Health Online Audio Lightning Facts | $14.95 |
| Life Online Flashcards | $24.95 |
| Life & Health Online Flashcards | $29.95 |
| Life Flashcards | $34.95 |
| Life & Health Flashcards | $39.95 |
| Life Practice Exams SuperSet | $49.95 |
| Life Video Lecture | $69.95 |
| Life & Health Video Lecture | $69.95 |
| Self-Study Course Silver | $79.95 |
| Self-Study Course Gold | $119.90 |
| Self-Study Course Platinum | $201.80 |
| Online Course Silver | $129.95 |
| Online Course Gold | $169.90 |
| Online Course Platinum | $231.85 |
| Web Class Silver | $149.95 |
| Web Class Gold | $189.90 |
| Web Class Platinum | $228.95 |
| Classroom Course Silver | $229.95 |
| Classroom Course Gold | $251.95 |
| Classroom Course Platinum | $350.95 |
---
Most Important Features of Insurance Pre Licensing Courses: Access, Comprehensiveness, Materials and Support
We determined that the most important things to consider when choosing a life insurance pre licensing course are access, comprehensiveness, materials and support.
Access
Each of our finalists offer on-demand or live online courses that you can attend from anywhere. Kaplan University and A.D. Banker & Company also host in-person courses in major cities across the country. We looked at how often each company offered live classes and made sure there were options to fit many different schedules. In today's busy world, mobile access is also important, and our three finalists all offer mobile-friendly online tools that can be viewed from any smartphone or tablet.
Comprehensiveness
We made sure all of our recommendations are state-approved by insurance departments so that they will count toward the educational requirements you must meet in order to sit for your life insurance exam. Then, we made sure that each program provides a thorough grounding in the material to be covered on the exam, including state-specific information about the laws governing the use and sale of life insurance where you live. All of our finalists performed extremely well in this category.
Materials
A typical life insurance exam prep course includes a study manual, flashcards, videos and a question bank. The best ones will also give you access to full-length practice tests that you can use to measure your progress and determine which areas you need to review further. These study materials are especially important for self-paced courses where that's all you get. National Online Insurance School did the best here with an unlimited number of simulated exams and a Pass Report feature that tracks your progress over time.
Support
Live courses give you access to knowledgeable instructors who can answer your questions as they arise. Many self-study courses leave students to fend for themselves, but the best ones provide a means of reaching out, usually by email. Kaplan University and A.D. Banker stand out in this category for their pass guarantees. If you complete the course and still fail your life insurance exam, the companies will refund you the cost of your course materials. There are certain requirements you must meet in order to take advantage of the guarantees, however, so make sure you read the fine print before you sign up.
Choosing the Right Life Insurance Exam Prep Course Delivery Type for You
There are three main types of life insurance exam prep courses, and the right one for you depends on your budget, schedule, location and preferences. We've outlined each of them below in order from least to most expensive.
Self-Paced: You buy the course materials and study then when it's convenient for you.
Live Online: You join a virtual classroom and learn alongside other students from a remote instructor.
Live In-Person: You learn in a traditional classroom environment along with other students.
Self-Paced
Pros:
Cheapest classes
Create your own schedule
Possible to cram
Cons:
Must keep yourself on track
No personalized instruction
Little to no instructor help
What It's Best For
A self-paced course is best for self-directed learners who enjoy being able to move at their own pace. It's also ideal for those whose busy schedule prevents them from attending a live class.
Live Online
Pros:
Join from anywhere
Individualized help when you need it
Schedule keeps you on track
Cons:
Less interactive than in-person courses
Technical difficulties could arise
Who It's Best For
A live online class is perfect if you prefer learning in a structured environment, but there aren't any in-person classes in your area or you can't commit to traveling to one.
Live In-Person
Pros:
Total immersement
Familiar classroom setting
Live interaction with others
Cons:
Regular travel required
Cannot adjust schedule
More expensive than online programs
Who It's Best For
A live in-person course is best for those who prefer an interactive and immersive learning environment. This type of program may not be available where you live.
---
Frequently Asked Questions About the Life Insurance Exam
Our goal is to create a comprehensive resource to individuals interested in taking the life insurance exam. We spoke to licensed insurance salesmen who had recently passed the test to learn more about the questions they had prior to taking it. We've answered some of the most common ones below. If there's anything we missed, feel free to let us know.
How do I register for the life insurance exam?
Insurance agent licensing is managed at the state level, so each state will have slightly different procedures when it comes to registering for your exam. The first step is to make sure you fulfill all of your state's requirements in order to sit for the exam. Usually, this includes completing a designated number of prelicensing education hours. The exact amount varies by state. Make sure the prep course you choose meets the standards for your state. You may be exempt from these requirements if you carry certain certifications like Certified Employment Benefit Specialist (CEBS) or Certified Insurance Counselor (CIC). For complete details about the requirements in your state, visit its Department of Insurance website.
Once you've satisfied the requirements, you can create an account with your state Department of Insurance to register for the exam. You must have a certificate of completion from your life insurance exam prep course in order to sign up for the test. You must also pay the examination fee at this time. Fees vary by state and must be paid every time you sit for the exam.
Most states partner with testing companies like Pearson VUE to administer the exam. Once your state approves you to take the exam, you can schedule a test at a date and time that's most convenient for you. You can cancel or reschedule this exam at any time up until the test date. But remember, your certificate of completion is only good for one year, so you must take the exam within this timeframe.
When you arrive at the testing center, you must present your certificate of completion and a valid, government-issued photo ID to the exam proctor. You may also have to go through additional identity verification steps, including a test-day photo and a fingerprint scan. Be sure you arrive at the testing center early so you have time for all of this. You aren't permitted to bring anything into the testing room with you, so a secure locker will be provided for storing your belongings during the exam. For a full list of the test-day procedures you'll be expected to follow, visit your testing administrator's website.
How is the life insurance exam scored?
The life insurance is a multiple-choice computer-based test, though the length of the exam varies by state. Most range from 1.5 to 2 hours with somewhere between 75 and 100 questions. Your exam may be longer if it is a combined health and life insurance exam. You can learn more about your state's exam and view the content outline on its Department of Insurance website.
The passing score for all life insurance exams is 70 percent. You are awarded points for the questions you get right, but there is no penalty for incorrect answers. Use this number as your guide when studying and make sure you feel confident that you can consistently score a passing grade before you register for your exam.
Some states may include a handful of unscored pretest items on their exam as well. These are new questions that the test makers include to assess their difficulty and fairness. The ones that pass may appear in future versions of the test as a graded item. You won't know which questions are the pretest questions while you're taking the test, so do your best on all of them.
What if I fail the life insurance exam?
Average passing rates vary by state, but it's not uncommon for test takers to fail on their first attempt. If this happens to you, don't worry. You can take it again. Most states will allow you to take the exam a second time whenever you feel ready to try again. If you fail the exam multiple times, you may start running into waiting periods. For example, Alabama mandates that individuals who have failed the life insurance exam twice must wait 90 days before they can try again. And Florida limits its residents to a maximum of five attempts during a rolling 12-month period. Look up the rules for your state on the Department of Insurance website.
When you receive your reports, you should get a score report that breaks down how you did in each of the major subject areas tested on the exam. Let this guide your studies as you go back and review the content before your second attempt. You should look over all the material again, but pay special attention to the areas where you really struggled on your first exam.
When you're ready to try again, you can set up a new appointment with your testing administrator at a time that's convenient for you. You will have to pay the examination fee again, but you won't have to reregister with your state Department of Insurance as long as your prelicensing education certificate of completion is less than a year old.
Bryce Welker is an active speaker, blogger, and regular contributor to Forbes, Inc.com, and Business.com where he shares his knowledge to help others boost their careers.  Bryce is the founder of more than 20 test prep websites that help students and professionals pass their certification exams.