The Financial Risk Management (FRM) exam is a two tier examination which identifies and recognizes risk professionals who are qualified to make informed decisions based on current, globally accepted industry standards. Becoming a Financial Risk Manager gives you more credibility among employers, peers, and clients, which will strengthen your personal and professional opportunities in finance.
Both the exams are paper-and-pencil and offered twice a year in May and November at over 100 exam sites around the world.
Exam part 1 is 100 multiple choice questions and focuses on the tools used to assess financial risk:
Quantitative analysis (20%)
Foundations of risk management (20%)
Financial markets and products (30%)
Valuation and risk models (30%)
Exam 2 is 80 multiple choice questions and focuses on emphasizing the tools covered in part 1:
Market risk measurement and management (20%)
Credit risk measurement and management (20%)
Operational risk and resiliency (20%)
Liquidity and treasury risk measurement and management (15%)
Risk management and investment management (15%)
Current issues in financial markets (10%)
You are given four hours to complete both exams. For each part, you should study material a minimum of 200–240 hours. Of those who took the exam in 2017, the average pass rate for Part I was 42%, and 53% for Part II, so it is in your best interest to study early, and often.
Best FRM Prep Course Review Comparison
Full Reviews of the Best FRM Exam Prep Courses
1. Analyst Prep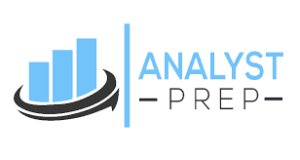 Best affordable FRM course prep.
What To Expect
Launched in 2014, Analyst Prep is a relatively new test prep company that offers courses in both the FRM, Actuarial, and Chartered Financial Analyst (CFA) exams. They already have over 25,000 customers and boast that 84% of their customers haven't claimed their pass guarantee. The Montréal based company focuses on four core values: quality, support, accessibility, and a user-driven approach.
The interface of material looks clean, and their prep courses come with everything you'd expect a prep course to come with; notes and video lessons, question banks, and mock exams. The thing that stuck out most is the ability to create an unlimited number of quizzes to test your understanding of one or more books at the same time. You can also try the course out for free by easily logging in through your Facebook or Gmail account, or creating an email and password within the site.
Course Details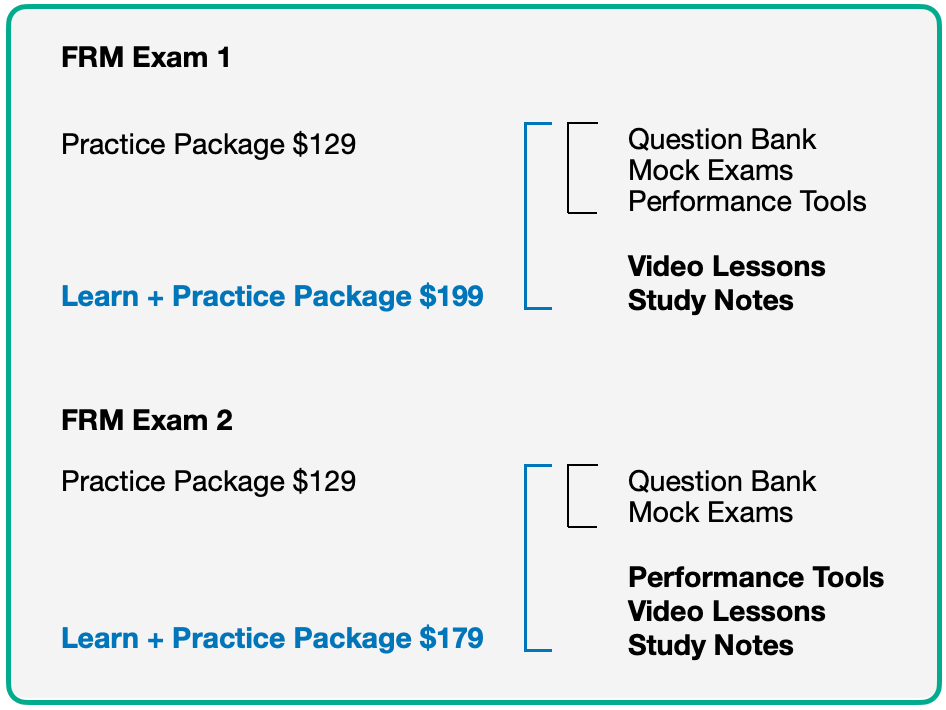 You can combine FRM Part I and FRM Part II Learn + Practice for $299. This package includes unlimited ask-a-tutor questions and a lifetime access with curriculum updates.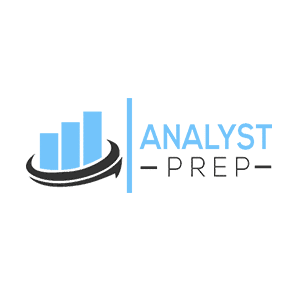 Enjoy 30% Off Analyst Prep CFA & FRM Courses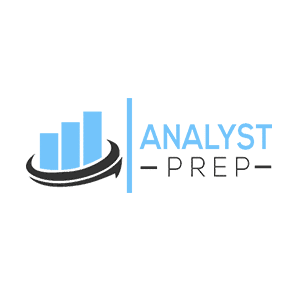 20% Off Analyst Prep CFA & FRM Courses
2. Bionic Turtle

Best for users who want to bundle both FRM exams 1 and 2.
What To Expect
Bionic Turtle is the only Global Association of Risk Professionals™ (GARP®) approved FRM prep course that we reviewed. The company focuses exclusively on the FRM and has done so since 2005. Their website highlights their FRM Study Planner, which includes daily questions, instructional videos, learning spreadsheets, and more.
Bionic Turtle offers three tiers; basic, advanced, and professional for both FRM exams 1 and 2, and you have the option to bundle both exams for each tier. You can sign up and receive partial access to give the course a test drive. There is no credit card requirement, and no trial period for this, which is a breath of fresh air.
Course Details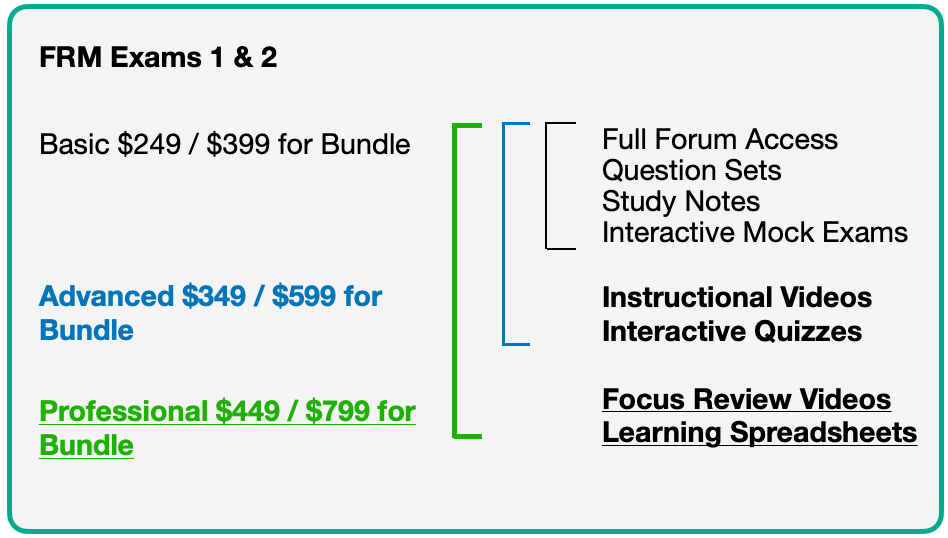 3. Kaplan FRM

Best FRM course for users who value practice questions or instructor support and prefer a more comprehensive learning experience.
What To Expect
Schweser FRM is the financial arm of Kaplan's robust catalog of prep course material. They have been involved in financial course prep since 1991 and offer a plethora of articles on the FRM exam which you can read prior to purchasing their course. The most attractive thing about Kaplan's FRM exam prep is that you can try the course free for five days and or take a free online class.
Kaplan Schweser offers everything from a self study package to online classes. Their self study option offers a core suite of products that are standard with most Kaplan courses. There are additional Premium, and PremiumPlus packages which offer further support from instructors. You also have the option to purchase products à La Carte like "Schweser's Secret Sauce," which is a compact book that offers insights and exam tips.
The online classes are 30 hours of intensive FRM instruction and cost between $479 and $639 depending on whether or not you want an additional online review workshop.
All the offerings in Kaplan's material are divided into Exam 1 and Exam 2 and the prices are almost identical.
Course Details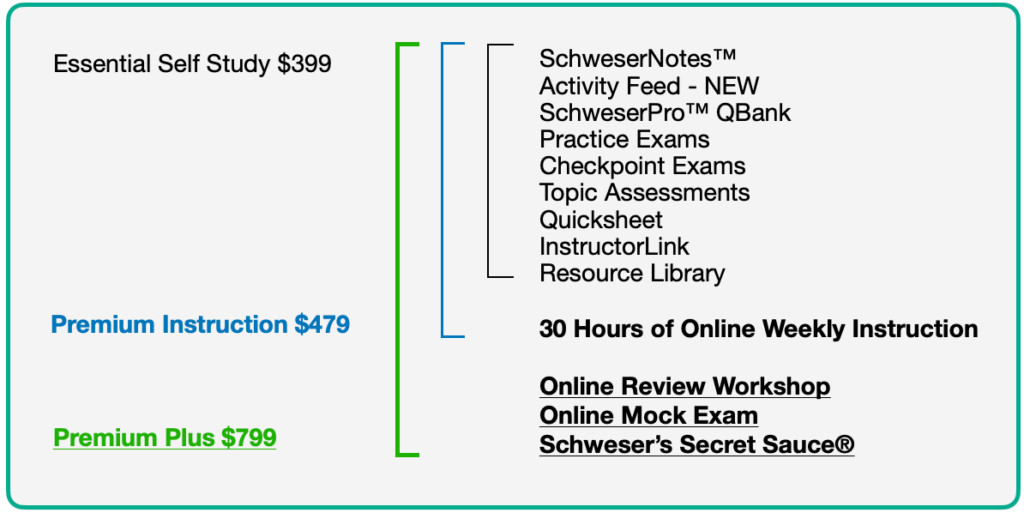 Most Important Features: Options, Materials, and Student Support
Options
Every course we reviewed gives potential users different options, so they can make a decision based on their budget and learning aptitudes. Kaplan Schweser offers their prep materials in packages, or à La Carte and both Analyst Prep and Bionic Turtle give you the option to bundle prep for both exams 1 and 2 so you can save money. Every course we reviewed offers different pricing tiers that get more expensive with the more study options you add.
Study Materials
The materials offered in the FRM prep courses we reviewed are pretty consistent with each other. There are lessons, video lectures, and a different variety of practice questions, tests, and diagnostics. Again, the higher you go in price, the more expansive your learning tools get. Kaplan Schweser is the only course we reviewed that offers live online video lectures.
Student Support
Every FRM prep course we reviewed offers student support. Kaplan Schweser gives you access to instructors during your lesson, Analyst Prep gives you a chat window when you are logged into their website, and Bionic Turtle offers email support along with an extensive forum of 58,000 members.
Frequently Asked Questions When Choosing the Best FRM Prep Provider
How much time do I have to complete the FRM Certification process?
After you successfully pass exam 1 you have four years to pass exam 2 to be a certified FRM.
What qualifications do I need to register for the FRM Program?
None.
How do I enroll for FRM courses?
You can enroll through GARP's website, here. The test is offered twice a year, and there are numerous locations around the world that offer it.
How much does it cost to register for the exam?
Bottom Line
With pass rates considerably low, it is in your best interest to utilize one of the above prep courses as you begin to study for the FRM. The good news is that it's a little easier to pass exam 2 than it is to pass exam 1, so once you get over that initial hurdle, the worst is over.
Every course we reviewed offers some type of free trial, so if after reviewing this article, and the course websites, you still don't know which course is best for you, it is our recommendation that you go little further with the free trials to get a better understanding of each course, so you can make a more educated decision based on the feel you get.
As the pass rates for exam 1 are usually lower than 50 percent on an annual basis, we recommend that you proceed with caution if you are thinking about bundling both exams 1 and 2.
If you are preparing for other financial exams, our team has also reviewed the following exams:
Other FRM Exam Prep Course Reviews
Bryce Welker is an active speaker, blogger, and regular contributor to Forbes, Inc.com, and Business.com where he shares his knowledge to help others boost their careers.  Bryce is the founder of more than 20 test prep websites that help students and professionals pass their certification exams.