Testing.org is your best resource to level up. When we review products and services, some of which compensate us, we always maintain our own independent ratings and analysis.
So you've decided to pursue an occupation in the financial services industry. Great! That means you're probably getting ready to take the SIE exam. The purpose of the SIE exam is to assess a candidate's basic knowledge of securities industry topics fundamental to working in the field. Formerly known as the Series exams, the SIE exam has streamlined qualification tests for financial services jobs into one single test. We're going to teach you more about this exam and outline the best prep courses available so you can be prepared come test day.
About The SIE
The SIE exam is a one-hour and 45-minute test that consists of 75 multiple choice questions. It costs $60 to take and in order to pass you need a score of 70 percent. You also have to be at least 18 years old to qualify, but don't need to be associated with a Financial Industry Regulatory Authority (FINRA). That said, if you do decide to pursue a career in financial services you will need to pass a top-off exam depending on the exact position you're going after. For these top-off exams, you will need a FINRA member sponsor.
You can take the SIE exam as many times as you'd like, but as with all FINRA exams, you must wait at least 30 days to retake each time Your passing score will be valid for four years from the date of your exam. This means that If you take the SIE and don't find a job at a FINRA-member firm within four years, you'll have to retake the test.
This is what the content of the exam consists of, along with a practice test you can take here.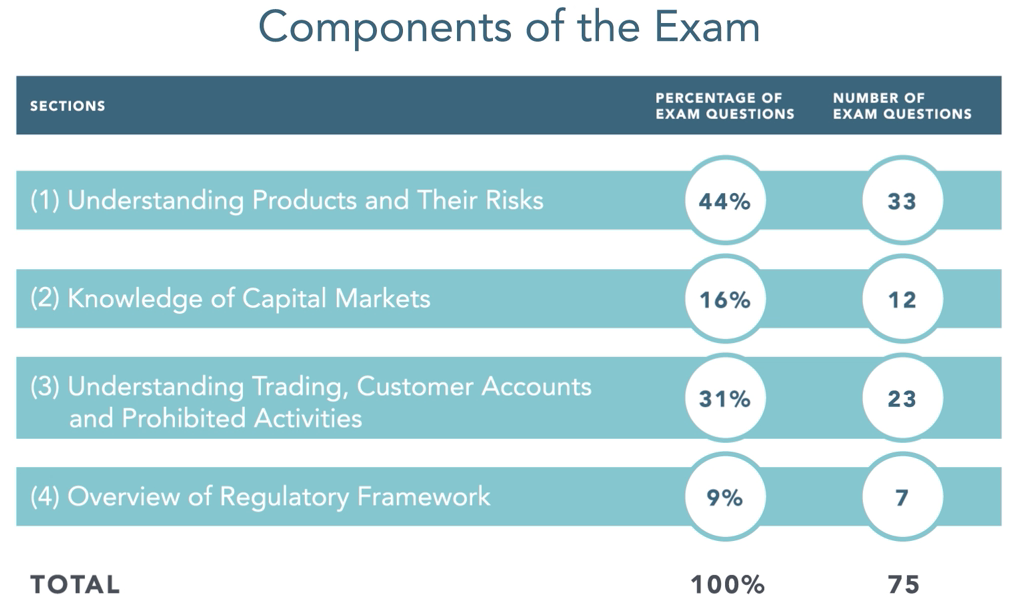 A Full List of Every SIE Prep Course Worth Considering
Even though the SIE exam is relatively new, there are several test prep options available for prospective test takers.
The Most Important Features: Price, Comprehensiveness, and Student Support
Price
This is probably the most determining factor in selecting your SIE prep course, which is why we reviewed a wide gamut of courses to best suit your budget. Some of the courses offer bundles with other top-off exams, which might be worth it if you already know the top-off exam you're going to be taking. But if you don't there are still plenty of options available, which are outlined below.
Comprehensiveness
We made sure each company reviewed had enough material to ensure that you would be prepared come test day. Practice questions, video lectures, and additional study materials were all taken into consideration when we reviewed the courses. This article is to give you a 'heads up' so you can select the course that best suits your learning needs. We also made sure that each of the courses were vetted and had positive reviews.
Student Support
There should be support with any online course you purchase, and in the case of SIE, we made sure of it. Each company reviewed offers some form of support, and we hope that this article can serve as a springboard for you, as you do your research to find a course that best suites your needs, and learning aptitudes.
Choosing the Right SIE Course Delivery Type for You
SIE prep courses are taught in a variety of formats, and the one that suits you will depend on your schedule, budget, and individual needs. Here are the most common course formats, listed from least expensive to most expensive.
Self-Paced: You study the course materials at your own pace when it's convenient for you.
Live Online: You join a virtual classroom at a designated time and learn from a remote instructor.
Live In-Person: You attend a real classroom course at one of the company's brick-and-mortar locations.
Private Tutoring: An instructor works one-on-one with you to come up with a study plan that best suits your needs and goals.
Self-Paced
Pros:
Cheapest programs
Study when you want
Can cover a lot in a short time
Cons:
Requires self-discipline
Less personalized than a live course
Little to no instructor support
Who It's Best For
A self-paced course is a good fit for students who prefer working independently at their own pace. It also works well for those with busy schedules who may not be able to carve out the time to attend a live class.
Live Online
Pros:
Attend anywhere
More personalized instruction than self-paced
Clear structure
Cons:
Not as interactive as live classroom
Potential for technical issues
Who It's Best For
A live online course is great for students who want the interaction of a traditional classroom, but don't live near one of the company's branch locations or would prefer not to travel.
Live In-Person
Pros:
Full immersement
Familiar environment
Live interaction with instructor and classmates
Cons:
Must travel to location
Less flexibility
More expensive than online-only courses
Who It's Best For
Live in-person classes work best for students who live near a test prep facility and prefer a traditional classroom setting. It offers a high degree of interaction between students and instructors, making it easier to get individualized attention than in an online-only course.
Private Tutoring
Pros:
Tailored instruction
Custom study plans
Can learn online or in person
Cons:
Expensive
More time-consuming
Who It's Best For
Private tutoring is the way to go if you value one-on-one attention and want a personalized study plan targeting the areas where you need improvement. Unfortunately, the high cost of private tutoring may put it out of reach for some students.
Full Reviews of the Best LSAT Prep Courses
Kaplan SIE Prep Course
Founded in 1938, Kaplan is one of the oldest, most trusted test prep companies in the world. They offer preparatory materials for just about every kind of test you can think of in just about every medium you can think of – in person, online, and in books.
What To Expect
For the SIE exam, Kaplan features three different tiers: Basic, Essential, and Premium, with the latter being the most robust. The prices range from $99 to $229. The Kaplan suite offers materials like:
License Exam Manual (also available in audio format)

An in-depth book covering everything you need to know on the exam, broken down into different units. The content contains key topics and terms, multiple graphics, exercises, quizzes, and discussion questions.
SecuritiesPro™ QBank

A regularly updated database of questions which allows you to build personalized exams based on length and topic of your choice.
Practice and Mastery Exam
QuickSheet

The "must know" definitions of the exam
It is worth noting that if you choose the premium tier, you will gain access to a private tutor either in person or online, depending on where you live.
Kaplan SIE Prep Course Details
| Course | Price |
| --- | --- |
| Basic Self Study Package | $99 |
| Essential Self Study Package | $149 |
| Premium Instruction On Demand Package | $199 |
| Premium Instruction Live Online Package | $229 |
| Premium Instruction Live Package | $229 |
STC Prep Course
The Securities Training Corporation specializes in its namesake, and they've been doing it since 1969. The STC offers a wide array of study materials and you can purchase them individually or in a package. They also offer pairings with other top-off exams like the series 7. The most popular option STC offers for the SIE exam is the class, which is either in-person or virtual depending on your location.
What To Expect
In addition to the class, STC offers:
Practice exams
21 hours of video lectures
"Final Check" Green Light exams
Flashcards
The price for the SIE Premier Package is $119, which includes the live class.
STC Prep Course Details
| Course | Price |
| --- | --- |
| Securities Industry Essentials (SIE) Premier | $119 |
| Securities Industry Essentials (SIE) Premier Plus | $249 |
| SIE/Series 7 Top-Off Standard | $310 |
Solomon Prep Course
What To Expect
Like STC, Solomon offers its prep materials either individually or as part of a package. The flashcards (over 1,900 in total) can be had for as little as $39.95, with the total package costing $183.84. In between there are a plethora of options available for your SIE preparation. There is the Exam Simulator ($69.95) which is designed to work with the Online Study Guide ($49.95). The Exam Simulator has over 2900 original SIE questions and solutions that are continuously updated and the Online Study Guide is "written in clear to understand language" that will help you prepare for the exam.
Solomon also features Video Lectures and an Audio book. As with any service offering packages, it is probably in your best interest to choose a package if you plan on purchasing more than one of the offered materials. You can opt to upgrade to hard copies of your materials for an additional $29.95.
Solomon SIE Prep Course Details
| Course | Price |
| --- | --- |
| Essentials Package | $99.95 |
| Video Premium Package | $144.37 |
| Audio Premium Package | $152.87 |
| Total Package | $184.84 |
Pass Perfect Prep Course
What To Expect
Of all the companies reviewed, Pass Perfect is the only one of only two to boast their Trustpilot rating on their website. With a "Great" 4 out of 5 star rating, Pass Perfect might be a safe bet for you considering they have trained over 1,000,000 individuals for FINRA tests. The prices range from $95 for their interactive web training to $255 for their printed materials, virtual classroom, and, of course, interactive web training.
Pass Perfect's printed materials consist of 10 chapters which are arranged into three modules and include a pocket sized 200-page Quick SIE study guide. Pass Perfect proudly notes that their material is illustrated, and written in a " lively, informative fashion that eliminates boredom."
The Virtual Classroom Review is meant to be the last step in your preparation prior to taking the exam. The interactive classes are taught by instructors who have, on average, 30 years of experience.
The Interactive Web Training offers more questions than any other SIE prep program – over 4,500 questions comprising chapter quizzes, mastery exams and simulated practice finals.
Pass Perfect Prep Course Details
| Course | Price |
| --- | --- |
| SMART And Books | $125 |
| SMART And Classroom | $230 |
| SMART, Classroom, and Books | $255 |
Knopman Prep Course
What To Expect
Knopman is another company that focuses exclusively on FINRA exams. It has an impressive 97 percent pass rate for those who take the test and offers two options – the course, or the course paired with live training. This means that the cost of Kopman is either $250 or $475. Some of the features included in the course are:
Textbook (physical or digital)
Online and printable exams
17 hours of video lectures
1,100+ flashcards
4 diagnostic exams
Personal instructor access
Something that Knopman does offer, that no other test prep service has, is the ability to demo their training center which you can do here. You can bundle this course with other top-off courses which would save you a little $, if you know which top-off exam you're going to be taking.
While Knopman might be a bit pricier than other services, their 97 percent pass rate might make it well worth it, especially if you can pass the test on the first try.
Knopman Prep Course Details
| Course | Price |
| --- | --- |
| FINRA SIE Exam Prep & Study Materials | $250 |
| Add Live Training | $475 |
ExamFX Prep Course
What To Expect
ExamFX also touts their Trustpilot rating and has an "Excellent" review of 4.5 out of 5 stars. There are three pricing tiers, the:
Self Study Package ($99.95)
Video Study Package ($139.95)
Live Online Package ($209.95)
ExamFX offers a clear "study path" that all their students take which has garnered impressive results in the past.
The material offerings are what you'd expect to see in an SIE test prep (practice tests, instructor support, and interactive learning portals), but they also have something not every test prep service has, called the Guarantee Exam. If you take the SIE exam within three days of getting at least an 80 percent on their Guarantee Exam, ExamFX will refund the cost of your materials. Of all the reviews we've conducted, this is seemingly the best (and actually, only) guarantee available.
ExamFX Prep Course Details
| Course | Price |
| --- | --- |
| Self Study Package | $99.95 |
| Video Study Package | $139.95 |
| Live Online Package | $209.95 |
Securities Institute of America Prep Course
What To Expect
In a partnership with John D. Wiley & Sons, the largest publisher of financial information in the world, the Securities Institute of America (SIA) offers digital courses and guides and has been in securities exam training since 2003. SIA's Complete SIE Exam Review course costs either $131 or $146 depending on whether you choose the e-course or the print version. The course includes:
20 hours of video training
SIE exam review text
SIE test bank
Exam planner
You can also individually purchase a review guide for $40 and prep software for $75. The course comes with a "Partner Until You Pass" guarantee which entitles you access to the course until you pass the exam. SIA has a money back Guarantee if you don't pass the SIE exam after taking their "Greenlight Exam" and offers support, both online and over the phone.
SIE materials are available in a bundle with their Series 6 and Series 7 prep packages, as well.
SIA Prep Course Details
| Course | Price |
| --- | --- |
| Securities Industry Essentials Exam Review Guide | $40 |
| Securities Industry Essentials Exam Prep Software | $75 |
| Complete SIE Exam Review Course | $149 |
| SIE Exam and Series 6 Top Off Exam Complete Self Study Solution | $239 |
| SIE Exam and Series 6 Top Off Exam Complete Self Study Solution | $299 |
SIE Frequently Asked Questions
Here are answers to some of the most frequently asked questions regarding the SIE.
How much does it cost to take the SIE?
$60
How old do I have to be to take the SIE?
18 years old.
Do I have to be associated with a broker-dealer to take the SIE?
No.
What score is needed to pass the SIE?
70 percent.
Is there a waiting period if I fail the SIE?
After the first and second failed attempts, there will be a 30-day waiting period. After the third failed attempt, there will be a 180-day waiting period. For any attempts after the third attempt, there is also a 180-day waiting period between each exam.
Bottom Line
There are many other people just like you, who need to study for the SIE exam. We searched high and low, to find the best SIE prep courses available so you can select one that fits your budget, learning style, and schedule.
If you plan to enroll in one of these courses, we know that you will be more prepared come test day, and we want to wish you the best of luck when that day arrives!