So you've decided you want to go to law school. Great! We answered all the questions you may need to know about the Law School Admissions Test (LSAT).
15 Most Frequently Asked Questions About The LSAT
What is the LSAT?
The (LSAT) is the gold standard used by law schools nationwide to assess prospective students' reasoning skills. The score on the LSAT determines which programs are open to you, so doing well is very important. According to the LSAC, The LSAT is the only test accepted for admission purposes by all ABA-accredited law schools and Canadian common-law law schools.
What does the LSAT test?
The LSAT is a standardized test that simulates material covered in law school including critical thinking, reading comprehension, information organization, and argument evaluation.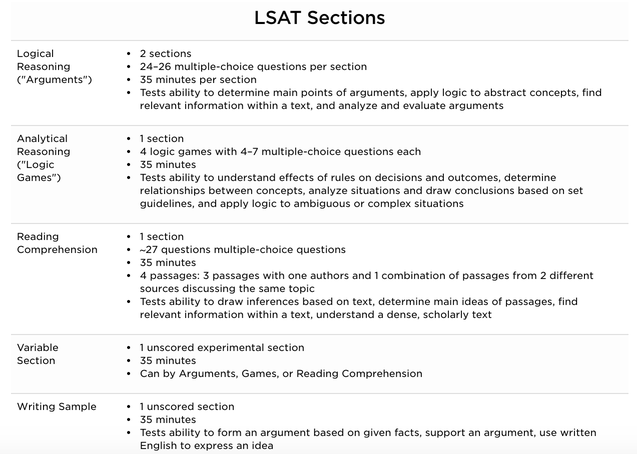 How much does it cost to take the LSAT?
It costs $200 to take the LSAT, but you also need the Credential Assembly Service (CAS), which is a subscription that you are required to have in order to apply to most law schools. A subscription to the CAS costs $195.
How many times can I take the LSAT?
You can take the LSAT up to three times in one testing year, or five times within the current five past testing years. You can take the LSAT a total of seven times throughout your life.
When can I take the LSAT?
There are multiple test dates throughout the year you can sign up to take the LSAT. As of this writing, there are 10 times in the calendar year – so almost once a month. Each test date has a registration deadline. Below are the scheduled test dates for 2022.
Saturday, January 16, 2022
Saturday, February 20, 2022
Saturday, April 10, 2022
According to Kaplan Test Prep, in response to COVID-19, starting in May 2020, the LSAC has will be administering LSAT-Flex, which is an at-home, remotely proctored version of the exam.
Where can I take the LSAT?
There is a test center search on the Law School Admission Council's (LSAC) website where you enter your location after which the nearest testing center is presented to you.
As of April 2020, in response to COVID-19, the LSAC will be administering LSAT-Flex, which is an at-home, remotely proctored version of the exam.
How long should I prepare for the LSAT?
It is recommended that you spend at least 3-6 months preparing for the LSAT depending on what your goal score is. We have gathered the top tips for preparing for the LSAT to help you out.
How should I prepare for the LSAT?
It is important to prepare in advance for the LSAT. This is not an exam you can cram for! You can prepare for the LSAT by taking an LSAT prep course.
Our team put together a guide to the best LSAT prep courses to help you choose the program that best fits in with your life and learning style. We ended up with four prep courses that rose to the top, all of which offer comprehensive LSAT courses that will prepare you to tackle the exam with confidence. Kaplan Test Prep was our top choice, but depending on your needs and schedule, one of our other picks may be a better fit.
The Best LSAT Prep Courses
How many questions are on the LSAT?
The LSAT usually has about 100 questions.
According to the LSAC, "the LSAT is administered in two parts. The first part consists of five 35-minute sections of multiple-choice questions. Four of the five sections contribute to your score. These include one reading comprehension, one analytical reasoning, and two logical reasoning sections. The unscored section usually referred to as the variable section, is used to pretest new questions or evaluate new test forms. The placement of this section varies, and you won't know which section is unscored until you receive your score report."
The second part of the LSAT is a 35-minute, unscored writing sample. Law schools are looking at the reasoning, clarity, organization, language usage, and writing mechanics you display in your sample. Copies of your writing sample are sent to all schools to which you apply.
Where can I find LSAT practice tests?
Here is a list of free LSAT practice tests and questions you can use in your preparation.
How are LSAT scores calculated?
Your LSAT score is measured in three ways: your raw score, your scaled score and your percentile rank. Only your scaled score and percentile rank appear on your score report and the information sent to law schools.
Raw Score
The LSAT is composed of five multiple-choice sections, four of which are scored, plus an unscored writing sample. There are approximately 100 scored questions on the exam and the number you get right determines your raw score. Each question is worth one point and there's no penalty for guessing incorrectly.
Scaled Score
Your raw score is then converted to a scaled score that ranges between 120 and 180 in one-point increments. Each test varies somewhat in difficulty, so in order to provide a comparable measure of a student's skills, the raw scores undergo a procedure known as equating. This uses statistical data to correct for differences in difficulty, so an especially tough exam will be graded more loosely than an easier one. The end result is that raw scores tend to generate very similar scaled scores across every exam.
Percentile Rank
Your percentile rank is an indication of how well you've done compared to other LSAT test takers from recent years. Like the scaled scores, the percentile ranks can vary, but they're generally pretty consistent. It's calculated by comparing your score against everyone else who has taken the exam in the last three years. The number you receive indicates the percentage of students you've scored better than. So if you receive a 90th percentile rank, that means you've done better than 90 percent of the students who have taken the LSAT in the last three years.
What is a good LSAT score?
On the LSAT scale of 120-180, a 150 is an average score. If you want to get into a top law school, you will need a score of 160 or higher. It's important to note that bigger schools also look at your percentile, in addition to your score. This means a small increase in your score can lead to a sizeable change in percentile.
Here is a table of common scores and percentiles:
| LSAT Score | LSAT Percentile |
| --- | --- |
| 180 | Approximately 99++ |
| 175 | Approximately 99+ |
| 170 | Approximately 98+ |
| 165 | Approximately 93+ |
| 160 | Approximately 82+ |
| 155 | Approximately 66+ |
| 150 | Approximately 46+ |
| 145 | Approximately 27+ |
| 140 | Approximately 14+ |
| 135 | Approximately 5+ |
When will I receive my test score?
You will receive your score by email approximately three to four weeks after taking your test.
How important is the LSAT to law school admissions?
The LSAT is a key part of your law school application that gives schools an estimation of your abilities in a measurable, comparable way. But it's not the only factor they consider. They also look at your undergraduate transcript and any applicable work experience you have. They do try to get to know you beyond your resume, which is why you typically are required to submit letters of recommendation and attend an in-person interview.
Every school weighs these factors differently, so it's difficult to say what kind of role the LSAT score will play in your application. Ideally, you want to score around or above the average for the program you're applying to. If you're not sure what that is, you can figure it out by doing a little research online. Use this number as your goal and take frequent practice tests to assess how close you are to reaching it.
A below-average score doesn't mean you'll get rejected, though. Likewise, a good score doesn't guarantee an acceptance. Law schools take the time to get to know prospective students on a deeper level to make sure they're good fits for the program. That means you need to take the other aspects of your application just as seriously. If you need some assistance, some test prep companies, like Kaplan, also offer admissions consulting to coach you through interviews, essays, resumes and more.
How do I send my LSAT scores to schools?
Unlike most standardized tests, the LSAT doesn't give you the option to submit your scores to schools on the day you take the exam. Once your official score report is released, you can submit it to any school that you choose through your online account. Just enter the name of the institution and hit send.
It takes four weeks to receive your results in the mail, but if you create an account on the Law School Admission Council website, you'll be able to see your scores approximately three weeks after the test date. You can submit your scores to schools at any point, and they're good for five years. If you've taken the exam multiple times, your report will show an average of all your scores (for up to 12 exams) and a breakdown of each of them.
If you don't feel you did well on the exam, you have the option to cancel your score. You can do so either on the day of the exam by indicating that you wish to do so on your test paper or through your online account within six days of the test. Canceling your score is rarely a smart move, though. It's difficult to gauge how well you did by your first impressions and if you do cancel it, future score reports will indicate that you did so. Plus, you'll be out the $118 exam fee. You're much better off waiting to see how you did and taking the test again if you didn't get the score you wanted.
We hope this guide helps to answer all questions you have regarding the LSAT
Compare The Best Lsat Review Courses Now
Bryce Welker is an active speaker, blogger, and regular contributor to Forbes, Inc.com, and Business.com where he shares his knowledge to help others boost their careers.  Bryce is the founder of more than 20 test prep websites that help students and professionals pass their certification exams.